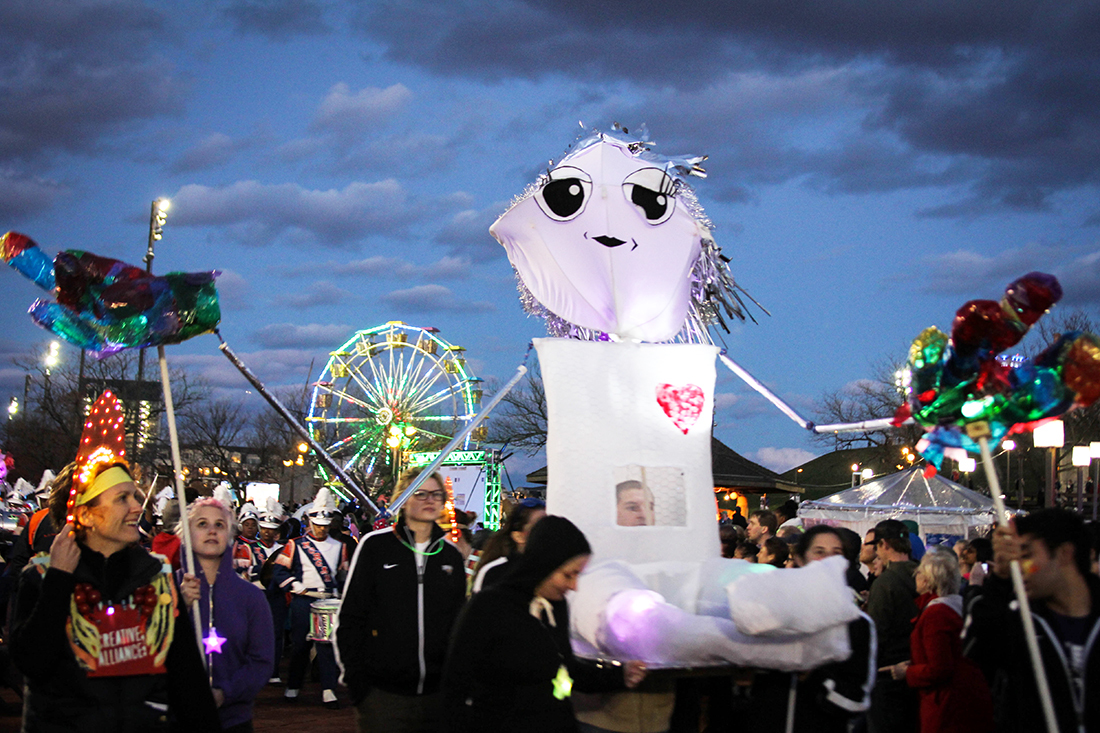 Photography by Meredith Herzing
But it was the moments that you would spontaneously encounter that made this night special, allowing you see how it could become an annual Baltimore tradition.
You might happen upon a bundled-up crowd clustered around Baltimore artist Paul Rucker playing his cello and handing out twinkling star lights to anyone who answered questions related to his work that focuses on the history of Baltimore's slave trade. At the end of his performance, he asked the star holders to wave their lights, and told them, "You're all bright stars, don't forget that."
Or as you walked underneath the shimmering Pixel Promenade, you'd hear gasps of delight as parents lifted children up to get a better look at the vibrant lights. Or you'd hear the cheers of the crowd when bike riders who were part of the "Dear Baltimore" light work peddled by, their neon letters giving the City That Reads a great reminder—"Read Baltimore."
Yes, the advisory-strength gusts did wreak havoc and the installation Labyrinth had to be taken down, though organizers hope the work will be back up soon. The lantern parade also kicked off when it wasn't quite dark enough for lights to shine brightly (begging the question—did anyone remember daylight savings time?), as was also the case when soul group Bosley rocked the Harbor East stage at 7 p.m.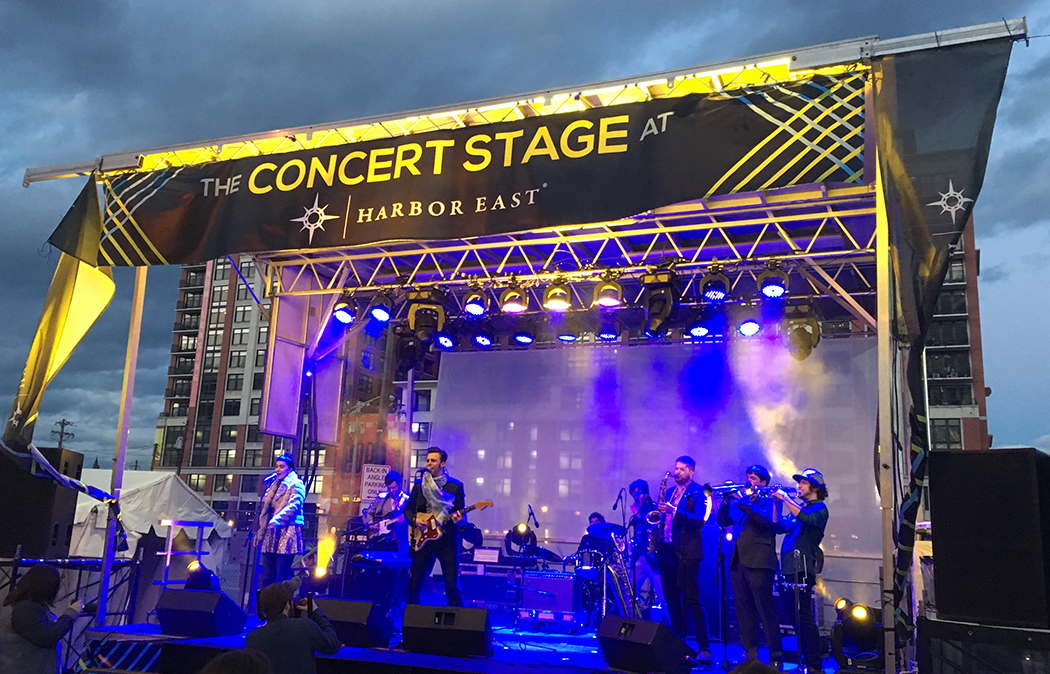 The exceptional moments continued in one of the last events of the night—a performance by legendary '80s synth-pop musician and Johns Hopkins University professor Thomas Dolby, who took the main stage wearing a lab coat and a paperboy cap that held a pair of his signature, steam-punk goggles. "Baltimore, you look beautiful!" he declared enthusiastically.
When the opening notes of arguably his biggest hit "She Blinded Me With Science" thumped across the stage, Dolby invited out two young dancers, who popped and locked along with the beat, alongside a duo of belly dancers rhythmically swaying their hips. Their enthusiasm was contagious, enlivening the crowd of young and old, black and white.
When the dancers clasped hands to take their bows, you could feel the crowd's excitement as they celebrated the collaboration and artistic talent that makes Baltimore so unique.