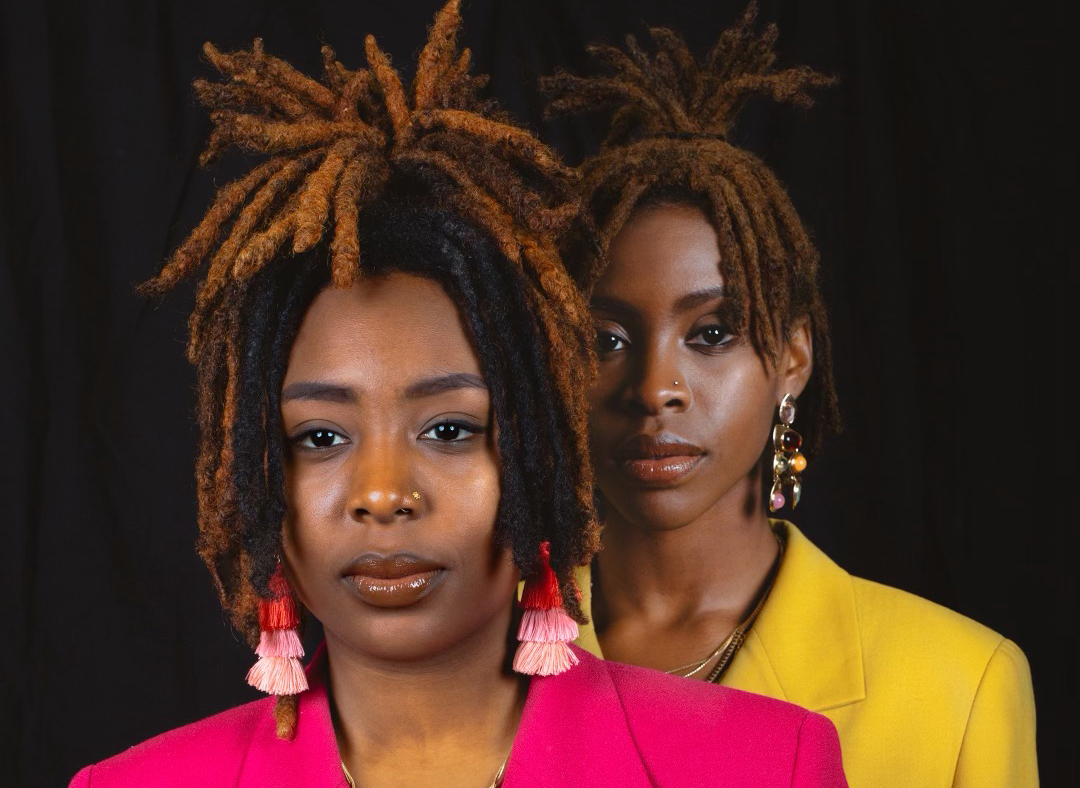 Siblings Kaya Gordon Levi and Ayana Gordon. —Courtesy of Flatform Studios
"We're a mix of a bunch of different cultures and stories that led us to Baltimore," says Flatform Studios founder Kaya Gordon Levi, referring to her family, including younger sister and co-collaborator, Ayana Gordon. The tie that binds them to the city is it's "best cookies and cream ice cream." Well, sort of. 
The story of Flatform Studios—the Old Goucher venue and collaborative event space run by the siblings with the help of Gordon Levi's husband, Le, the brains behind the business model—begins with the man behind the aforementioned treat. Their grandfather, Cecil Gordon—a native of Antigua, who came to Baltimore from Leicester, England—served the scoops in oyster pails at Johnson's Grocery in Druid Heights. On weekends, the sisters (then kids) looked forward to enjoying the confections in exchange for helping out at the McCulloh Street store.
"It was a huge part of our childhood," recalls Ayana, a photographer and model.
Fast forward to 2019—the experience came full circle when Gordon Levi, a graphic designer and artist, was searching for a local office space. What she found—an open concept, loft-style spot at 2123 North Charles Street, which happened to be minutes down the road from their grandfather's shop—became home to much more than desks and supplies. 
White-walled and minimal (save for a few flashy, painted designs) with a picture window yielding ample natural rays, Flatform Studios was brought to life with the intention of remaining evolutionary. 
"The name Flatform encompasses 2-D and 3-D art," explains Gordon Levi. "You can be outside the box. It's not limited. Ayana and I have been building this business based on community. We're always thinking of ways to reach out to the community, collaborate, and highlight young, Black women in entrepreneurship and the arts."
While showcasing local talent remains a constant at the studio and maker's hub, the rest, as Gordon Levi tells us, is subject to continuous change. This past spring, for example—following a year-long pause on in-person events—Flatform reemerged with its premiere exhibit: a selfie-forward, interactive walk-through showcase, aptly dubbed #Aslongasitsdope.
And throughout the summer, the studio was quick to pivot with the launch of its "Craft Social" workshop series, which kicked off with a daisy chain bracelet beading course in June. An Afrofuturism-themed photoshoot party (hosted with local photographer Philip Muriel) that doubled as a launch for Flatform's "Friends Supporting Friends" initiative followed in July.  
"It felt good to see it all come to fruition, especially since we felt like our plans had been derailed by COVID," Gordon Levi says. "We learned the art of patience."
And soon, she adds, the studio will see even more exciting change. 
A portion of Flatform Studios—which also houses Gordon Levi's graphic design arm, Flatform Agency—will soon play host to a concept shop for a number of brands. Gordon Levi says that an array of prints, plants, and lifestyle wares will share the space with a continuous showcase of local art. 
"We want it to be like a community gallery wall," she says.