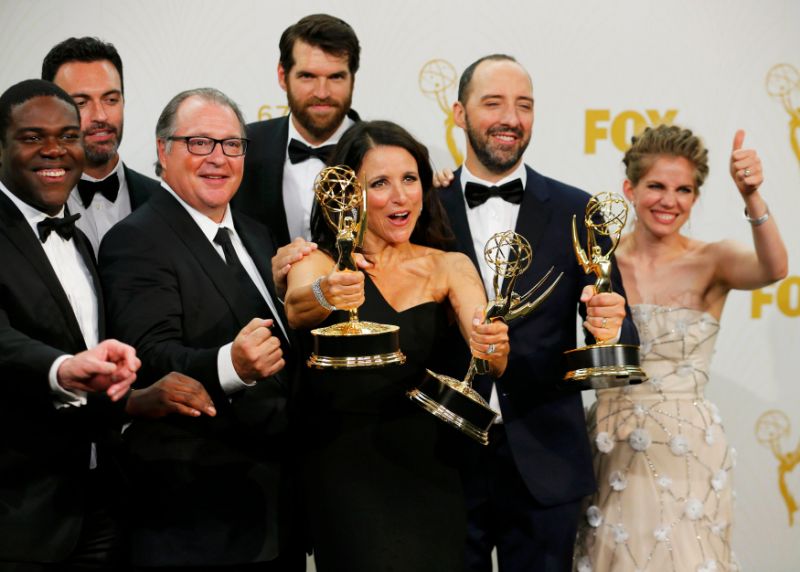 yahoo.com
By our count, Baltimore-connected productions and talent were nominated for no less than 28 Emmy Awards this year. From shows such as Veep and House of Cards to individuals such as Julie Bowen and Amy Schumer, it seemed like almost every category had at least one nominee with a hometown connection in contention. So how'd Team Baltimore do this year by the Academy of Television Arts & Sciences? Pretty darn well!
Veep—which filmed in and around Baltimore for four seasons but has relocated production to Los Angeles for its upcoming fifth season—earned five trophies overall. The foulmouthed political satire depicting the machinations of inept politicos won Outstanding Comedy Series, plus Outstanding Writing for a Comedy Series for "Election Night," the season 4 finale written by producers/creators Simon Blackwell, Armando Iannucci, and Tony Roche. The JLD (that's Julia Louis-Dreyfus, for those not in the know) won her fourth consecutive Emmy for Outstanding Actress in a Comedy for her portrayal of the insecure, ambitious Vice-President-turned-President Selina Meyer. During her acceptance speech, she praised the show's "intrepid crew in Baltimore" and mocked Donald Trump. Real-life total mensch Tony Hale won Outstanding Supporting Actor in a Comedy for his turn as Selina Meyer's dysfunctionally devoted right-hand man, Gary Walsh.
Veep's fifth award—for Outstanding Casting in a Comedy Series—was doled out last weekend at the Creative Arts Emmys. The award honored the work of venerable Baltimore casting director Pat Moran, who got her start working on John Waters's early films and has since gone on to contribute her fine eye for talent and charisma to every major Baltimore production since, including Homicide: Life on the Street and The Wire. (We profiled Moran in 2013, and she's just as much of a character as the people she scouts.)
Other winners included Wire-veteran Reg E. Cathey, who scooped up his second consecutive gong for his guest starring role as Freddie Hayes on House of Cards. The dark, political drama starring Kevin Spacey and Robin Wright was nominated for a total 11 awards but only won one other award, for Outstanding Music Composition For A Series (Original Dramatic Score). Production for the show is based in Baltimore and the cast and crew are currently filming season four.
Last, but certainly not least, Towson University alum and reigning comedy darling Amy Schumer won for her zeitgeisty sketch show Inside Amy Schumer, which has skewered everything from toddler beauty pageants to rape culture with incisive and inventive wit. (Warning: Links are VERY NSFW!) Incidentally, Schumer's show beat out Drunk History, a beer-goggled retelling of famed historical events created by Lutherville native Derek Waters, who participated in a lively and ribald conversation with fellow Baltimorean Josh Charles for our September "Conversation Issue."
Other nominees who sadly walked away empty-handed this year include Mad Men's Matthew Weiner (yep, he was born here), Veep's Anna Chlumsky, Modern Family's Julie Bowen, and Mo'Nique, who was nominated for role as blues mama Ma Rainey in the TV movie Bessie. (We're pretty sure having won an Oscar for her performance in 2009's Precious will help ease the sting of losing.)
All of this is to say that Baltimore produces and hosts an enormous wealth of talent, which, despite pressures internal and external, continues to thrive, bringing jobs, excitement, and prestige to the region—and a little bit of Baltimore to the world, too.