Cameo: Bob Benson
We talk to the mirror artist from the American Visionary Art Museum.
How did you start making mirror art?
I've always loved art, but it all started when I saw a single strand of double mirrors hanging in someone's yard, just shining in the sun. There they were, just moving around, and I've been making them myself for about 12 years now. I just have a ball, and it's really very simple. You just need a board to keep the mirror in place when you score the glass, and a simple pair of convex pliers. There are no shards, no splinters; it's not messy at all. You can cut all kinds of different shapes in all different colors. You just have to figure out what it is you want to do, like my mirror neckties, or flower vases, or "flashies." Mirrors are just easy to work with and you can make beautiful things out of them.
You have a few prominent works at the American Visionary Art Museum, including The Universal Tree of Life outside of the main building and the mirrored Oceanus.
The Universal Tree of Life was one of the first things I made with my neighbor, Rick Ames, who is an artist and a dear friend. It sat out in my yard for two and a half years until Rebecca Hoffberger saw it and asked if the museum could have it. It's been outside on the street there ever since, through 11 Baltimore winters, and it looks as good now as it did when I put it in. On a sunny day, it puts on a great show. 
At AVAM, you also have a non-mirror work on display—the now permanent "Flatulence Post," or farting exhibit, located in the basement gallery. What was the inspiration behind this piece?
Well, I've been farting all my life. [Laughs.] Actually, it was inspired by this joke radio program from the 1940s called "The Great Crepitation Contest." It was a farting competition between two contestants with a British announcer that was presented as if it was a sports event. It was very, very funny, but not for broadcast, so it circulated on a set of 78s—we didn't have CDs back in those days. During World War II, our military heard it and loved it so much that hundreds of thousands of copies were made for our soldiers and sailors to give them something to laugh about.
But it's really just a very funny subject—Mark Twain wrote about it, as did Benjamin Franklin, and William Shakespeare—and people really do enjoy it. About six years ago, AVAM's big show of the year was What Makes Us Smile? The entire second floor of the museum was dedicated to that topic and the biggest hit was a big bench lined with Whoopie cushions.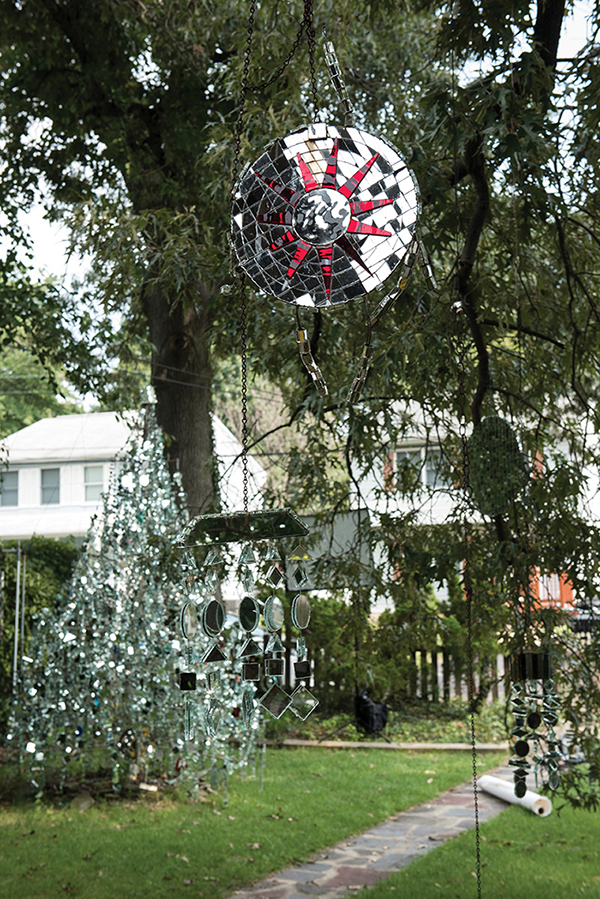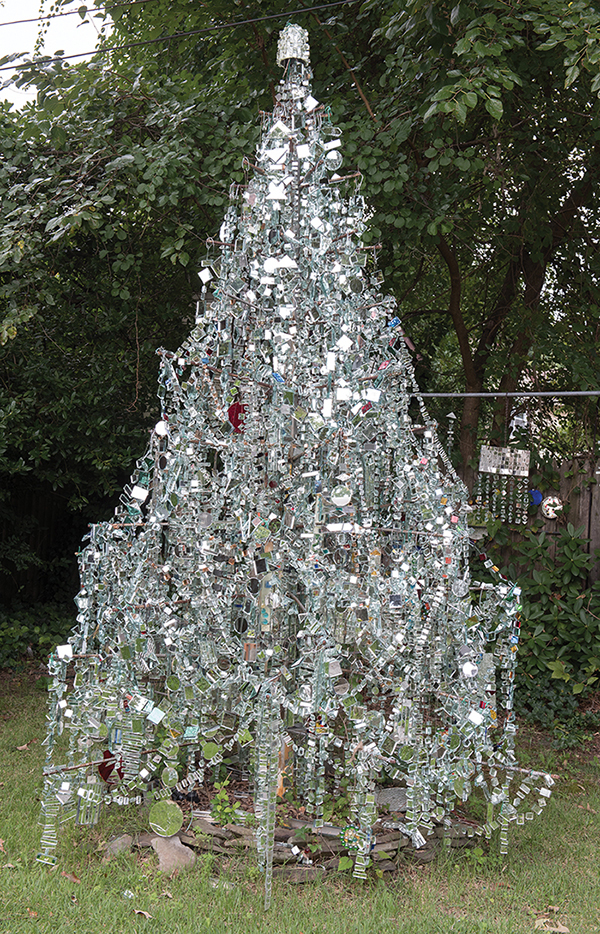 You teach workshops at the museums a few times a year, too. Besides that, do you make it down to the museum often? 
Every Saturday, I spend three hours at the museum, talking to people from all walks of life. AVAM is such a fabulous place. Baltimore is so lucky to have it, and I'm very proud to be a part of it. Fine art is very valuable, but these works are by untrained people who felt compelled to create something different and found a way to do it.
Your love of art actually began with a different medium—music. 
The mirror art is only a small part of what I do. I've been writing classical music reviews for more than 20 years. All my life I've loved classical music. My father took me to concerts when I was very young and it made a lasting impression on me. Over half a century ago, I had this house built around a perfect room just for music. It has an 84-inch television screen with full surround sound, and when you listen to something up there, it's better than being in a concert hall.
You also had a more than 40-year career in radio. 
People seem to think my voice is pretty good. When I first came to Baltimore after the war, there was a public radio station just starting out called WBJC. I volunteered for them and the next week, I started announcing three nights a week. Later, I worked as the chief announcer and program director for a commercial classical radio station called WFDS, which was later bought by WBAL. For 14-and-a-half years, I did classical music there until they realized they could make more money with other genres, which is when they created 98 Rock. And then when 88.1, the Johns Hopkins station, started, they hired me to do classical music on the weekends. WYPR is a wonderful station.
At home, you're currently working on an "Infinity Mirror House," similar to the Infinity Mirrors installation by Japanese artist Yayoi Kusama, which should be open this fall. 
It's going to be in my back yard. I've ordered a pre-fab, A-frame house, just like mine, and once it arrives and gets assembled, my neighbor, artist Rick Ames, and I are going cover the whole inside with mirrors. When you step in, things will be reflected over and over again hundreds and thousands of times. It will be like stepping into outer space.