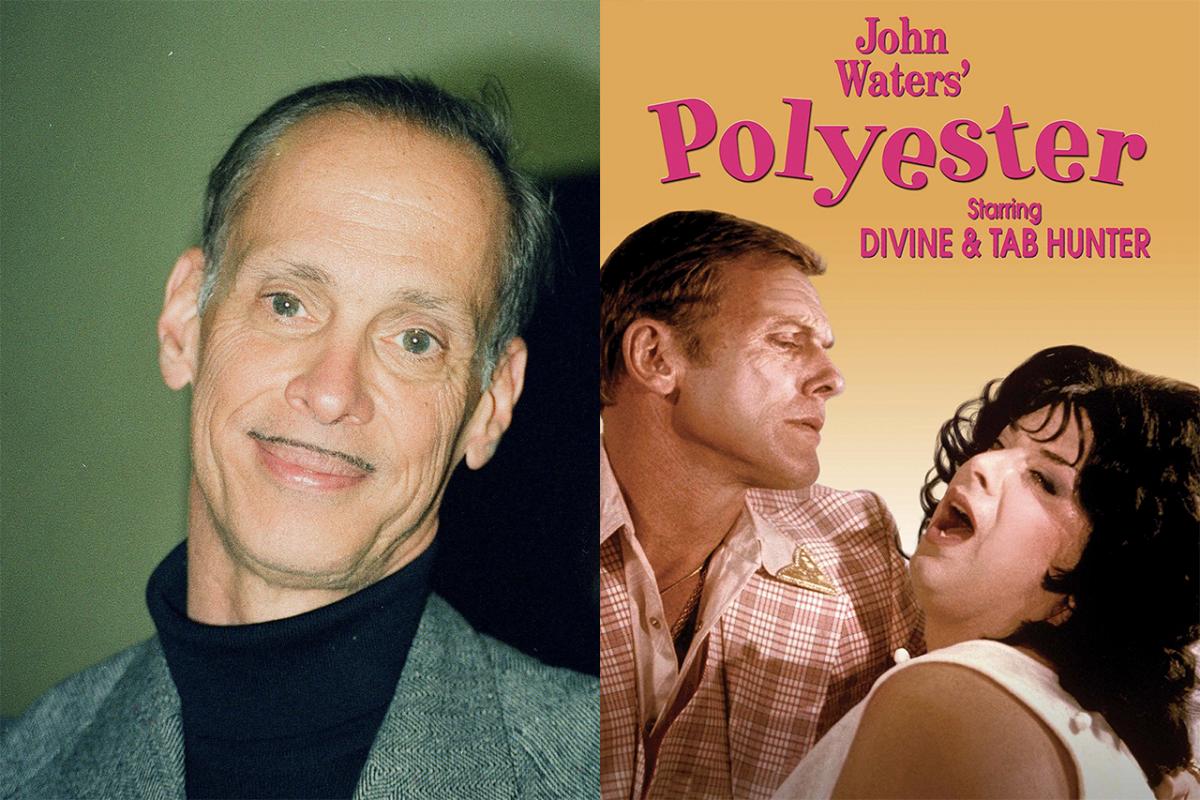 —Photo courtesy of John Matthew Smith via Flickr Creative Commons
In Polyester, the John Waters cult hit that released May 29, 1981, housewife Francine Fishpaw's (Divine) suburban world turns upside down when she discovers that her pornographer husband is cheating, her teenage daughter is pregnant, and her son is the foot-fetishist who has been terrorizing Baltimore. In 2019, The Criterion Collection released Polyester on Blu-ray and DVD, making the film available to a new generation of movie lovers.
We recently caught up with Waters and asked the self-proclaimed Pope of Trash about his favorite parts of making Polyester as well as the secret sauce for the film's enduring popularity.
On recruiting former Hollywood heartthrob, actor/singer Tab Hunter to play Todd Tomorrow: "Tab Hunter was the first time we had a real bonafide, outside Hollywood movie star, and I give him great credit for having the nerve to make the movie," Waters says. "He was a big part of its success."
Success proved a two-way street. By 1981, Hunter had hit the half-century mark, then seen as too old for the leading man roles that had won him heartthrob status in the 1950s and 1960s.
Playing unscrupulous grifter Todd Tomorrow, who steps in to romance a distraught Francine in Polyester, would revive Hunter's flagging film career. He went on to play Mr. Stuart, the substitute teacher in Grease 2 (1982) who sings "Reproduction," and co-star, again opposite Divine, in Paul Bartel's Western spoof, Lust in the Dust (1985).
On the decision to shoot in 35 millimeter: "Polyester was the first time I had shot 35 millimeter, so that was a big deal for me. It was the big time, definitely," Waters recalls. "I had always wanted to make commercial movies from the very beginning, but this one was a real attempt. And when we had Odorama [maker of the film-themed scratch-and-sniff cards given out to theatergoers] it was a commercial movie and did pretty well."
On casting Dreamlanders Edith Massey and Divine against type: "It was the first time that both Edith and Divine played the opposite of the image they were known as, and they got the best reviews for that," Waters says. "Divine played an alcoholic housewife. He didn't play a monster to scare hippies, which Divine was originally designed as. And Edith didn't play somebody that was haggish or an evil queen. She played a debutante, which was the exact opposite of what Edie really was—though she should have been a debutant if you ask me."
On shooting in Maryland: Shooting the film wasn't without its challenges. Similar to the opening scene of Polyester, wherein morally outraged suburbanites picket the Fishpaw home over Elmer Fishpaw's adult movie house, Waters too had "huge battles with the neighbors" in the Chartwell, Maryland neighborhood where he set the movie.
"Right in the middle of making the movie, Multiple Maniacs (1970) was finally seen by the Censor Board because they were going to play it at The Charles," Waters recalls. "And Mary Avara [the late Maryland State Censor Board member known for opposing his films] went crazy and the judge came out and said his eyes had been insulted for 90 minutes. There was a huge article in the paper that it was the most blasphemous movie ever made. And this is when we're trying to tell the neighbors that we're making a real Hollywood movie. I don't think they even believed that really was Tab Hunter," he adds with a laugh.
Not all the neighbors were in the anti-Waters camp. Some joined the cast as extras. "You could do one of two things: you could hate us or join us," Waters says. "I think very fondly of the neighbors who did join in, and you can see them in the movie."
He points to Cry Baby (1990) starring then 26-year-old Johnny Depp as the title character and Serial Mom (1994) starring Kathleen Turner, neither of which were box office hits, yet both "lasted forever and turned into kind of weird hits, so you never know what's going to happen."
Are there any filmmaking lines that not even Waters will cross? "I never talk about politics in my movies," he says, "because you don't want to date them. You want your movies to play in 30 years."
Polyester has exceeded that milestone marker. At forty years and counting, "the film has always played somewhere," Waters reflects. "You could always get it. It's shown on television. In France, you could even get the Odorama cards at the drugstore."
Waters' advice for budding filmmakers looking to build their own canon? "Timelessness means you're never too mean, 'cause mean's funny for 20 minutes, not 90. At the same time, you just embrace all the subject matter, even the stuff you're making fun of. I was making fun of myself in the very beginning of my career by saying I made trash movies. Right in the beginning, I made fun of myself first."
Meet the Authors: 
Kendell Shaffer has published a YA novel, Kalifornia Blu and sold a TV pilot, Downtown, to ABC Studios and a TV movie, Team Julia, to Lifetime Television.
Hope C. Tarr is the author of 25 novels for Penguin, Harlequin and Macmillan. She is a SPJ-winning freelance writer whose work has appeared in Baltimore magazine, USA Today, and The Irish Times. She is also a co-writer with Emmy award winner Linda Yellen on Stolen Kiss, an indie feature in development.
Hope and Kendell started writing together in journalism class at St. Paul's School for Girls in Baltimore. They are developing a TV pilot based on Hope's Suddenly Cinderella novels.