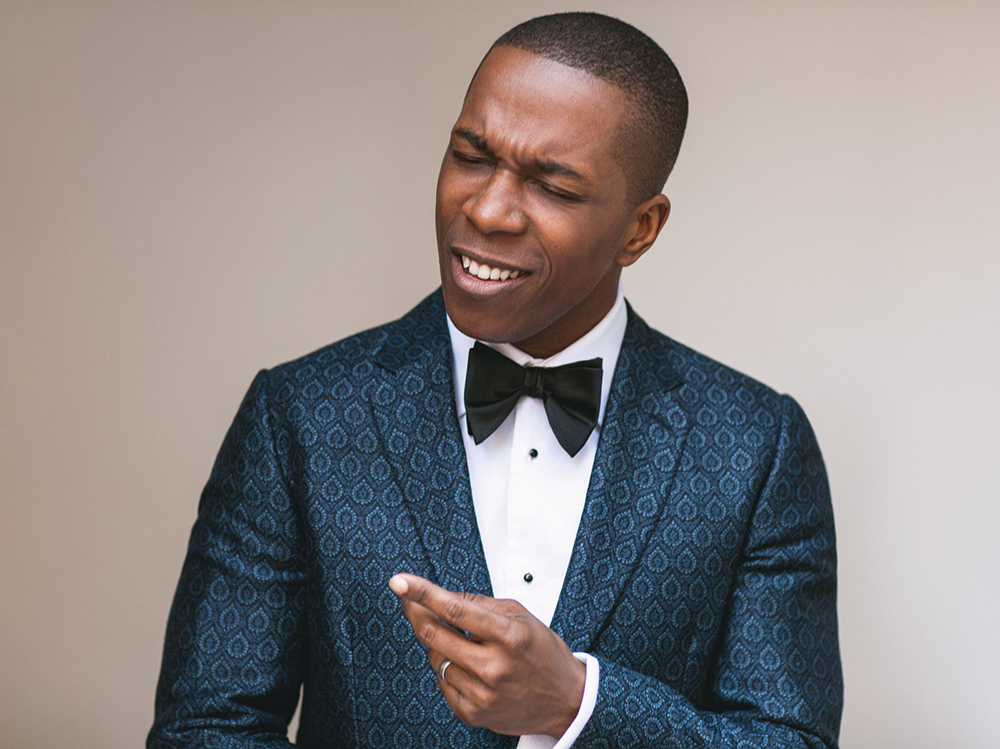 Christopher Boudewyns / Courtesy of Leslie Odom, Jr.
By now, you've likely heard of Hamilton, the Pulitzer Prize-winning Broadway musical about founding father Alexander Hamilton that re-imagines our history through beat boxing, and partially sung, rap-style dialogue. You also might have heard of Leslie Odom, Jr., who, before he left the show in July, won a Tony award for his portrayal of anti-hero Aaron Burr.
Odom makes his Baltimore debut October 22 with a performance at the Modell Performing Arts Center at The Lyric, where he will join The Roots at a fundraiser benefiting The Journey Home, Baltimore City's plan to make homelessness rare and brief. He joined us to talk about his new album, what's next, and the impact the show has had on his life and our history.
What's life been like for you post Hamilton?
It was a very busy summer. The week after I left, I was in a small venue in New York City with my band, the same guys that I'm going to play with for the concert in Baltimore. We went from 1,400 seats to 120 seats or so at this small club called The McKittrick. It was the first time I'd put together a live show after having done Hamilton, so trying to also find versions of the favorite songs that make sense in the set that we do and develop arrangements from my [2016 self-titled album] as well. All summer it's been music, playing around the country. It's been great.
There's got to be a big difference between being in a show like Hamilton and a solo performance.
It's very different. The hardest thing about doing eight Broadway shows a week is the physical toll. It also becomes a real sacrifice for your family because having one day off a week means you're not traveling much to see family. I don't have children yet, but we had people in our show with children who didn't put their kids to bed for two years because we were due at the theater at 7:30, rain or shine. It's worth it if you're doing something like Hamilton. All of us were able to make it make sense for ourselves because we were doing something that was making a real difference.
But there's nothing like grinding away at your body for over 400 shows, which is how many I'd done by the time I finished. Now, my body feels a lot different because it healed over the summer. [Singing] is a different challenge because I'll come out at a concert and do 10 or 12 songs or sometimes more in a row. But it was time to take a break from the physical toll of the show, that's for sure.
Your contract was up in July, but it sounds like the physical part of performing might have also contributed to you leaving.
I left the same night that [creator and star] Lin Manuel Miranda left. You really have your choice when you're going to jump off the ride because the show ain't going anywhere. It's going to outlive us all. It just felt like the end of something for me. It felt like my greatest contribution had already been made, my greatest growth spurts had probably happened, and I'd probably learned as much as I was going to learn. It was time to do the next scary thing.
What people have to remember is that it was not a foregone conclusion that Hamilton was going to be this huge success and we were going to win awards. We signed up to be a part of the development of a show that we believed in years before people knew what it was. It was, at times, a really scary thing to turn down work to be a part of Hamilton, but it paid off. When I say that what I mean is that it pays to follow your heart, follow your instincts. I had the same inclination to step off the stage to focus on music and other opportunities that were coming my way. The pull was as strong as it was when I first felt that pull to clear my schedule so nothing would get in the way of me being Aaron Burr.
You even had to leave a TV show to play Aaron Burr. What was it for you that made you realize you wanted to be a part of Hamilton?
There were so many things, but primarily, it can all be boiled down to a genius, once-in-a-lifetime piece of writing. What Lin had written was just so special and I connected to it in a way that I'd never connected to a new work. Hamilton for some of us gets placed beyond the greatest musicals of all time to one of the greatest pieces of theater of all time, even one of the greatest pieces of writing of all time. It's going down in the annals of history.
I can pick up any piece of great work right now from the library—Shaw, or Shakespeare, or O'Neill, or August Wilson—and perform it. But for something to come to you that's never been performed, a brand new piece of work that is that good, that is that special, it was like nothing could get in the way of this, even if the show tanked. West Side Story wasn't very successful it's first time around, the same with most of Stephen Sondheim's works, so I didn't know if people were going to get Hamilton, if people were going to like it. But it was like, even if this thing closes after two weeks, so what? Someday, somebody's going to see that this is great.
When you say the show is going to outlive us all, do you mean have a monumental Broadway run?
I'm actually talking about when it leaves Broadway, when that day comes, which will take a very, very long time. But then it goes to high schools and it goes to middle schools. It becomes like Oklahoma—that's our dream, that it becomes something that's done everywhere, all over the country and all over the world. Kids and teenagers get a hold of this thing and make it their own.
You've talked about the role of Burr as being such a wonderful opportunity, especially as an actor of color.
I've said that Lin showed me through glorious writing that there was something expected of me. Now, hundreds and hundreds, thousands maybe, of actors are going to take on that role over the next 25 to 30 years or more. Young actors are going to pick up that script and find what I found. It demands something of you that you maybe never knew you were capable of, that changes your view of yourself, and what you're limitations are. When people see you perform, it also changes what they expect from you, and what they think you're capable of.
Before this show, I used to get discouraged because I could just feel the limitations from the industry and what they thought I could do and what they thought performers that looked like me could do. It was so boring to me, and safe and tiresome. Lin came and blew the lid off of things. He just dismantled it. And we were on stage living out our dreams, as performers, as men and women. It was incredible.
Have you had a chance to let it all sink in?
I think it's begun to a bit, though I'm not sure that it all has. What's begun to sink in is that we're always going to be ambassadors for the show. That will lessen over time, but we can't go anywhere without people stopping us and telling us what they think about the show. And I mean anywhere—it's really all over the world now. My wife and I have done some international traveling and we're getting stopped in airports and restaurants. I'm comfortable with that, but I don't think that the show is done making its mark.