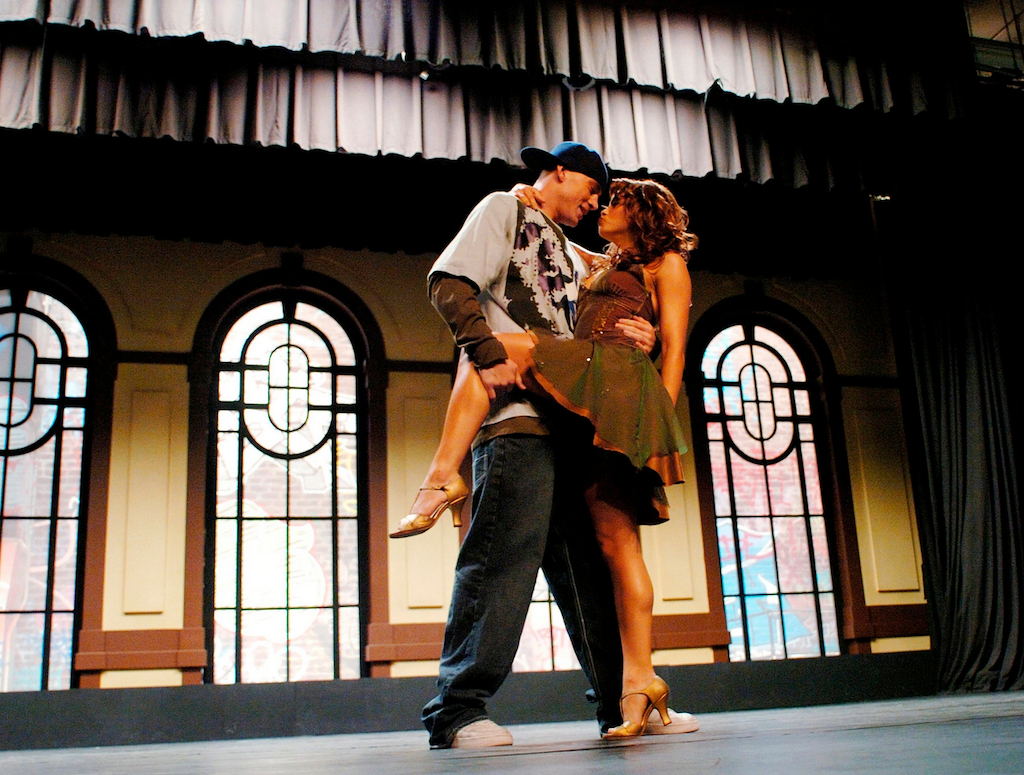 Some films improve over time for reasons that have very little to do with the film itself. Step Up is a such a film. When it first came out in 2006, it was a standard issue teen romance—perhaps a smidge more authentic than most, with supporting characters that were a bit more fleshed out than the usual fare, but hardly revelatory.
It focused on Tyler (Channing Tatum), a foster kid from the wrong side of the tracks who is forced to do community service at the fictitious Maryland School for the Arts after he and his buddies vandalize the auditorium. There, he meets aspiring ballet dancer Nora (Jenna Dewan) who needs a partner for the senior showcase. From that point on, literally everything you expect to happen does.
So why has the film gotten better? Well, a lot has to do with Tatum himself. This was one of his first films—and he already was demonstrating some of the beefcake-y smolder combined with goofy charm that would make him a star. Also, famously, Tatum went on to fall in love with and marry his co-star, Dewan (they've since divorced). Strangely enough, as is the case with a lot of romantic partners on screen, their chemistry is nothing to write home about. (Then again, they're playing high school students, so perhaps this is for the best.) Lastly, the film went on to launch an unlikely film series (including Step Up 3D!). Who would've seen that coming?
A legitimate complaint when the film came out is that there isn't enough dancing in it—and I agree. That's at least partly because Tatum, a pretty good B-Boy (and an even better male stripper), is not particularly good at the ballet/contemporary steps. He looks a bit galumphing.
It's actually more realistic in a way—in a different film, Tyler would start out a hip hop dancer and end up the next Baryshnikov. There is, however, a scene where a bunch of kids go to an a warehouse party and break into a perfectly choreographed line dance together. (You won't catch me complaining: I love a good teen precision dance interlude.)
Some parts work better than others: Tyler has a best friend, Mac (Damaine Radcliff), who's a great basketball player, maybe good enough for a college scholarship. Instead, both he and Tyler waste time hotwiring cars, going to parties, and sacked out on the couch playing video games.
They claim it's because the system is rigged against them—and they're right. But are they really doing the most they can to rise about their life's circumstances? The events of the film, somewhat ham-handedly, point them in the right direction—but the relationship between the two friends never feels less than authentic.
On the other hand, a subplot involving Nora's joyless mother feels like an afterthought. But there's a cute side romance brewing between Nora's best friend (Drew Sidora) and the school's budding music producer (Mario) that pays dividends.
It seems that the film's director, Anne Fletcher, figured out what she had on her hands with Tatum. Even the final scene, meant to be a showcase for Nora's talent, puts Tyler front and center—always a smart move. Which reminds me…is Magic Mike on Netflix?
Now onto the important part: How does it rate on the Baltimore Movie Scale?
How Baltimore Is It?: To be honest, not particularly. It seems that Baltimore is used as a generic stand-in for "gritty urban city." That being said, it really was filmed in Baltimore. You'll recognize a lot of the locations, including Canton, and there are ample views of the Baltimore skyline.
What They Got Right: Tyler's friends are mostly African American and the "Maryland School for the Arts" has a nice racial mix. This is pretty refreshing after the lily white He's Just Not That Into You. In one scene you can see the Domino Sugar sign, which seems pretty de rigueur for Baltimore films at this point.
Bonus: The film features arabbers!
What They Got Wrong: Well, of course there's no such thing as the Maryland School for the Arts—and the film doesn't even use the Baltimore School for the Arts as an exterior (they use Booker T. Washington Middle School on McCulloh Street instead). The school's interior is actually the City Pier Baltimore, aka the old Homicide set (and now Sagamore Pendry hotel) in Fells Point.
Tyler is supposed to live on the mean streets of Hampden (lol) but it looks more like Dundalk. Also the film includes the following exchange:
Tyler: You ever been to Hampden?
Nora: There's a place I go near there.
Okay, it was 2006 but I'm pretty sure an artsy high school kid would've been to Hampden. (The place "near" Hampden is actually the Riverside Power Plant on Broening Highway, i.e. NOT near Hampden.)
Mac's mother works at the Baltimore Motel, which has a cool crab in the logo, but doesn't exist. (It should, though.)
Also, they cast Baltimore's own Mario as a…would-be producer? He barely gets to sing in the film, which seems like a wasted opportunity considering it's a film about a performing arts school.
And oh yeah, not a single person in the film has a Baltimore accent.