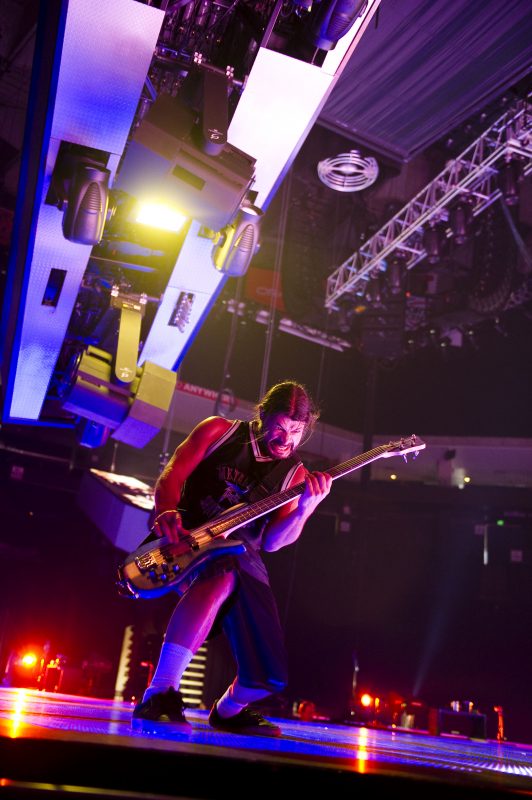 Ross Halfin
Metallica bassist Robert Trujillo will be celebrating Record Store Day at Sound Garden this Saturday. From 4-6 pm, Trujillo will meet fans, sign records, and talk about the upcoming documentary he's producing about his musical hero, Jaco Pastorius. I spoke with Trujillo, who seems like a gem of guy, about the movie, previous visits to Baltimore, and Metallica's plans for 2014. And check out the poster his wife, Chloe, created for the event.
So what do you think of Baltimore?
I love Baltimore, and I've come through there plenty of times over the years. The first time, in 1990, I played [with Suicidal Tendencies] at Painters Mill, which was a surreal place for a concert, and the party there was wild and amazing. Pantera and Exodus were also on that show, and it seemed like the evening never ended. I'm ashamed to say, but I wound up at some strange Motel 6 eating leftovers off other peoples' plates.
You're in California. Are you coming in just for Record Store Day, or do you have other business?
No, it's just for Record Store Day. They tell me The Sound Garden's an excellent record store and [owner] Bryan [Burkett] is a great guy. And it's been a wild week. I had hiatal hernia surgery last Friday. Thankfully, it went extremely well, and I'll be fine. It actually feels like a new start. I turn 50 this year, and 2014 seems to be full of new beginnings.
When did you first hear Jaco?
My love of Jaco's music goes way back. My parents fed me all kinds of different music, including Beethoven and flamenco. In fact, my dad played flamenco guitar, and I was also listening to P-Funk, Marvin Gaye, the Stones, Led Zeppelin, Yes, and Black Sabbath. The first concert I ever saw was The Isley Brothers at the L.A. Forum—with Wild Cherry opening up—and the first album I ever bought was Santana's Abraxas. Back then, buying albums was about more than the music; it was also about the gatefold cover, examining the graphics, and checking out the poster that came with the record. It was a beautiful time, and I was immersed in a bunch of different styles.
I found that I was deeply moved by the bass and the rhythm section. My dad's friend gave me a bass, and I practiced for about a year. Then, I discovered Jaco, his first LP. It was like hearing Eddie Van Halen solo on "Eruption" for the first time and wondering, "What is he playing?" Jaco's bass had a unique growl to it, and he played this funky staccato with dead-on technique. It was a wake up call to me. I was lucky enough to see him two times, once with Weather Report and also with the Word of Mouth Big Band. It was stunning—he had that effect on everybody. He gets profiled as a jazz cat, but he's so much more than that.
His appeal seems to be about more than just chops. He had the sort of attitude that even punk rockers could admire, didn't he?
That's so dead on, because is influence was never one-dimensional. From the way he played to the way he carried himself onstage, he had that attitude, that edge. That's why so many rock musicians, even metal guys, respect Jaco so much. He's a gateway to all types of music, and he played in so many different settings. A lot of people, for instance, don't know that he played with Ian Hunter, but his solo on "All American Alien Boy" is just incredible. He could bring his signature sound to anything, and it would work.
How did you get involved with the film?
I met his son, Johnny, who was a fan of Suicidal Tendencies and Infectious Grooves, and kept telling him, "You have to share your father's story with the world." From all the music to his struggles with bi-polar disorder [which led to Jaco's death, at the age of 35, in 1987], it's just so interesting and massive. I just wanted someone to do it, never thinking that I'd be involved. So Johnny started on some things, and I eventually got into the mix and sort of inherited this film. We've been working on it for three-and-a-half, four years now, and it features an incredible cast of characters, including Wayne Shorter, Bootsy Collins, Flea, Geddy Lee, Sting, and guys like Peter Erskine from Jaco's band. We've found a huge amount of treasures, including Super 8 footage of Jaco when he was eight years old.
When's it coming out?
We're still editing, but we've hooked up with Passion Pictures, the production company that did Searching for Sugar Man, and that's exciting. It'll be released this November.
And will you be showing any clips this Saturday?
Yeah, we'll have something to show. [Filmmaker/cinematographer] Paul Marchand will be with me, and we'll have a trailer or a sizzle reel that's about seven minutes long. Johnny will be there, too, and he's bringing records from his father's collection that we're going to play. It should be a lot of fun.
Omnivore's new album of unreleased Jaco recordings, Modern American Music… Period!, comes out that day, too.
As the story goes, Jaco and the engineer snuck into the studio at night and cut those tracks, which have kind of a punk edge to them. It's great that they'll come out on Record Store Day. I'm all for celebrating vinyl. In fact, we [Metallica] were Record Store Day ambassadors back in 2008.
Speaking of Metallica, what's the band up to?
We're heading to Europe next month. We're playing all-request shows, where fans determine the set list each night, and that's challenging, because we could end up playing anything. We're also working on new material for the next album. So 2014 is definitely shaping up to be a busy year for me.