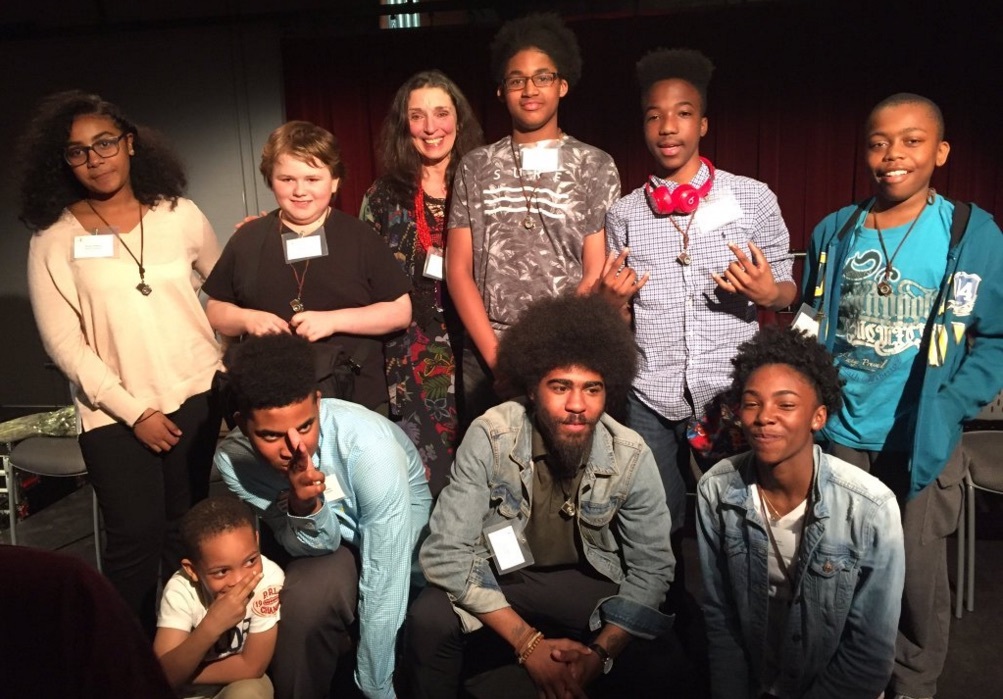 Courtesy of Arts Every Day
"The crazy thing about it is they're better than me," activist and photographer Devin Allen says with a laugh, speaking to more than 100 attendees at the opening of "Through Our Eyes," an event that celebrated an exhibit of photographs by seven Windsor Hills middle school students.
"It took them two, three months to learn what they learned and to get the shots that they got," continues Allen, who's perhaps best known for his photo that made the cover of Time last May, after the death of Freddie Gray. "It took me two years to get that good!"
Presented by Arts Every Day—a nonprofit that aims to improve access to art education in Baltimore City Public Schools—"Through Our Eyes" culminates a three-month-long after-school photography workshop Allen led. He curated the show himself, selecting three photos from each of the students' portfolios to display.
A self-taught photographer, Allen was inspired to teach after witnessing the spring unrest. "I saw so many kids on the front lines, you know, riding their bikes in between police officers," he says, before introducing the students. "I just thought, 'What if these kids had cameras? What would they capture?'"
The exhibit offers a look into the day-to-day lives of the seven students, who brought cameras to class, home, and while hanging out with friends. Their work spans portraits (like 8th-grader Kyla Booker's close-up of her cousin eating ice cream) to landscapes (like a photograph by 8th-grader Tyriq Hall, who captured the view from a window of his math class).
Students had a range of previous arts experience. Amari Weems, an 8th grader, says photography built on her interest in drawing, while 7th-grader Charles Lockner—who now emphasizes his loyalty to the Canon cameras he used throughout the workshop—says he used to practice with his sister's Hannah Montana camera.
Omar Pearce, an 8th grader and poet, commented on the synergy he discovered between photography and his writing. "Sometimes pictures can paint something more than words can," he explains, adding that a photograph he took of a bird inspired him to paraphrase a Langston Hughes quotation on stage at the opening: "If you take away dreams from life, it's like a bird without wings."
For Allen, the "Through Our Eyes" project began almost a year ago, when he decided to raise money for photography equipment to teach kids in the city. After receiving thousands in donations—which, according to Allen, includes $20,000 from Russell Simmons and $5,000 from the Reginald F. Lewis Museum—he bought 10 cameras, which he used for instruction at local youth center Penn North Kids Safe Zone.
Cindy Marcoline, a media arts specialist from Windsor Hills, approached Allen about working with the school soon after. "I just wing everything," Allen says of his teaching style. "I honor what they like, what they don't like. I treat them as equals—I don't treat them like I'm superior to them."
Moving forward, Arts Every Day is fundraising for Allen to do a speaker tour at five other local schools, according to executive director Julia Di Bussolo. "We're hoping that this partnership has some legs beyond Windsor Hills."
"Through Our Eyes" will be on display at Motor House, 120 W. North Ave., through April 15. To schedule a time to tour the exhibit, reach out to Arts Every Day by calling 410-685-1172 or emailing [email protected]. Proceeds from the exhibit's photography sales go to the student photographers.