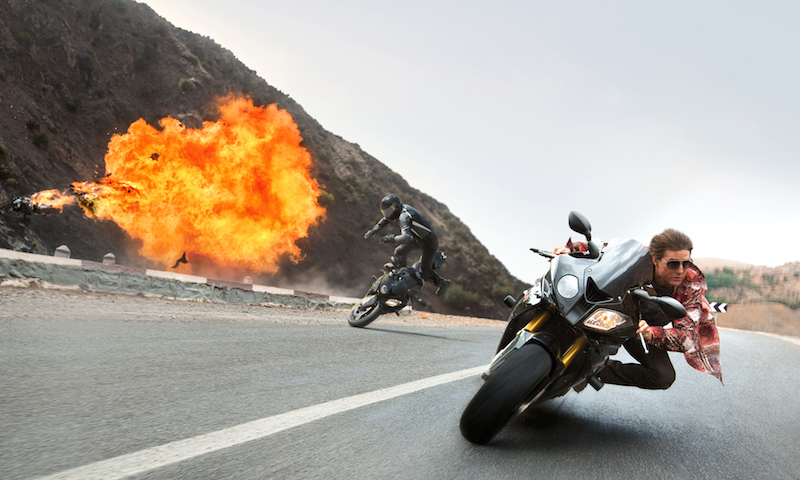 Paramount Pictures
If Jason Bourne is our most brooding spy and James Bond is our suavest, then IMF agent Ethan Hunt is our most intense, the one most willing to do whatever it takes to get the job done. Sound like anyone we know?
At 53, Tom Cruise hasn't aged into a silver fox, like his contemporary George Clooney. Instead, with his floppy hair and eager grin, he could still be described as boyish. And like so many of Hollywood's middle aged action heroes, he's quite fit, albeit less bulky than Hugh Jackman and Vin Diesel—he's got a gymnast's compact build. Famously, he does most of his own stunts.
If Cruise has never looked totally relaxed on screen, he's always looked extremely right up there. The guy's been a movie star since he was 20 years old—and with good reason. He embodies a certain can-do American archetype—handsome, cocksure, brave—only his version is dialed up to 11. Which, of course, makes him the perfect actor to play Hunt.
The Mission Impossible franchise has had a remarkable directorial pedigree (Brian De Palma, John Woo, J.J. Abrams, and Brad Bird have all been at the helm). Add Rogue Nation's Christopher McQuarrie (Jack Reacher) to that list. He has a way of keeping the action exciting, playful, and—most importantly— easy to follow. (How I hate a disorienting action scene where you can't tell who's who and spectacle is given precedence over lucidity.)
Here's the premise: A terrorist group called the Syndicate, composed of gone-rogue intelligence agents all presumed dead, is wreaking global havoc. The only problem? Hunt and his IMF cohorts are the only ones who believe they're real. And because of Hunt's reckless ways, the IMF has just been shut down by the CIA. So now Hunt has to go off the grid in an attempt to stop the Syndicate. As he chases them from Vienna to Morocco to London, he's accompanied by fellow agent/tech wiz/comic relief Benji (Simon Pegg) and a beautiful, badass female agent Ilsa (Swedish actress Rebecca Ferguson, a dead-ringer for Ingrid Bergman), who is either a much-needed ally or a deadly assassin hell bent on his destruction (I hate when that happens!). Eventually, former IMF boss William Brandt (Jeremy Renner) and retired agent Luther Stickell (Ving Rhames) catch up with Hunt in Morocco, literally mid-chase. Hunt gives a diffident wave and zooms off on his motorcycle, as Brandt and Stickell, who are driving a jeep, exchange a look. "It's a high speed chase," groans Brandt. "You had to get the 4X4!"
Those grace notes of humor run throughout. At one point, Alec Baldwin, who plays the CIA boss, barks, "Set your clocks. We'll have Hunt by this time tomorrow." Then, on the screen it flashes, "Six Month Later." In another sequence, Hunt is fighting a man on scaffolding in the Vienna Opera House. Early in the fight, they're both crouched. Then the man rises . . . and rises—until he towers over Hunt. The scene is shot, amusingly, from Hunt's perspective.
A minor quibble: Sean Harris's (generic) villain happens to look a lot like Simon Pegg—they're both redheads with pug noses and pointy chins. No, not to the degree where I actually confused the actors. But I did think there might be some sort of big reveal, a moment where Harris's Lane would drawl, "Hello, brother."
There are several elaborate set pieces—a de rigeur "our hero is shirtless and about to be tortured" scene; the aforementioned fight scene at the Opera House; and a nifty one that has Hunt hanging off the side of an airplane. But my favorite sequence involves an elaborate attempt to break into a secure intelligence agency that ends with Hunt diving, kamikaze style, into a giant whirlpool so he can swap out data in an underwater lockbox. Again, because of Cruise's gonzo focus, you believe that Hunt is just the sort of guy who might jump to his almost certain death to save the day. After all, it's not called Mission: Nearly Impossible, now is it?