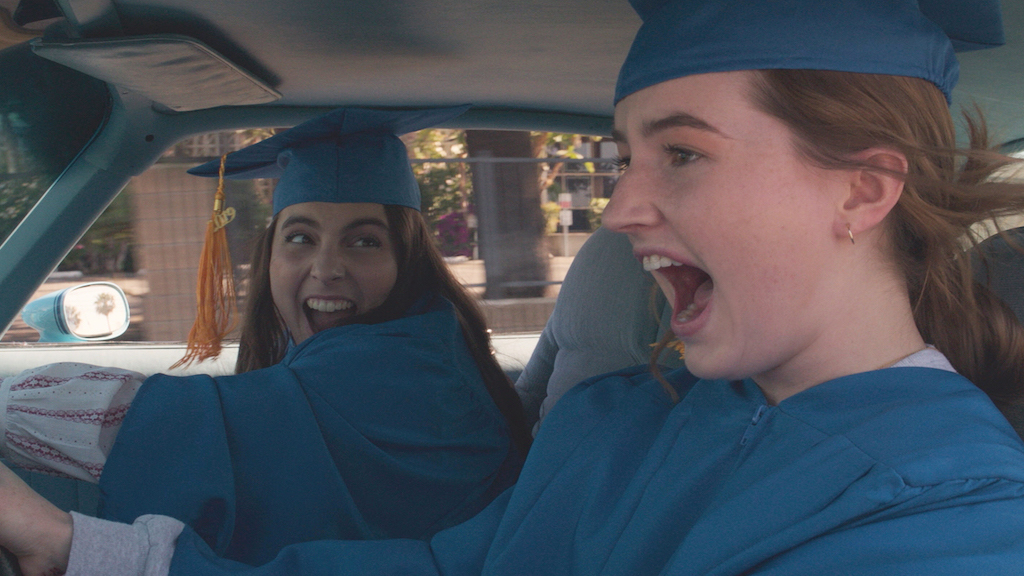 United Artists Releasing
If Broad City's Abbi and Ilana were overachieving high school students who never got high—a stretch, I admit—they'd look something like the ride or die besties in Olivia Wilde's endearing and hilarious Booksmart. It's the last day of school and Molly (Beanie Feldstein) and Amy (Kaitlyn Dever) are performing their usual ritual. Amy roles up in her mom's "Vulva," they do a spontaneous dance on the sidewalks, and pile on an ever-escalating series of mutual hosannas. Molly is confident in their future—she's going to Yale; Amy is doing volunteer work in Botswana before heading to Columbia. They don't really have friends outside of each other, although their classmates tolerate and perhaps harbor some mild curiosity about them. Even the high school principal (Jason Sudeikis) rolls his eyes when they show up in his office (Molly, class president, wants to discuss the school budget). Molly is the kind of person who, whipping out a marker and shaking her head with irritation, corrects the grammar of the bathroom graffiti. But it's all been worth it—because they've made it, and their hard-partying classmates most definitely haven't.
Except not so much. Molly's mind is completely blown when she discovers that all the other kids in her orbit are successful, too. The sexy skater girl Triple A (Molly Gordon) is also going to Yale. Her floppy haired cohort (Nico Hiraga), who favors backwards overalls and no shirt, is going to Stanford. Molly's ne'er do well class vice president Nick (Mason Gooding)—the popular jock—is going to Georgetown. Another classmate (Eduardo Franco) is skipping college altogether to begin a job coding at Google. And so on.
Molly suddenly realizes that she and Amy could've had their cake and eat it, too, so to speak. She's determined to make up for lost time—lots of it—with one final hard-partying night.
The premise of two bookish pals looking for the party of a lifetime has been done many times before—from John Hughes films to Superbad—but it's a reliable genre that Wilde negotiates with verve. My favorite thing about the film is the specificity of—and generosity toward—its characters. Every character has a recognizable interior life, from the pint-sized, lounge lizard theater impresario (Noah Galvin)—he's basically a gay 50 year old man in the body of a teenager—to the braggadocious yet deeply insecure rich kid (Skyler Gisondo), a virgin whose license plate nonetheless reads "Fuk Boi." A young teacher (Jessica Williams) hovers outside the raging party and says, mostly to herself, "It would be weird if I went inside, right?" And then there's the film's recurring joke, a flower child rich girl (note-perfect Billie Lourd) who is so all-seeing and ubiquitous, she seems to defy the laws of physics.
As mentioned, Booksmart has echoes of past films, including a touch of Greta Gerwig's early-aughts-set Lady Bird, but it's clearly rooted in the here and now. Amy happens to be a lesbian, a fact that isn't a revelation but just a known thing. When she wonders if a female classmate she's crushing on is also gay, Molly points out that the girl wore a polo shirt to prom. "That's gender performativeness," corrects Amy, noting that isn't the same thing as sexuality. This is the way kids actually talk today. Later, Amy and Molly have a confrontation at the party. The dialogue cuts out and all we see is their lips moving and the glow of cameras as their classmates document all the drama on their phones.
The film is peppered with jokes—some highly clever, some merely raunchy, as the genre demands—but it also has a beating heart. We care about Molly and Amy not because the film is sentimental, but because their friendship and connection rings so true. I love when I'm surprised by my own tears at the end of a film, as was the case here. Consistently funny as it is, Booksmart earns its emotional payoff.