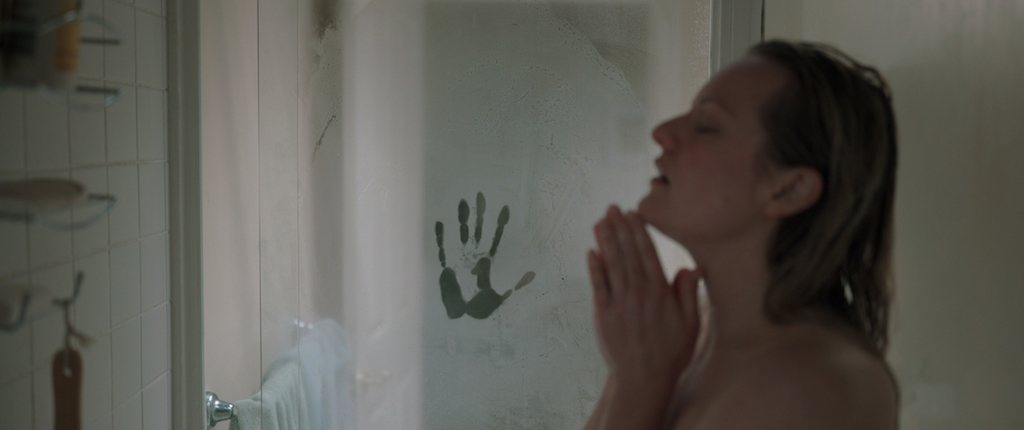 Does anyone give better struggle face than Elisabeth Moss? The actress expertly suffers her way through Hulu's The Handmaid's Tale and she once again puts her uncannily expressive talents to use in The Invisible Man.
As the film opens, it's the middle of the night and Cecilia (Moss) is lying next to her lover in a sleek but eerily remote mansion. She gently moves his hand off of her, so as not to awaken him. Is she merely being considerate? It soon becomes clear that she's not just getting up for a bathroom run—she's escaping the house and has been planning it for a while. An overnight bag is already packed and at the ready, she knows the codes to all the security cameras, and she's even drugged her boyfriend, Adrian (Oliver Jackson-Cohen), with diazepam. This scene perfectly sets up the tone of the film as she tiptoes around the mansion, trying to not make any noise, casting furtive glances at the one video feed of Adrian asleep in his bed. We feel the creeping tension and dread with each step.
She does eventually escape—but not before awakening the dog and triggering the car alarm—and although she's out, she's still traumatized by her abusive past. She's staying at the home of her sister's studly cop boyfriend (Aldis Hodge) and his college-bound daughter (Storm Reid), but she's reluctant to set foot outside (a run to the mailbox constitutes a small triumph). When it's reported that Adrian is dead by suicide, everyone, including her sister (Harriet Dyer), expects her to snap out of it, go back to normal. But she can't shake the feeling that a control freak like Adrian is never really gone. Eventually, she starts to feel his presence around the house—a smell, a sensation—and director Leigh Whannell (who also wrote the neatly efficient script) has great fun playing with things like indented seat cushions and an extra human breath wafting into a cold night.
The Invisible Man is one of those great, "everyone thinks she's crazy but we know she's not" movies and the frustrations (and stakes) keep mounting as the film goes on. Whannell often shoots from the point of view of the invisible Adrian to heighten the fear factor. You're not being paranoid if you really are being watched.
It honestly makes sense to update The Invisible Man, not just because of the sure-why-not technology that Adrian employs to render himself invisible (he's described as a "world leader in the field of optics" lol), but because the film has clear echoes of the #MeToo movement. Cecilia is every woman who has been stalked and controlled by an abusive and vengeful partner. But remember—there's another face that Elisabeth Moss has proven to be good at: table-turning, ass-kicking revenge face. Will she get her chance to wield it here? Watch and find out.