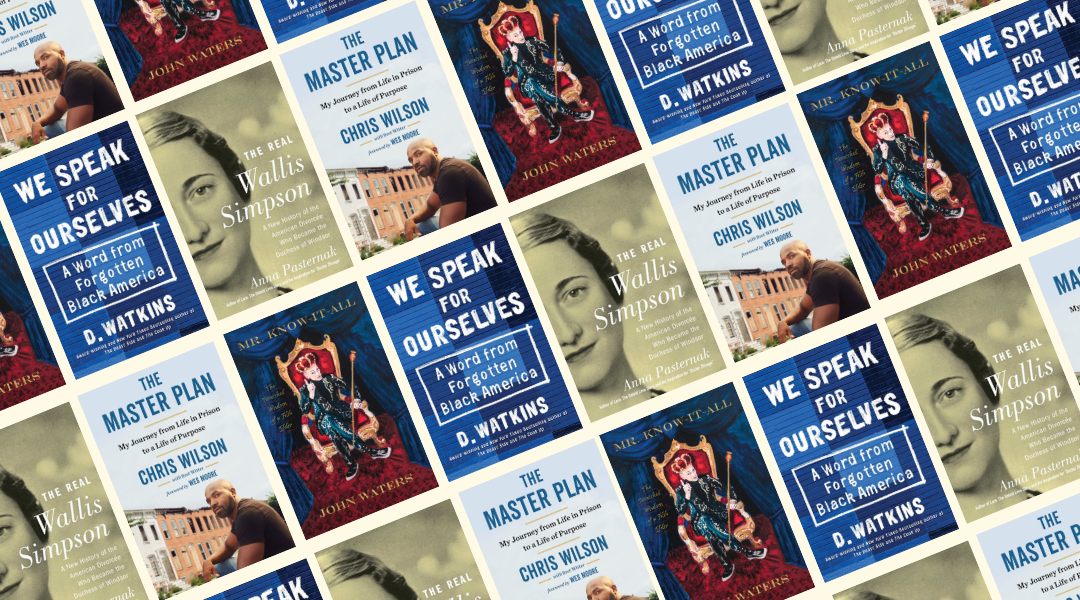 Lorann Cocca
Through novels, memoirs, essays, and poems that hit shelves this year, we've taken journeys both near and far and learned more about our world and city.
We uncovered secret, historical letters sent to and from Baltimore, and we took quiet walks through Pennsylvania forests while watching the natural ecosystem change each year. We traveled alongside the much-talked-about figure Wallis Simpson to lavish parties at Buckingham Palace, and we dove head-first into the depths of heroin addiction in a 1990s Baltimore spun out of control.
We learned more about systemic racism, mass incarceration, the modern-day art world, immigration, and how to make public spaces safer and more inclusive. We also quieted our minds to take in zen-like poetry and moments in nature worth savoring.
Here's a look back at our favorite reads of the year, all of which have ties to Baltimore.
The Master Plan: My Journey from Life in Prison to a Life of Purpose
Chris Wilson with Bret Witter (G.P. Putnam's Sons)
After reading 400 pages of Chris Wilson's memoir, one word stands out: endgame. He shares the sometimes heart-wrenching, occasionally heartwarming account of growing up in a violent Washington, D.C. neighborhood, catching a life sentence for murder at 18, and the creation of his "Master Plan." As he grows from boy to man, we see him check off each item on that list—get a high school diploma, eat no junk food, get an AA degree—while continuing to add bigger dreams. Beating all odds, his sentence is reduced, and he eventually arrives in Baltimore as a free man with the objective to help other "returning citizens." We see him go from sleeping on a friend's couch, traveling by borrowed bike, and mowing lawns for a living, to starting his own business (Barclay Investment Corporation), sharing his story with people all over the country, and becoming an active, positive member of his community. It's a story of perseverance, hope, and redemption. And he also sets forth a challenge for readers: what is our endgame? And how are we going to get there?
The Real Wallis Simpson: A New History of the American Divorcee Who Became the Duchess of Windsor
Anna Pasternak (Touchstone)
This colorful biography peels away the layers of one of the most talked-about—and perhaps misunderstood—figures in modern history: Wallis Simpson, the twice-divorced Baltimore native who stole the heart of the Prince of Wales and, so it's been said, ultimately caused his abdication of the throne after he became King of England. Anna Pasternak aims to set the record straight and, in some ways, rewrites history. What people call a fairytale love story between WE (Wallis and Edward's shorthand for themselves) was, in many ways, a tragedy, and though Wallis was often blamed for King Edward's abdication, it's evident—through letters, as well as testimonies of close friends—that Wallis did everything in her power to stop him. Details about Wallis—her impeccable sense of style, her sensitivity and nervous temperament behind a cool and confident exterior—bring us closer to the reality of who she was. The book also tells us a good bit about Edward—that he had a secret love of crocheting, that both he and Wallis struggled with insecurities about their sexual identities. A touching moment comes in the epilogue, when we see Pasternak's personal connection to the story and the lives of both the Duke and Duchess of Windsor.
Mr. Know-It-All: The Tarnished Wisdom of a Filth Elder
John Waters (Farrar, Straus and Giroux)
John Waters' flair for writing and his laugh-out-loud humor had us flying through his "tarnished wisdom." And what wisdom it is: Learn public speaking; "go Hollywood," if given the chance; be willing to change everything, he tells us. Juicy anecdotes from his career—fighting in court for his Pecker film title; possibly being the only director who didn't cast Brad Pitt after an audition, people whispering "demented forever" when passing him on the street, how he was asked to be celebrant for Johnny Depp and Winona Ryder's wedding but convinced them not to wed—run alongside his thoughts on religion, politics, gay rights, art, sex, drugs, even death. And what his restaurant would be like, were he to open one. This collection of essays is a must for all John Waters fans but also for young, aspiring filmmakers and artists who could use a little help from this larger-than-life personality.
Snowballs for Severance
Richie Frieman (The Omnibus Publishing)
This picture book would be great fun for readers of any age, were it simply about a 9-year-old boy who changed a century-old law in his hometown to allow snowball fights. But this story is even more remarkable because it's true. Through research and interviews with town hero Dane Best and his family, Richie Frieman wrote and illustrated this quirky tale, complete with direct quotes and cartoonish versions of the characters who make up Severance, Colorado. He includes a short questionnaire with Dane and photos at the end, though Dane is written so true to character, by that point, we feel like we already know this child activist.
Fake Like Me
Barbara Bourland (Grand Central Publishing)
Baltimore-based Barbara Bourland raises a magnifying glass to the contemporary art world in this brilliant satire. A cast of familiar-yet-eccentric characters plays out multiple storylines—a bizarre mystery (why did the young and famous New York artist Carey Logan drown herself in a lake?), a love story (really, a few), an artist's coming of age—but at its core, it's a penetrating, insightful discourse into what it means to be a practicing artist navigating the cut-throat art world. It's a must-read for art scholars and students, who will appreciate all the practical and existential questions the narrator faces—from taking on an impossible deadline after two years' worth of paintings are lost in a studio fire, to pondering the gray area between being an artist and being a commodity. And your jaw will drop more than a few times throughout Bourland's story, which is painted with rich imagery, exquisite details, and sensual delight.
We Speak for Ourselves: A Word from Forgotten Black America
D. Watkins (Atria Books)
D. Watkins is a master at his craft and has seemingly endless stories to share about Baltimore and the wisdom he's gleaned from living here. The New York Times best-selling author of The Beast Side: Living and Dying While Black in America and The Cook Up: A Crack Rock Memoir is back with another fresh take on life in East Baltimore and how his own life has changed since he's seen success as a writer. Here, the University of Baltimore professor aims to round out the stories being told about black culture in America. His down-to-earth, casual writing style allows us to easily enter his world, and his sense of humor tends to balance some of the heavy subject matter. Some passages—including one in which he repeats the phrase "black lives don't matter" alongside horrifying examples to prove his point—are painfully chilling. This book transcends memoir when Watkins offers solutions, including a checklist that breaks down systemic racism and allows us to think more deeply about how we can effect positive change in our communities.
Intrusive Beauty
Joseph J. Capista (Ohio University Press)
Contemporary poetry rarely has a melodic cadence, as rhythmic poetry is somehow considered unsophisticated. But Joseph J. Capista doesn't shy away from the joys of rollicking through language's innate richness of sound, as he weaves narratives about Baltimore, life as a husband and father, and the elegance of the natural world. The Towson University professor has the ability to see beauty in all places, and through his observations, he allows us to see it, too.
The Long Blink
Brian Kuebler (Behler Publications)
In WMAR News' investigative journalist Brian Kuebler's first book, he delves much deeper into the true story of a Baltimore family torn apart by tragedy after a trucker falls asleep at the wheel and kills Ed Slattery's wife and leaves his son disabled. We watch as a stunned Ed grapples with his new life in the wake of such a horrific event and how he moved through his grief to help heal not just those closest to him but others affected by trucking accidents. He rises from victim to activist, going to Capitol Hill to fight for safer trucking laws. But underneath his fight change, this is a story about how one man survived devastating trauma and used his pain to help others. The Long Blink is the epitome of a page-turner. Once you pick it up, don't expect to put it down until you've reached its very shocking and explosive end.
Chasing a Flawed Sun
Daniel McGhee (Phoenix Rising Publishing)
Perhaps you're thinking we don't need another memoir about the opioid crisis. But each experience through addiction is unique, yet universal themes connect all these stories. From page one, Daniel McGhee races down to the depths of hell on Earth and drags the reader along with him, every inch of the way. As painful as this memoir is to read—one horrifying, self-destructive story after the next—one can only imagine how painful it must've been to write, much less live. McGhee grew up a white, middle-class kid in Baltimore County, and in this gut-wrenchingly honest narrative, he takes us down the rabbit hole into his heroin addiction—but not before years of drinking every day and getting high on cocaine, Special K, and ecstasy (and selling them all, too), while constantly instigating fights, jumping people, pulling guns on people (seemingly nothing was off limits) and finding himself in and out of rehab—and prison. When retelling his story, he sometimes interrupts his own train of thought to comment on how ashamed he is, how lost and clueless he once was. Many addicts don't find themselves living the happy ending, but this book serves as some hope. It's a story every addict must know deeply, and this book would certainly resonate with them. But perhaps its greater gift lies in showing people who have not experienced addiction firsthand what it's like—physically, mentally, emotionally, and spiritually—and why addicts keep "chasing a flawed sun."
Father's Day Creek: Flying fishing, fatherhood and the last best place on Earth
Dan Rodricks (Apprentice House Press)
Baltimore Sun columnist Dan Rodricks' writing seems at ease in this collection of anecdotes and reflections on years spent fly fishing at a magical stream in Pennsylvania that he's named Father's Day Creek, in honor of visits with his father-in-law each year for the holiday and stopping by the natural respite while there. It's a place he calls his "spirit-home," and he insists that everyone should have one. As its subtitle suggests, Rodricks provides spectacular notes on the art of fly fishing, the devastation and regeneration of natural waterways because of various ecological factors, as well as the complexity of fatherhood, including father figures whom he calls "male mothers" and cultural changes that have altered the role of fathering. He also inevitably weaves together the connection between fatherhood and fishing. Worth noting: the forward was written by fly fishing legend Lefty Kreh just a few weeks before he died. In all, the book is a tribute to the simple yet sacred moments in life, and his honest, laid-back style of introspective storytelling feels reminiscent of a day spent in the woods, casting a line into the water, and forging a connection—be it with fathers, sons, nature, or yourself.