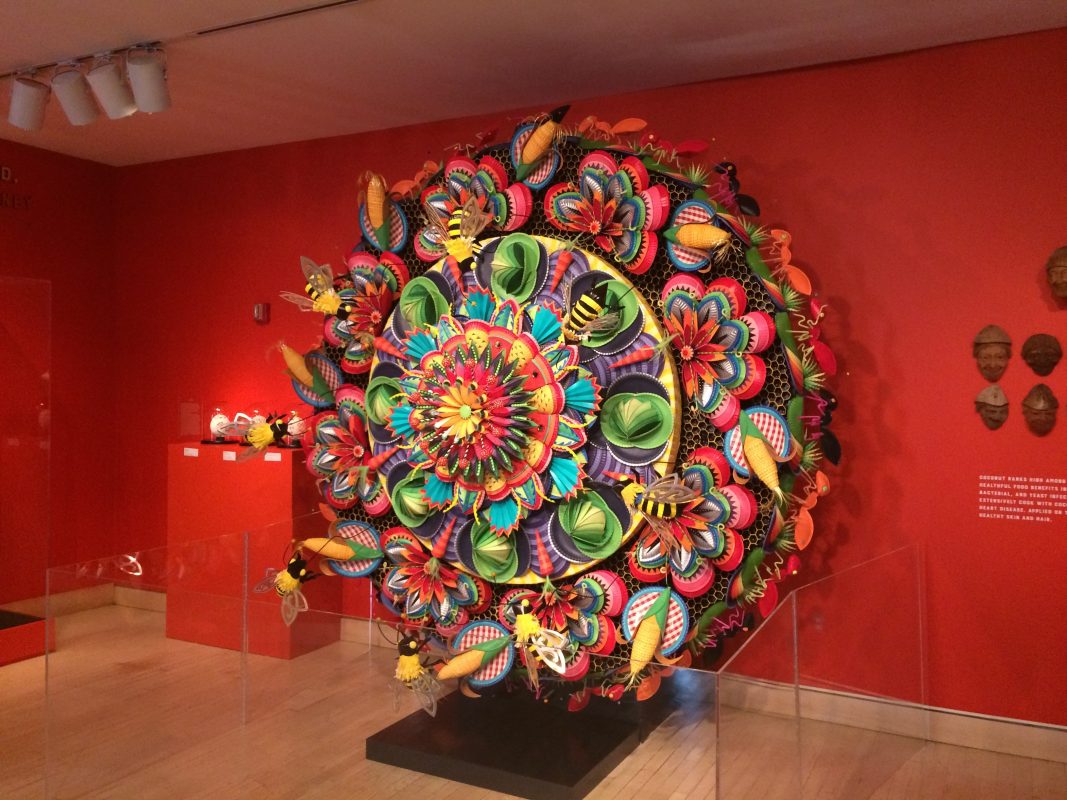 Gabriella Souza
At the preview of Yummm!, the latest exhibition at the American Visionary Art Museum, director Rebecca Hoffberger said that part of the inspiration for the show came after she read that, within 35 years, the Earth's population would reach 9 billion people. She then began to contemplate how that would affect how we produce our food.
"This is a museum that's always looked at the highs and lows of what it means to be a human being on Earth," Hoffberger said. The way we deal with the planet "has to benevolently change."
Despite this somewhat somber introduction, the works that comprise Yummm! are an enticing, diverse assortment that capture the whimsical spirit that has always defined AVAM. Take the icons made from various forms of bread, for example, or the mesmerizing, 10-foot motorized mandala made entirely of hand-painted paper plates, not to mention the color-drenched canvasses that are the handiworks of painters with no formal training.
In the flurry of subjects and artistic mediums—like the life-size neon-green gummy of Wayne Coyne, lead singer of the Flaming Lips, or the giant Peep-formed Swedish Chef from The Muppets—one could lose track of some of the central themes, including sustainability and awareness. (The reason for Yummm!'s three m's, by the way, is that Yum! is the name of the fast food company that includes KFC, and Yumm! "just didn't look right," Hoffberger said. Yummm! might also be the name of a porn company, and Hoffberger jokingly said she hopes it won't make the museum change the exhibit's name.)
But Hoffberger and assistant director John Lewis, who co-curated the exhibit (and is also Baltimore's editor at large), have placed reminders throughout that this isn't just about fantastical sculptures and trippy designs. Like an explanatory panel about food and climate next to a trio of lush paintings by Cuban artist Ramon Alejandro of fruits amid natural landscapes that causes one to wonder if the rich papayas and melons depicted could become a casualty of climate change.
Another such example is the piece "Shared Dining," an installation that includes a tabletop with place settings created by women inmates at a high-security prison in Connecticut. Inspired by Judy Chicago's groundbreaking installation "The Dinner Party", each woman made a place setting for another woman she'd like to have dinner with. Princess Diana and Nascar driver Danica Patrick are included in the group, and one of the inmates selected the woman she killed during a drunk driving accident—the crime that led to her incarceration.
During the tour, Lewis noted that the women were only able to use prison-approved items to create their art—nail clippers instead of scissors, for instance, and each place setting includes a plastic spork instead of a fork—and talked about the symbolism of the piece. He said, "It's about having a seat at the table."