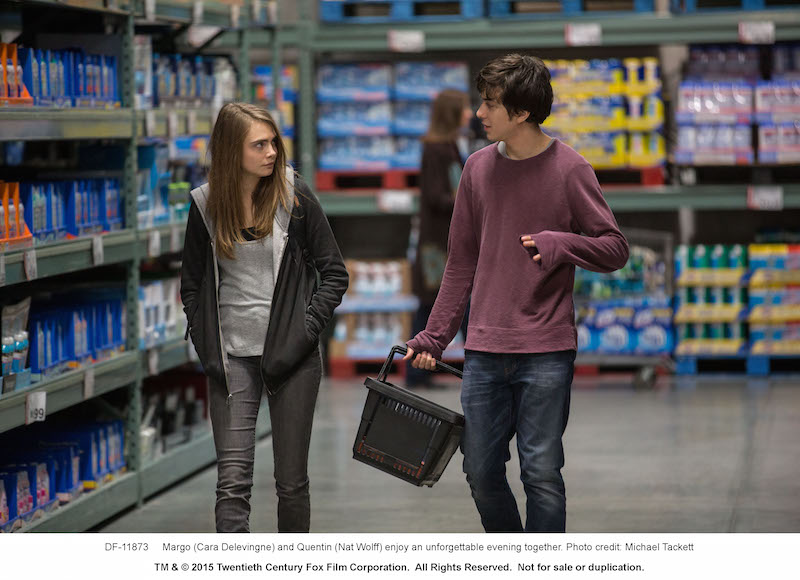 I like everything about Paper Towns except for its premise and central romance. Yes, I know those sort of seem like dealbreakers, but the things I liked about Paper Towns marginally outweighed the things I didn't like. Marginally.
Here's that premise: Young Quentin Jacobsen (Nat Wolff) has always been in love with his beautiful, elusive neighbor Margo Roth Spiegelman (Cara Delevinge). Margo is a rebel, a rulebreaker, a self-styled girl of mystery. She's the kind of girl who wears coonskin caps just because, who rides a bike without a helmet, and who randomly capitalizes letters in words, because grammar is just so bourgeois. She's also completely unbelievable as a human being.
I spent most of Paper Towns, which is directed by Jake Schreier and adapted by John Green's YA novel of the same name, wishing that Margo were a figment of Quentin's imagination—that the movie were a kind of teen Fight Club, with a twist. No such luck.
One night senior year of high school, Margo recruits Quentin to help her with a revenge plot against a cheating boyfriend because she needs his car. Or maybe she needs to teach him life lessons—which she explicitly states—about being spontaneous, embracing the moment, and not living in fear. Quentin emerges from this night of high school level mischief (which the film treats like some sort of ingenious master plan) as a changed young man—and more in love with Margo than ever. But the next day she disappears, leaving behind a series of clues that Quentin obsessively tries to decode to find her.
Look, it's perfectly possible for a young man to idealize and romanticize a young woman all out of proportion. (The wonderful The Virgin Suicides was essentially about that very thing.) But the problem with Paper Towns is that it, too, mythologizes Margo. Her character has no believable inner life. She only exists so that Quentin can grow and learn and change.
Okay, so what did I like about Paper Towns? Most everything else. For starters, I'm just in love with Nat Wolff as an actor—he's funny and natural and heartbreaking (he reminds me a bit of Miles Teller without the smirk). And Paper Towns is one of the best explorations of young male friendship I've seen since Superbad. Quentin has two best friends, a kind of loveable ne'er-do-well named Ben (Austin Abrams) and a brainy clarinet player named Radar (Justice Smith) who has a serious girlfriend (Jaz Sinclair) and super embarrassing parents who collect Black Santas. The rapport between these young actors is just marvelous—Radar and Quentin give Ben grief about his made-up sexual exploits (they're all in on the joke) and there's lots of talk about how hopelessly smitten Radar is. But they love and support each other. So when Quentin decides to go on a risky road trip to find Margo, they accompany him, along with Margo's best friend Lacey (Halston Sage) and Radar's girlfriend Angela. The road trip serves as a handy metaphor—that the ride might be more important than the destination.
So yeah, Paper Towns is worth seeing for the loose, funny, affectionate portrait of male friendship and Wolff's star-making performance. As for English model-turned-actress Delevingne? She didn't impress here but I'll reserve judgment on her acting chops until she plays an actual person.