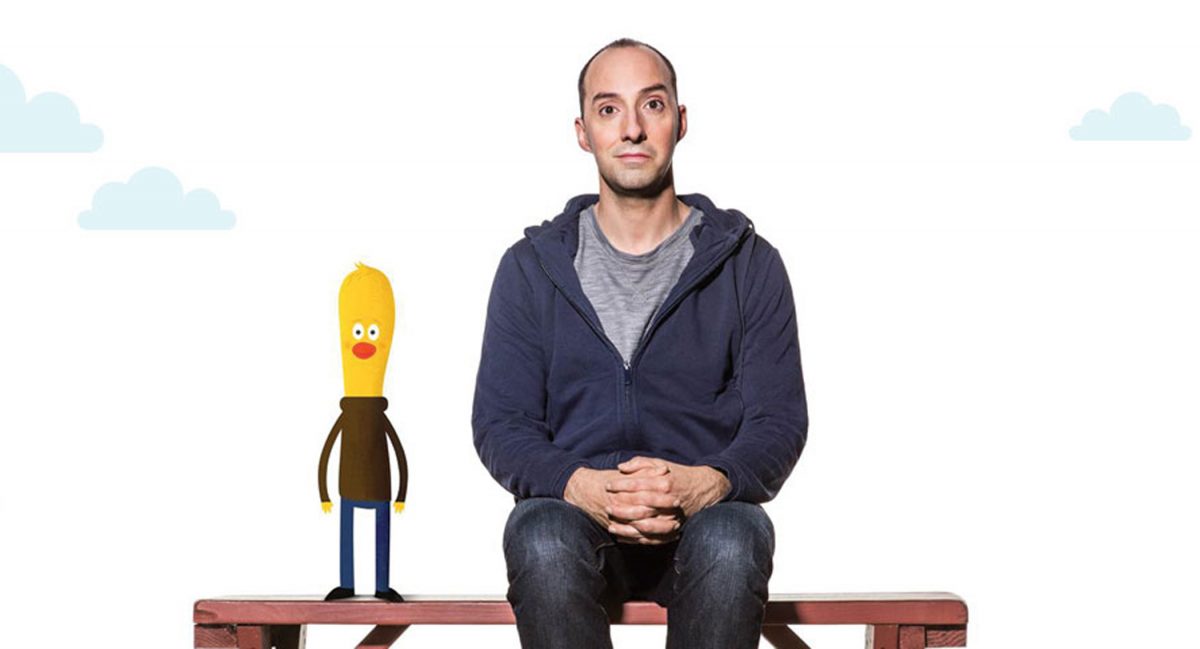 Boxing Clever Publishing
While Veep and House of Cards have been in town filming, it's been fun to spot the actors out and about in our hometown. This weekend, you'll be able to find Tony Hale (he plays the fawning assistant Gary) reading his new children's book at Calvert School.
Hale, along with his friend Tony Biaggne, co-wrote Archibald's Next Big Thing, which follows the adventures of a chicken named Archibald Strutter, as he attempts to find the next big thing and, through his adventures, learns to live in the now. The book was released by Boxing Clever Publishing and features illustrations by Misty Manley and Victor Huckabee.
On Saturday, Calvert School hosts "An Evening with Tony Hale" where the actor will discuss his new book, career, and challenges in embracing the present moment. A Q&A and book signing will follow. On Sunday, the actor will be at Amuse Toy's Quarry Lake location, reading from his book. Space is limited and it's intended for ages 4 and up.
We got a chance to chat with Tony about his book, filming in Baltimore, and the possibility of more Arrested Development down the line.
What inspired you to write a children's book in the first place?
I don't consider myself a really fancy writer and I've got nothing for an autobiography except my love for Trader Joe's. But I love the book's simplicity and I was inspired by the message as an actor. I've been doing this job for 20 years. Every time I got a gig, I found myself still looking to the next gig. If you spend too much time looking ahead, you'll miss the adventure you're on. I have an 8-year-old daughter and I wanted to encourage her to balance ambition with really making the most of what you have and really seeing things are all around you.
Can you talk about why you were drawn to Archibald as a character?
I love that he's a bald chicken. My favorite color is yellow and he reminds me of my favorite Muppet character, Beaker. I always loved him. Beaker was a very sweet, gullible character and he just has this innocence about him.
Talk about the events at Calvert School this weekend. How did you get involved?
We have loved shooting Veep here for three-and-a-half years and I would always go to this toy store called Amuse Toys in Fells Point. They're such wonderful people. I travel so much with the show, I would always pick out toys for my daughter Loy. I didn't want to bring her candy or whatever and they were really into educational toys and games you can play together. I wanted to give her something I can do with her. They were the ones who knew about Calvert School. I love doing these readings because talking to the kids is the best. One time a kid asked me, "Hey can Archibald swim?" I said he could and he said, "Okay good because I need floaties and, if he can't swim, he needs floaties, too."
What does Loy think of the book?
I think the whole seeing a person in the public eye is a lot for a kid to handle. But with a book, she was interested in it and she wanted to be a part of it. I would talk about stories with her and Tony would talk with his kids. And we would see what she liked. Archibald's sister's name is Loy and she helped design the clothes she wore and she wanted her to be in pigtails. And that was a really fun thing to do together.
So you're back filming Veep in Baltimore. What do you think of the city?
I'm crazy about Baltimore. I think when we shot the pilot, it was the first time I had been to Baltimore. I love discovering places like the Fork & Wrench in Canton, The Food Market in Hampden, and Thames Street Oyster House in Fells Point. I love Woodberry Kitchen and Birroteca. I always take people to those places when they come to town. I went to a show at Center Stage and MICA has great events. Of course, there's also Amuse. I love that little kind of cobblestone area downtown in Fells Point. It's a fun place to walk around.
Anything you can tell us about this season of Veep?
Let's just say the country is in a very dangerous place with Selena at the top. In Gary's eyes, it's the place it should be because she is Gary's queen. He is in dreamland because he feels like the country just woke up. You know it's going to be mass chaos. The thing that I love about the show is it kind of gives a behind-the-scenes picture of what's going on. People in power are having breakdowns and getting very insecure because they're in a pressure cooker. We've shown three years of this woman losing her mind and then you see her ascend to presidency. It's just crazy. It brings back the humanity. We love to put people on pedestals and we like to say they're going to change the world. We kind of ignore the humanity.
How were the Emmys this year? I feel like Julia Louis-Dreyfus always has the best bits when she wins.
It's always fun and I still appreciate that, every time she's honored for something, she feels the responsibility to make people laugh. It's not just about her; it's also about entertaining the audience.
I feel like I have to ask: Any other Arrested Development talk?
The unfortunate thing is I get all my news from the Internet. What I do know is I feel the story has to continue and I know that everybody would jump at the chance to do Mitch [Hurwitz]'s writing again. It's so full of surprises; there's no mold in his writing. It just goes on these crazy-ass tangents. Like, wait a minute, his hand gets bitten off by a seal? You never know what's going to be happening. I think Netflix and Will Arnett said they want to do it. I know we would all jump at the chance.
Archibald's Next Big Thing is available on Amazon or through its website. And tickets for this weekend's events can be purchased here.