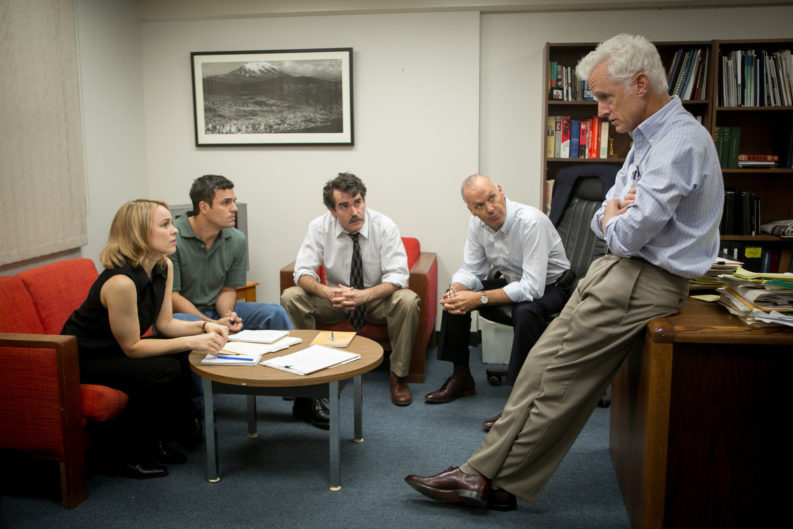 Usually by this point in the "Oscar season," I have a pretty strong idea which film is going to win Best Picture. I'm not saying I'm always right (there was the dreaded "if Brokeback Mountain doesn't win Best Picture I'll eat my shoe" incident of 2006), but at least I have the strength of my convictions.
This year, however, I'm totally lost.
I was early out of the gate predicting Spotlight as the Best Picture winner. It ticked off all the right boxes: Prestigious ensemble cast; important social message; grimy, throwback feel; established director who had paid his dues with smaller indie films; and so on.
Ridiculously early Oscar pick, based on a hunch: SPOTLIGHT will win Best Picture.
— Max Weiss (@maxthegirl) September 8, 2015
(I actually wrote that tweet BEFORE I saw Spotlight, by the way, and ended up liking it very much. However, as I've said many times before, seeing a film, if anything, impedes one's ability to objectively assess its Oscar chances. One's heart (or even one's taste) should never get in the way in the commerce + art + past-as-prologue formula that is predicting Oscar.)
Anyway, although Spotlight has done pretty well for itself in the run up to Oscar (Critic's Choice Award, SAG Award, NSFC winner), it hasn't quite seized the momentum I thought it would. In fact, two other films—The Big Short (Producer's Guild and Golden Globe for comedy) and The Revenant (BAFTA, DGA, and Golden Globe for drama)—have stolen much of its thunder.
Which leaves me in a bit of a conundrum.
My Osc-dar says that neither The Big Short nor The Revenant are your standard and Oscar fare:
The Big Short, smart and wickedly entertaining as it is, is simply too bratty and jokey for Oscar. Its themes are dead serious but its tone is not—and Oscar doesn't usually reward comedies. More importantly, its director Adam McKay has Anchorman and Step Brothers under his belt. Those films are actually both great, but is that the kind of résumé that generally gets rewarded with Oscar?
The Revenant poses its own sets of problems. For starters, its director, Alejandro G. Iñárritu, just won last year for Birdman (both as Best Director and Best Film). Oscar has never awarded the same director Best Picture two years in a row, so that would be a remarkable new precedent. Also, The Revenant, much as I enjoyed it, is really just a beautifully shot revenge Western. It has some actual depth—in the form of Tom Hardy's pious and self-justifying sadist—and some pseudo depth (DiCaprio's murmured and mystical memories of his dead Native-American wife) but it works best as an impeccably directed adventure film. Is it important enough for Oscar?
And yet. If you go to the useful Oscar prognostication site, GoldDerby.com, you'll see that virtually all of the experts polled there are picking The Revenant. Many of these people live in L.A., attend luncheons and other such functions with Oscar voters, and are able to have their ears to the ground in a way that I simply can't here in Baltimore. So here we are. Do I go with my gut instinct and pick Spotlight? Or do I do the sensible thing and go with the overwhelming pundit vote?
After way more soul searching than this subject deserves, I've decided to stick to my guns and pick Spotlight. Switching to The Revenant at the eleventh hour feels like that SAT answer you changed at the last minute—and got wrong.
Put it to you this way: If The Revenant wins, I'll be bummed. (And amused, because the critics of so-called Film Twitter—who largely hate it—will go bananas.) But if Spotlight wins and I had gone with conventional wisdom and picked The Revenant, I'd never forgive myself.*
*But you should probably go ahead and pick The Revenant on your Oscar pool. I mean, what are you, some sort of crazy person?
Okay, let's go through the entire race.
Best Picture
The Big Short
Bridge of Spies
Brooklyn
Mad Max: Fury Road
The Martian
The Revenant
Room
Spotlight
Who will win: Spotlight
Why: See above.
Who should win: Carol . . . but since it's not nominated, I'll say Brooklyn.
Best Actor
Bryan Cranston, Trumbo
Leonardo DiCaprio, The Revenant
Michael Fassbender, Steve Jobs
Eddie Redmayne, The Danish Girl
Matt Damon, The Martian
Who will win: Leonardo DiCaprio
Why: When an actor is seen as overdue and becomes the popular and sentimental favorite—true of DiCaprio—all he has to do is deliver a performance that is good enough to warrant an Oscar. His performance here is certainly that—and more. Some have argued that it's more a feat of endurance than artistry, but I make a case for its unqualified excellence in my The Revenant review.
Who should win: DiCaprio
Best Actress
Cate Blanchett, Carol
Brie Larson, Room
Jennifer Lawrence, Joy
Charlotte Rampling, 45 Years
Saoirse Ronan, Brooklyn
Who will win: Brie Larson
Why: The performance is really, really great—plus it has that stripped down, vanity-free quality that Oscar voters love so much. Larson made a name for herself with Short Term 12, then ably supported the red-hot Amy Schumer in Trainwreck, and comes into her own as both a major talent and star here.
Who should win: This category is such an embarrassment of riches I can't EVEN. I can make a strong case for all of these sublime performances winning (well, maybe not Lawrence's, although she was quite good). But I actually voted for Larson on my Critic's Choice ballot, so I'll stick with her.
Best Supporting Actor
Christian Bale, The Big Short
Tom Hardy, The Revenant
Mark Rylance, Bridge of Spies
Sylvester Stallone, Creed
Mark Ruffalo, Spotlight
Who will win: Sylvester Stallone
Why: Nostalgia mostly. And because Sly is really good in it.
Who should win: Tom Hardy
Best Supporting Actress
Rooney Mara, Carol
Rachel McAdams, Spotlight
Alicia Vikander, The Danish Girl
Kate Winslet, Steve Jobs
Jennifer Jason Leigh, The Hateful Eight
Who will win: Alicia Vikander
Why: She's great in the film, a wonderfully earthy counter balance to Redmayne's self-conscious posing and also, she is the It Girl extraordinaire right now. Oscar loves an It Girl.
Who should win: With the full acknowledgement that this is bit of category fraud (she was every bit the lead that Blanchett was in Carol), I'd have to go with Mara, whose Therese fell in love and suddenly saw herself, her friends, and her city with a brand new set of eyes.
Best Director
Alejandro González Iñárritu, The Revenant
Tom McCarthy, Spotlight
Adam McKay, The Big Short
George Miller, Mad Max: Fury Road
Lenny Abrahamson, Room
Who will win: Iñárritu
Why: Some find him pretentious and self-important, but Oscar is clearly buying what he's selling.
Who should win: George Miller, for the obsessive, mad, visionary genius he displays in Fury Road.
Best Adapted Screenplay
Drew Goddard, The Martian
Nick Hornby, Brooklyn
Adam McKay and Charles Randolph, The Big Short
Phyllis Nagy, Carol
Emma Donoghue, Room
Who will win: The Big Short
Why: The script is whipsmart and wildly creative. Plus, if The Big Short is among the Top 3 (including The Revenant and Spotlight) it stands to reason it would take this.
Who should win: Phyllis Nagy for Carol
Best Original Screenplay
Tom McCarthy and Josh Singer, Spotlight
Matt Charman, Joel & Ethan Coen, Bridge of Spies
Pete Docter, Meg LeFauve, Josh Cooley, Ronnie del Carmen, Inside Out
Alex Garland, Ex Machina
Andrea Berloff, Jonathan Herman, S. Leigh Savidge, Alan Wenkus, Straight Outta Compton
Who will win: Spotlight
Why: A wonderfully sobering and insightful script. Plus, same reasons why The Big Short is winning adapted.
Who should win: Inside Out
Best Foreign Language Film
Son of Saul (Hungary)
Mustang (France)
A War (Denmark)
Embrace the Serpent (Colombia)
Theeb (Jordan)
Who will win: Son of Saul
Why: It's a Holocaust film. It's Oscar. Need I say more?
Who should win: If you haven't seen the dreamy, spellbinding Mustang, what are you waiting for?
Best Animated Feature
Inside Out
Anomalisa
Shaun of the Sheep
When Marnie Was There
Boy and the World
Who will win: Inside Out
Why: Because when Pixar is at the top of its game, no one can beat it.
Who should win: Inside Out
Best Documentary Feature
Amy
Cartel Land
The Look of Silence
What Happened, Miss Simone?
Winter on Fire: Ukraine's Fight for Freedom
Who will win: Amy
Why: It's great and, more importantly, Oscar voters have seen it.
Who should win: I'm afraid I can't say for sure since (shamefully) Amy is the only film in this category I've seen. It certainly affected me profoundly.
Okay, everyone! Enjoy Oscar night. And check back here on Monday for my recap of the show, where I'll talk about Chris Rock, the best frocks, and all the shocks.