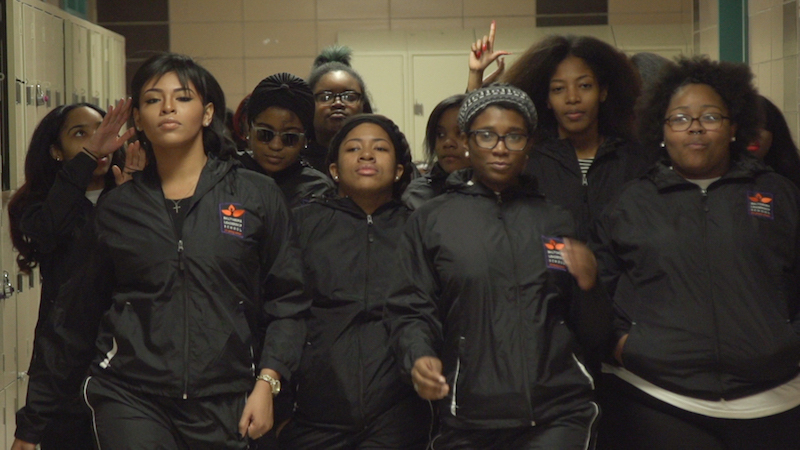 Fox Searchlight
It's hard to describe step if you've never seen it: It's a percussive combination of cheerleading, modern dance, clapping, and stomping, with a fierce, verbal element that almost evokes a battle cry. "We're making music with our bodies," the film's breakout star, Blessin Giraldo describes it. 
The sneaky genius of Amanda Lipitz's documentary Step is how it manages to tell an important story—about how hard it is to thrive academically when your home life is chaotic and how it takes a village to nurture and support under-served children—in the form of a triumphant "Big Game" narrative. Yes, the Step team at the Baltimore Leadership Academy for Girls has an all-important competition at the end, just like what you might see at the end of a film like Pitch Perfect or Remember the Titans. But the story is really about these girls—the first graduating class of the academy whose goal is to send every student to college—and the adult women who rally around them.
Lipitz wisely chooses to focus on three girls on the team. First and foremost is the compelling Blessin, the team captain—a beauty and natural leader, who nonetheless struggles to stay on the right path. Her mother has battled debilitating depression over the years and, despite her best intentions, is a less than reliable presence in Blessin's life. Also adding to Blessin's woes: She lives with a large, extended family—sisters and nieces and cousins abound—and they sometimes struggle to put food on the table. So the administrators at the academy—in particular, one guidance counselor who bursts into tears in front of college recruiters because she cares so much about Blessin's future ("I'm sorry, that was very unprofessional," she says, wiping her eyes)—try, and mostly succeed, to lift her up.
Then there's the introverted Cori Grainger ("I'm everything that step is not," she admits), who lives with her mom, who had Cori when she was just 16, and her kindly step-dad. Like Blessin's family, they are poor, but they have a different challenge: Cori is the valedictorian of the academy and is applying to schools like Barnard and, her dream school, Johns Hopkins University, with a real chance of getting in. Despite the fact that they can barely pay their electric bill, Cori's parents assure her she has nothing to worry about—they'll find a way to pay her college tuition. (And honestly, I'm tearing up just at the memory of this display of parental devotion and courage.)
Finally, there's Tayla Solomon, who has the most hilariously helicoptering mother of the bunch. Tayla's mom is a corrections officer, who works at night, which means she has lots of time to attend the step rehearsals, hugging and mothering all the girls, and sometimes dancing along, much to Tayla's mortification. But while Tayla spends much of movie side-eyeing her mother, she secretly adores her and knows how lucky she is.
Step will make you cry—a lot. But it will also make you cheer. As a film critic, I'm not supposed to pump my fist and yell, "Woohoo!" during a screening, but I did just that, more than once. I couldn't have been more invested in the stories of these amazing girls, and the amazing village of Baltimore women who raised them.