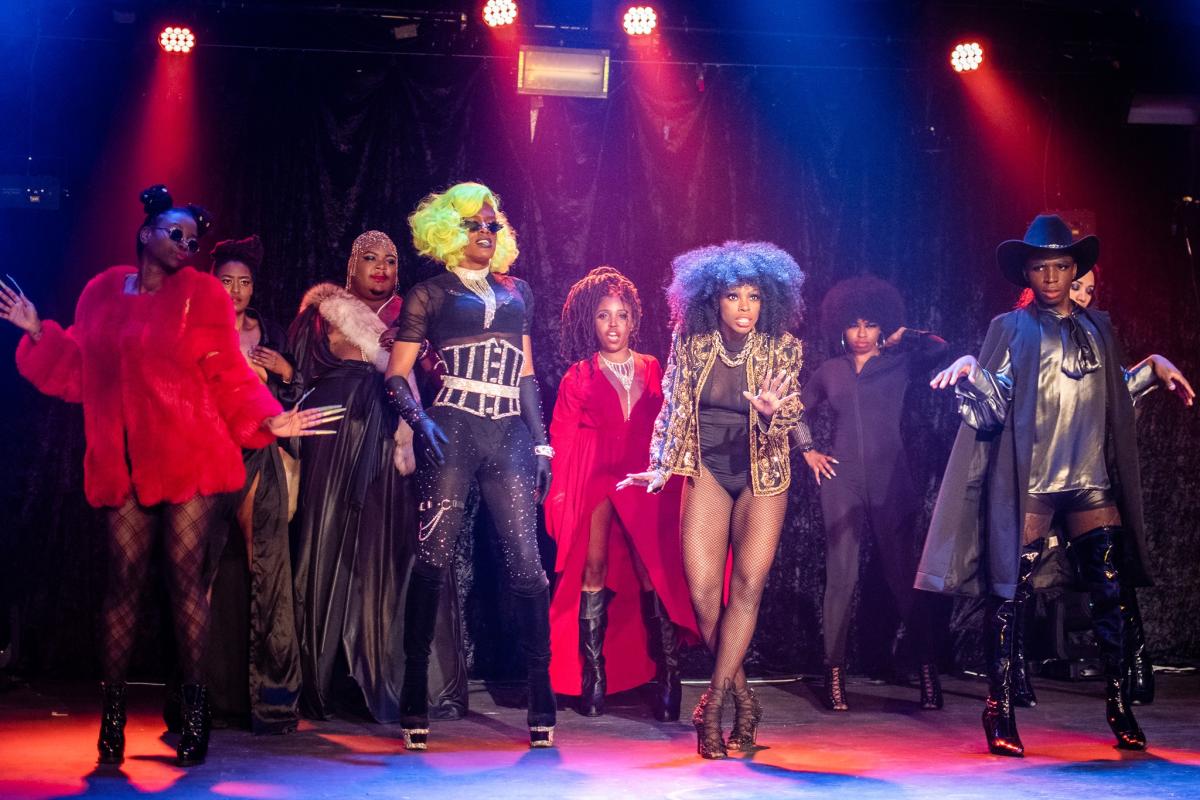 --Courtesy of Chocolate Covered Rocky Horror via Facebook
Halloween is right around the corner, and as far as kooky movies go, one classic takes the cake.
Viewing the nearly 50-year-old Rocky Horror Picture Show continues to be a spooky-season tradition for devoted fans, who routinely dress up as their favorite characters to embark on the hair-raising adventures of Brad, Janet, and Dr. Frank-N-Furter—a mad scientist from a sexy, far-flung galaxy whose goal is to create the ideal, perfect-looking boytoy; a tan, blonde, muscled Frankenstein creation named Rocky. Some fans even go the extra mile and bring along their own fun props, like water guns, dry rice to throw, and rolls of toilet paper.
If you're ready to do the "Time Warp," belt along to familiar songs, and chant your favorite on-screen lines out loud, check out our list of Rocky Horror screenings and performances happening around the Baltimore area this month. 
Oct. 6: Interactive Rocky Horror Picture Show Movie Night with Betty O'Hellno & Friends
Featuring the burlesque and drag stylings of Betty O'Hellno and friends, two Rocky Horror showings at Creative Alliance will come complete with snacks, toss packs for the audience, risqué performances, and a prize-winning costume contest. Creative Alliance. 3134 Eastern Ave. 7 and 10 p.m. $17-20.
Oct. 7: Rocky Horror Picture Show Outdoor Screening with The Bloody Mayhem Theater Company 
If you're down for a road trip, trek out to Montgomery County to dance under the stars at this free movie screening. Grab a blanket or a chair and watch as members of the Bloody Mayhem Theater Company perform along with famous scenes. And don't forget to grab a snack from nearby vendors such as Ol' Boy Pizza & Ice Cream. Northwest Branch Recreational Park. Aspen Hill. 1450 Norbeck Road, Aspen Hill. 6 p.m.
Oct. 7-8: Chocolate Covered Rocky Horror at the Creative Alliance 
Courtesy of Chocolate Covered Rocky Horror, a performance group that aims to celebrate queer and minority experiences, this dazzling performance at Creative Alliance puts a 1960s spin on classic Rocky Horror antics. Come early for a cocktail, pack your own supply of props, or buy a toss bag with your ticket. And, as always, be sure to come in costume. Creative Alliance. 3134 Eastern Ave. 8 p.m. $32-35.
Oct 8: Rocky Horror Movie Event at Warehouse Cinemas
Frederick's Warehouse Cinemas invites all Rocky Horror Fans to dress up for this interactive showing of the cult classic. Unleash your inner "Hot Patootie" with your best character costumes, bust some dance moves in the aisles, and make use of fun props provided by the theater (scripts to quote the film included). Warehouse Cinemas. 1301 W Patrick St, Frederick. 11 p.m. $10.
Oct. 22: Frankie's Midnight Runners Presents The Rocky Horror Picture Show
At The State Theater of Havre de Grace, the cult film comes to life on stage by way of Frankie's Midnight Runners, Delaware's own Rocky Horror Picture Show performance group. Be sure to grab themed merch and needed props onsite before settling in. The State Theater of Havre De Grace. 325 St. John St., Havre de Grace. 10 p.m.- 1 a.m. $15.
Oct. 28: Scary-Tale Endings Film Series: The Rocky Horror Picture Show 
Outlandish costumes are encouraged for this late-night showing in Westminster. Show up repping Rocky, Dr. Frank-N-Furter, and their friends to be considered for a special prize. And make sure that you purchase a pre-packaged bag of props, which includes a card explaining when and how to use them during the film. The Carroll Arts Center. 91 W. Main St., Westminster. 10 p.m. $15-20.
Oct. 28-29: Baltimore Center Stage Presents: The Rocky Horror Picture Show Featuring Chocolate Covered Rocky Horror
Join Baltimore drag legend Betty O' Hellno and friends at Center Stage for this interactive movie night in partnership with the Creative Alliance, which will feature fishnets, live burlesque, and raunchy entertainment. Center Stage. 700 N. Calvert St. 9 p.m. $25.
Oct. 29: Live Cast Rocky Horror Picture Show Screening at BlackRock Center for the Arts
At BlackRock Center for the Arts, take part in daytime pumpkin painting and fall-ready fun for little ones, then stick around to watch a special Rocky Horror screening and performance on the main stage with a live cast in the evening. BlackRock Center for the Arts.  12901 Town Commons Drive, Germantown. 6 p.m., 9:30 p.m. $20.
Oct. 28: The Rocky Horror Picture Show at The Maryland Theatre
Get your freak on with this showing of the movie at The Maryland Theatre in Hagerstown. VIP tickets include access to happy hour specials and a campy costume contest. The Maryland Theatre. 21 S. Potomac St., Hagerstown. 7 p.m. $15.