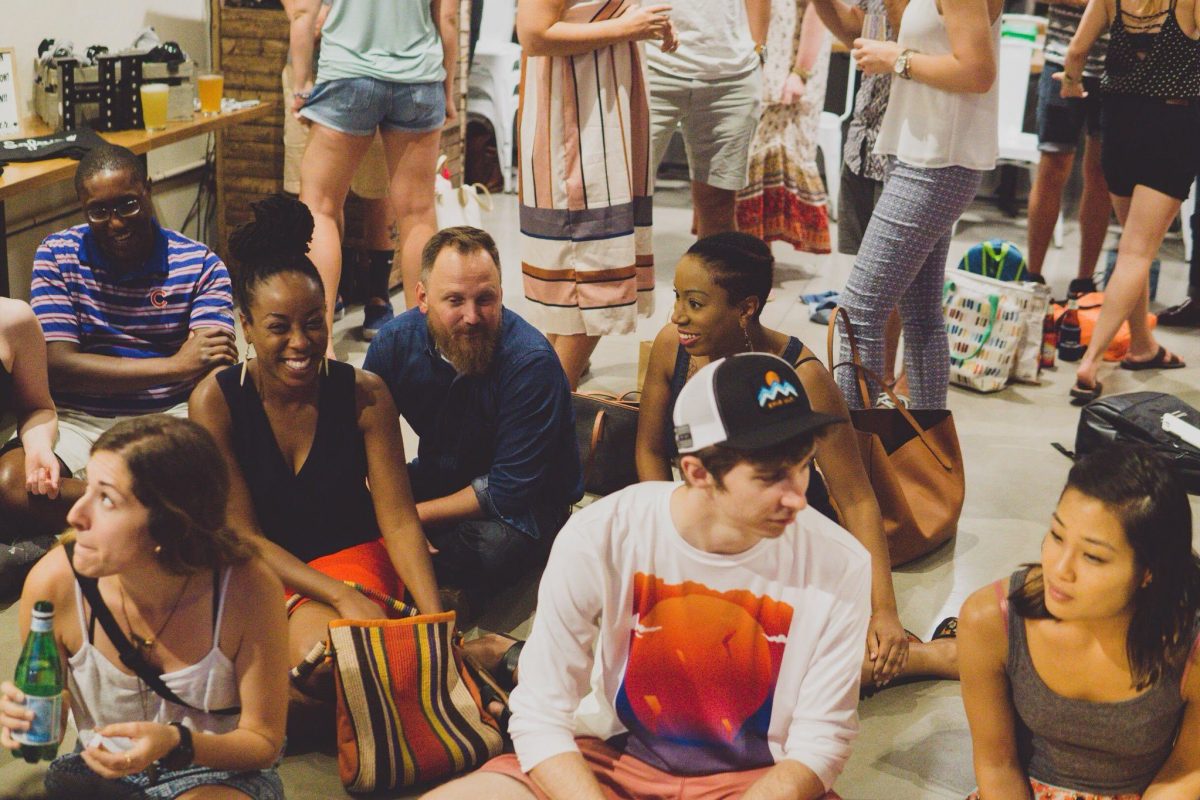 Sofar Sounds
To attend this secret music show, all I knew was that I needed to be there by 8 p.m., and that if I wanted to be comfortable, I should bring a blanket.
When my friend and I walked into Vent Coffee Roasters, the Union Collective caffeine hotspot was stripped down even further than its signature minimalist vibe. With unfinished wood benches pushed to the side, the space opened up significantly, leaving the concrete floor as the lone seating option for the show.
A single mic stand artfully draped with a string of lights stood as a makeshift stage, seemingly fashioned after a summer camp talent show. The usual pre-concert chatter of which songs we thought the musicians would sing was replaced with energetic conversation between local strangers who had congregated to this secret destination in the name of loving live music.
Every Sofar Sounds show is shrouded with this same sense of mystery and simplicity, but don't mistake its uncomplicated design for lack of professionalism. The program's cryptic setup—with the venue's address only revealed the night before via email and its three artists introduced on the spot—pays homage to Sofar's humble beginnings.
What is now a 400-city global phenomenon started out as two guys in London who were tired of going to concerts and being surrounded by people who weren't there for the music. So, like any good millennial self-starters, they took matters into their own hands and hosted their own small concert in their living room.
"For artists who are just starting out, it's a great way to build your fanbase and try out new material," explains Sofar Baltimore director, Christen Taylor, more fondly known as vocalist Christen B. "The setting is calm enough and more welcoming for things that you're still trying out to get the buzz going."
The company that transforms everyday places—from coffee shops to retail stores to even living rooms—into affordable and and intimate shows with as few as 50 guests, and no more than 150. And while there are tons of perks to those attending, performers also have a lot to gain from this underground experience, whether you're a budding musician who applied for the gig and could really use the paid four-piece set, or a touring artist looking to fill in gaps between nights at the arena.
At the start of the show, Christen B., who is a Sofar artist herself and has been with Baltimore's chapter since its inception in 2017, dimmed our lively hum into total silence with a boisterous yet warm welcome. As our host for the night, she informed us of the three rules of Sofar shows: Stay until the end, absolutely no talking during the performances, and always support the artists—whether it be through an Instagram follow or a merch purchase. And with the signing of this verbal contract, repeated back to Taylor in class-like unison, the night officially began.
To my surprise, the experience was about so much more than just the show. There's a sense of community that is felt among everyone in attendance. This particular celebration swapped simple melodies with rapid-fire spoken word by Black Chakra, heated and theatrical "rants" to ex lovers from Theresa tha S.O.N.G.B.I.R.D., and the acoustic serenades of Wifty Bangura.
In learning about the experiences that breathed life into each artist's performance, Vent Coffee's concrete floor felt more like that of a childhood best friend's bedroom, with the night spent cracking jokes and sharing secrets. Vent owner Sarah Walker first heard about the organization by word of mouth and, even without having attended any of their shows before, the allure was enough for Walker to offer up her space.
"Vent's mission is to be a space where people can come, let out the worries of the day, and make it something better," she says. "Sofar helps us further that vision. The diversity they bring means a lot to me."
And while a connection between artists and the audience is all but guaranteed, Sofar's spontaneous nature leaves no set formula for how show-goers will react. At Baltimore's first show in October of 2017, brass band Rufus Roundtree and Da B'more Brass Factory had the audience up on their feet and dancing.
"You can't have a preconceived notion of what you're going to experience," Taylor reflects. "It allows people to come and enjoy and be a part of something bigger than themselves in a way where they don't have the ability to judge, or pre-judge because there's no actual information given."
Though Sofar shows take place in a couple-hundred cities all over the world, Charm City has a way of making events its own.
"Baltimore has a family," Taylor muses. "What's unique is that feeling of belonging, of being in a space that you never even knew existed and loving it."