UPDATE: 7/16/2017
FORCE: Cindy Cheng has won the 2017 Janet & Walter Sondheim Artscape Prize at a ceremony at the Walters Art Museum.
Cheng, who teaches drawing at the Maryland Institute College of Art, creates complex constructions and installations that investigate the relationship between drawings and objects and are incubators for history, memory and reflections on the physical and abstract self. Her work has been the focus of shows in Baltimore, Toronto, and later this year in Portland, Oregon. 
———————————-
Every year, the arts community waits anxiously for the announcement of the finalists for the Janet and Walter Sondheim Artscape Prize, the city's largest visual art award that brings with it a $25,000 fellowship.
And each summer, those finalists exhibit their work at a show that is one of the highlights of the summer, showcasing the depth and range of artistic excellence in the Baltimore and Washington D.C. region (this year, all seven artists are Charm City residents). This show also gives visitors the rare treat of seeing contemporary art displayed at The Walters Art Museum, which has a collection that mostly predates the 20th century.
As is typically the case, this show—which opens to the public on Saturday, June 17—is markedly different from last year's, which dealt with themes including sexual violence, the inequalities of the African-American experience, and our relationship with the environment. This crop of winners is just as varied, but even if the subject is serious in nature—for example, the value of personal information in commercial culture, and the inability of art to capture reality, the artist explores it in a bright, lively, even playful, way that draws the viewer further in.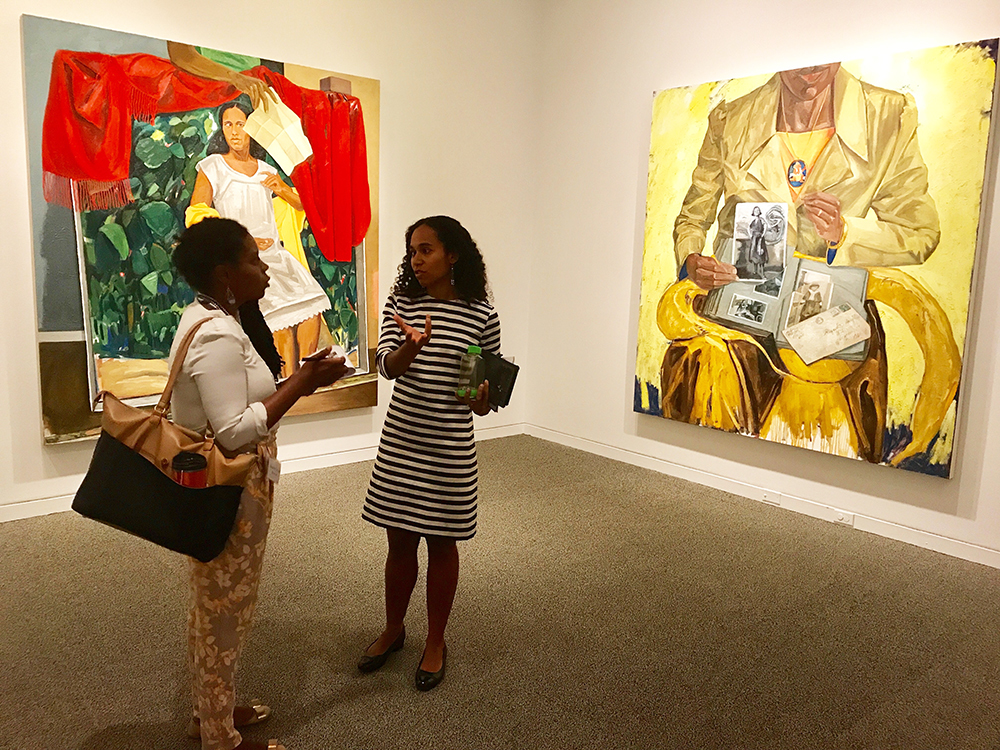 Mequitta Ahuja
Ahuja's newest paintings are self-portraits, but that doesn't mean they're just about her. She uses figurative painting as a way to explore conventions over centuries, and her work finds inspiration in the symbolism of early American art. "My work is a form of tribute, analysis, and intervention," Ahuja said in her artist statement, "by positioning a woman of color as primary picture-maker, in whose hands the figurative tradition is refashioned."
---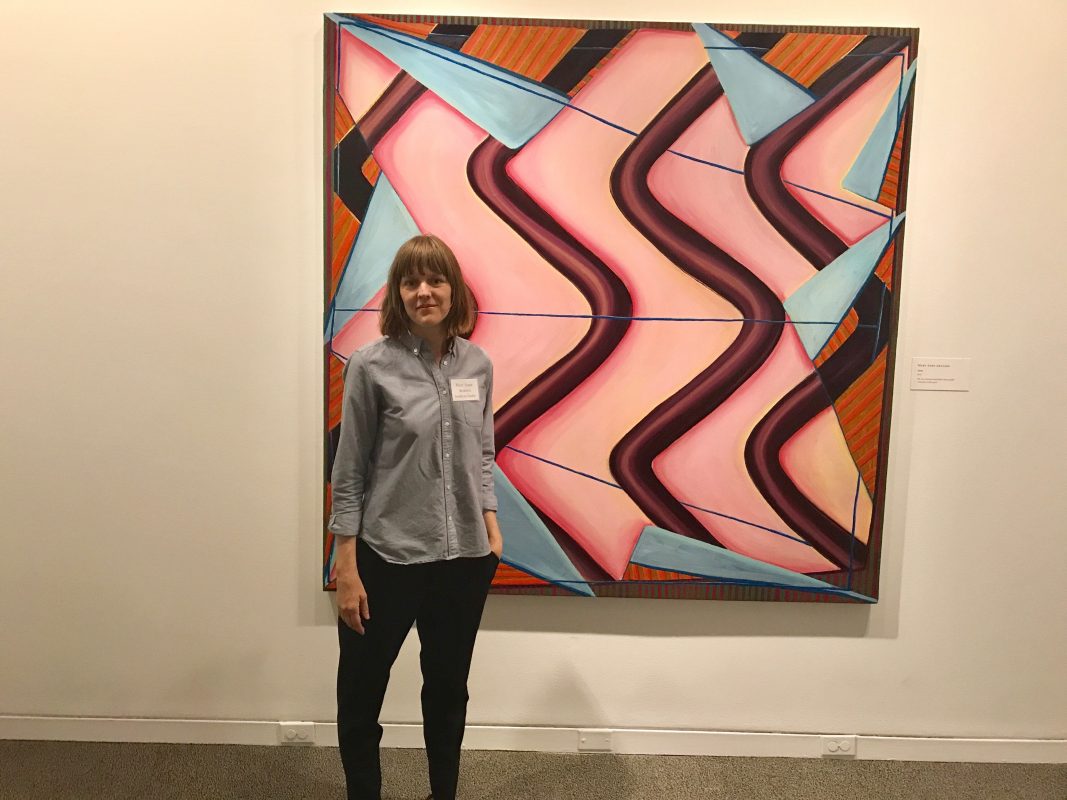 Mary Anne Arntzen
Several forms dominate Arntzen's canvasses—interlocking tubes, repeating stripes, and folded chevron shapes to name a few. Her work resembles sections of a quilt as they repeat and mirror each other across square frames. "The physical state of paint is crucial to my process: I paint thickly then thinly, dig through, wipe off, and repaint," Arntzen said in her artist statement. "I braid painted marks together like strands of rope or allow them to misbehave, taking on the chaos of knotted strings."
---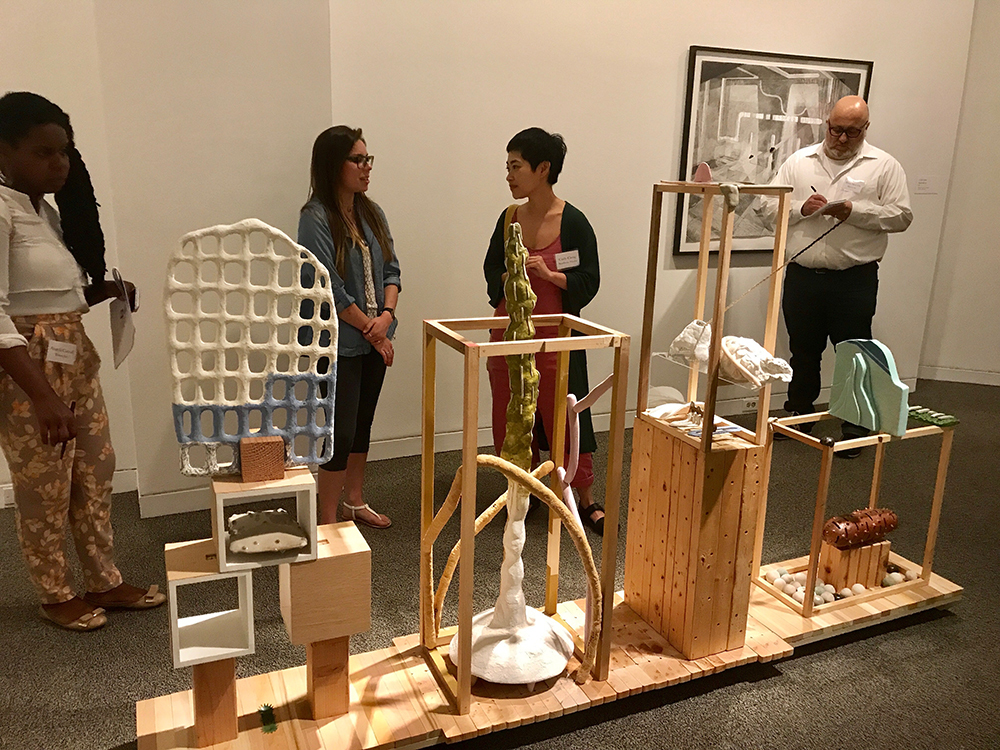 Cindy Cheng
Cheng's practice is based on drawing, but her work also takes on a form that merges sculpture and assemblage. "By creating works that incorporate thoughtfulness with a sense of play and optimism, I hope to make my practice accessible to anyone who cares to spend time with the work," Cheng said. Take, for example, the work above, Untitled (Straight and Narrow), which incorporates foam, sawdust, and plexiglass along with ceramic figures made by Cheng herself.
---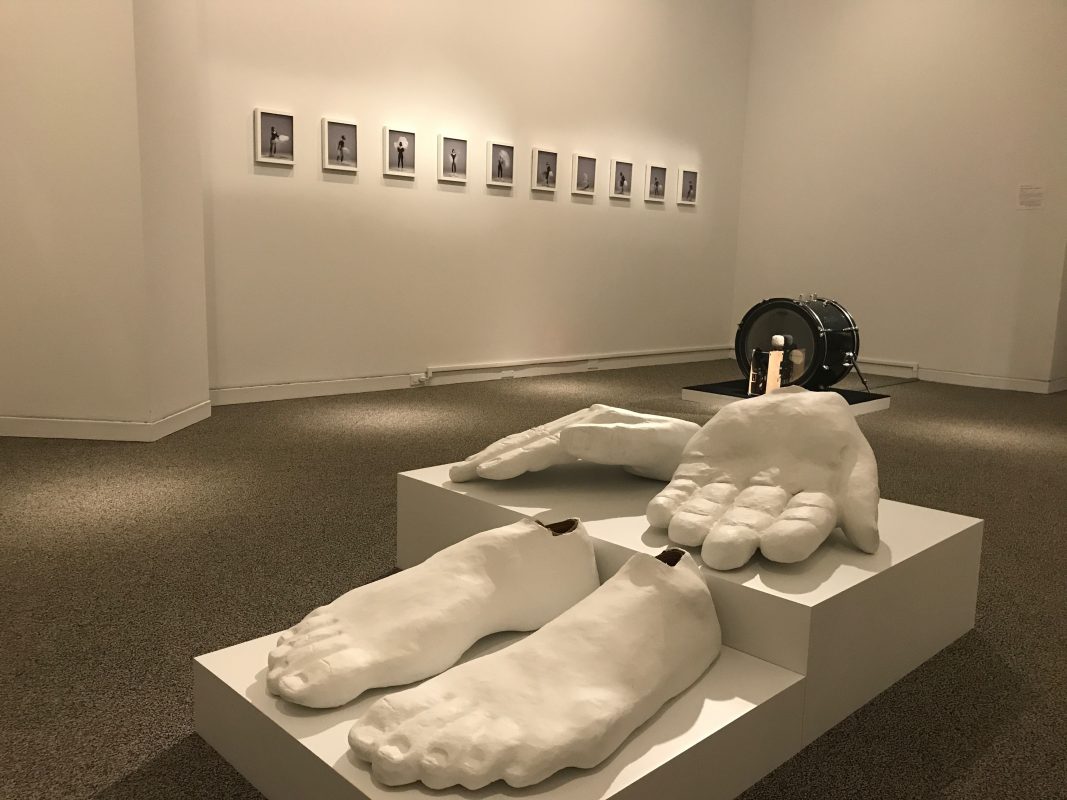 Sara Dittrich
Dittrich wants to give viewers a renewed awareness of their bodies. For example, she wore enormous celluclay and foam feet and hands she fashioned and shot pictures of herself moving haphazardly, which became the work Arrhythmia of the Body #1-20. As she said in her artist statement, she "uses devices such as repetition, absurdity, and collaboration to filter in the physical rhythms and movments of the body created by the accumulation of footsteps, breaths, and heartbeats." 
---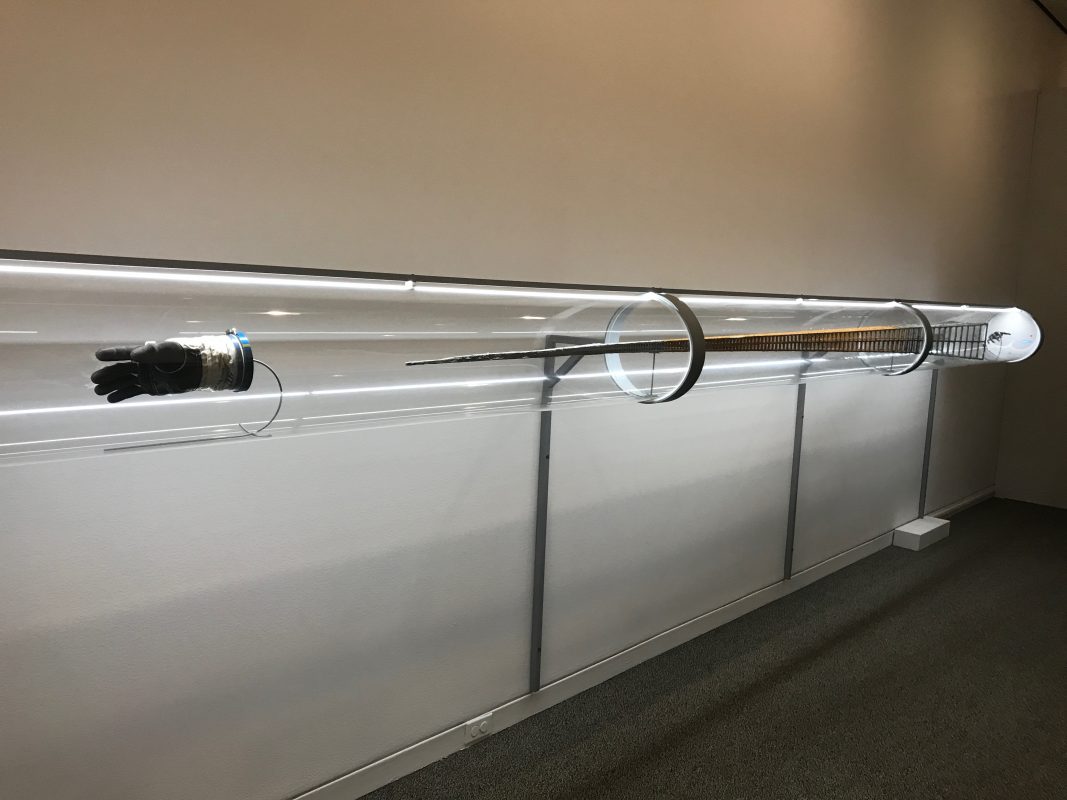 Benjamin Kelley
Using four seemingly unrelated events—including the fossilization of a tree in a peat bog, astronauts departing for a space mission in 1995, and the opening of the Walters in 1934—Kelley explores how objects were shaped by these happenings and became relics. Take, for instance, his piece Residual Evolutions, (above) which incorporates a cylindrical tube that runs along one gallery wall, containing an ancient bog oak and the right glove from an astronaut's space suit.
---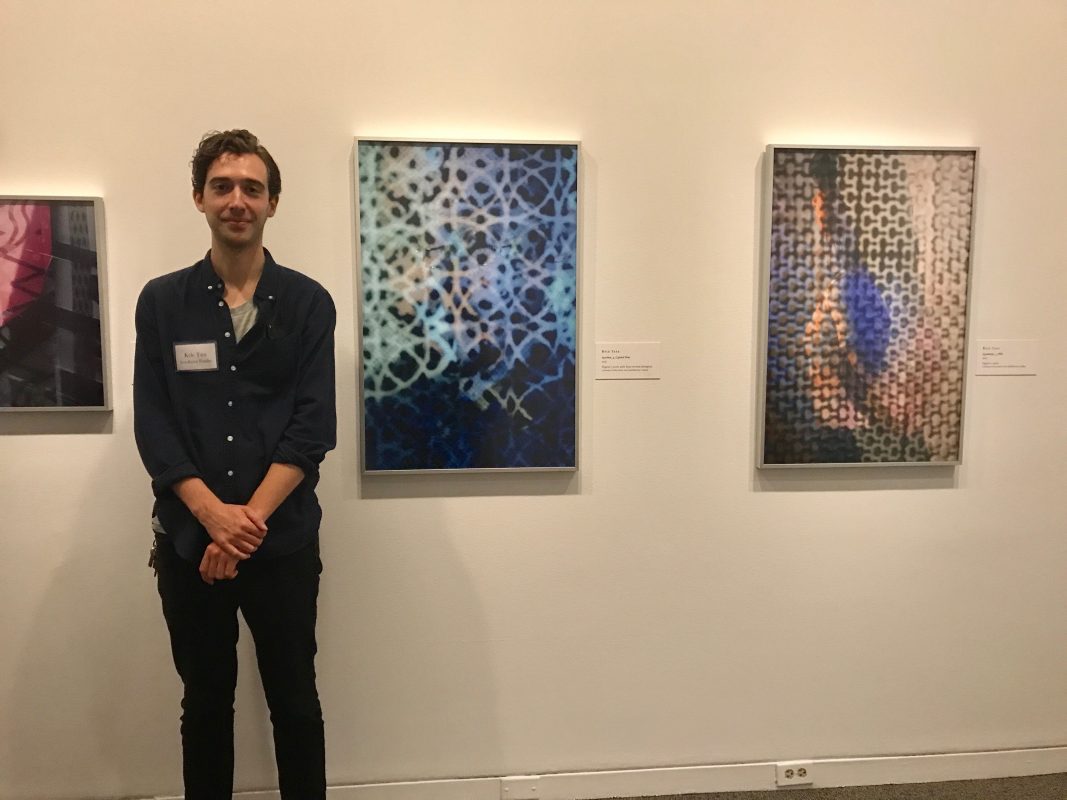 Kyle Tata
Tata's newest work utilizes patters derived from security-tinted envelopes, which he uses to mask film images. It gives the effect of seeing figures and colors through a screen. "This series investigates the notion that within an increasingly immaterial culture, personal information can become as valuable as currency," Tata said in his artist statement.
---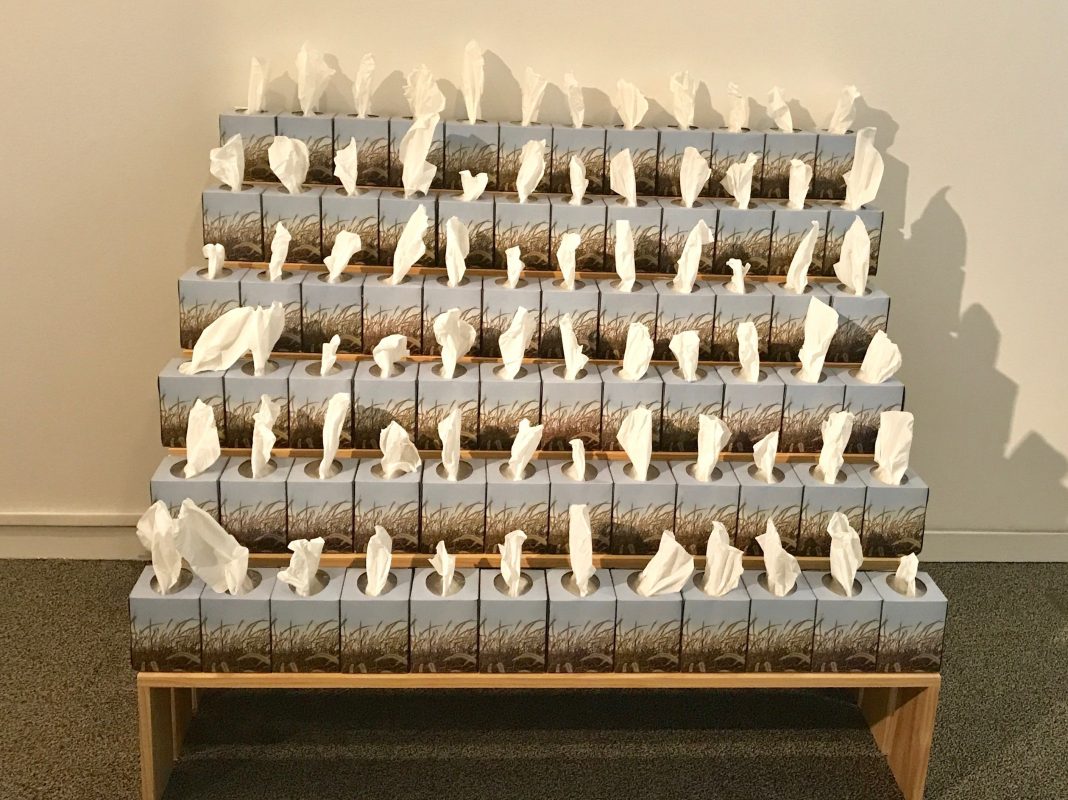 Amy Yee
"I'm interested in the failure of art," Yee says matter-of-factly in her artist statement. She's also curious about art objects and the problems they run into when pretending to be "the real thing," and she wants the media she works with to clash with the subject matter. Like her piece The Field (Arranged), where she has organized on shelves Giant-brand Kleenex boxes that have a design of waving grass. The white Kleenex peak out of the boxes, mimicking the grass. 
The finalists' exhibit is on view until August 13.