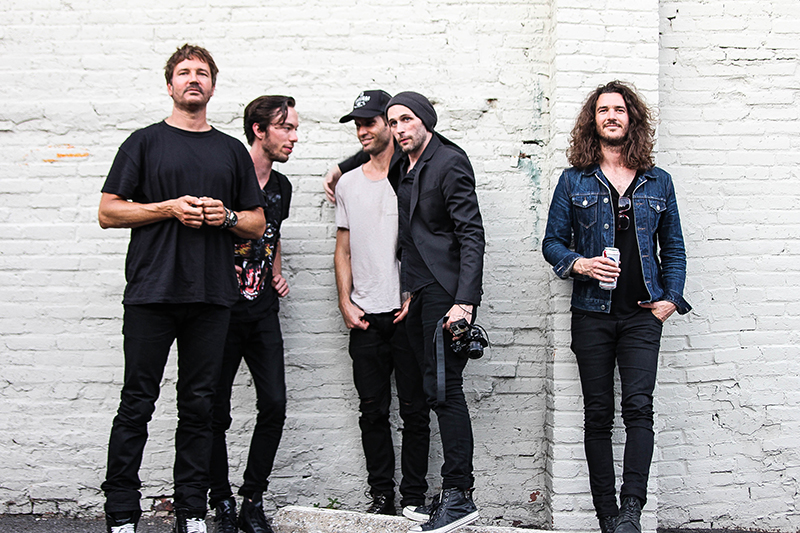 Photography by Meredith Herzing
For many, Third Eye Blind conjures up late-'90s images of shaggy hair and skateboards and a soundtrack full of "Doo, doo, doos" and "Can I graduate?" But since then the band, in some form or another, has enjoyed a storied 20-year career that was most recently capped off by the release of its fifth studio album yesterday (and first in six years), Dopamine.
The band made a stop at Sound Garden in Fells Point last night to celebrate the release of its album and frontman Stephan Jenkins strummed a few acoustic songs in the packed, humid store. Tonight, along with Dashboard Confessional, Third Eye Blind will play for an even larger crowd at Pier Six Pavilion. We got a chance to sit down with Jenkins (the band's only original member; drummer Brad Hargreaves came long in 1995) to discuss the importance of record stores, his favorite places in Baltimore, and the future of the band.
Congrats on the album. I know this was a long time coming. What kind of emotions were you going through today?
Levity, really, more than anything else. You hem and haw over records for a long time and then you release them. Steven Spielberg said that he never finishes a film, he just releases them. And I know what that means because when I listen to it, I hear other things I might want to change. But I do get to change them all the time. Every night when I play, there's something a little different.
This has got to be so exciting for the other members of the band, who are a little newer to this whole process.
Oh yeah. Kryz [Reid, guitarist] is being totally giddy. Alex [Kopp, keyboards] and Alex [LeCavalier, bass] are having a ball. They've never done a record signing before, so this is a bit crazy for them. They didn't really understand it.
You've come through Baltimore a lot over the years. What are some of your favorite things to do?
I usually stay right up the street and I go running along the water, which I really like. There are a couple of dive bars we go to, none of which I'm going to reveal, so we can keep going to them [laughs]. Mostly when I'm here, we're playing, so there isn't a lot of downtime. But Pier Six is a really awesome venue, so I'm looking forward to it.
You guys could have just come to town and played Pier Six. Why is it important for you to stop by a record store like Sound Garden and sweat it out with your fans for a couple hours?
It's really important to us. We wanted to do it and we want to support record stores. I love vinyl. We're going to put this album out on vinyl. This album cover for Dopamine is my favorite we've done. I think it's just beautiful. It's the one album I look at that makes me the happiest. So supporting the store and meeting the people—it's just kind of a tradition.
A couple of years ago you said that this would be your last studio album. Has that changed?
No, what I meant by that is I'm not going to make anymore LPs. What I want do in the future is, when I have a song, I'm going to write it, record it, post it. I'm not going to overthink it and I'll give it to the universe and we'll just see what happens. We'll devise or take advantage of some other means of putting out content that way, but it will just mean, instead of some incredibly epic process, my hope is we'll just start putting out music all the time and not make such a big deal out of it.
What can fans expect at the Pier Six show on Wednesday? Any surprises?
Tomorrow is going to be the first show where the record is actually out. People will actually know it. It's going to be an interesting kind of discovery for us to see what happens. There's a song called "All the Souls" that we have not played yet on tour, so we'll play that for the first time tomorrow. I heard it in [Sound Garden] and I was like, "Yeah let's try that tomorrow night."
In the store, people were already singing along to the new album.
That's great, it's really gratifying. And to hear it on the radio, none of that is lost on me at all.
See Third Eye Blind at Pier Six Pavilion tonight. Show starts at 7 p.m. and tickets can be purchased here.