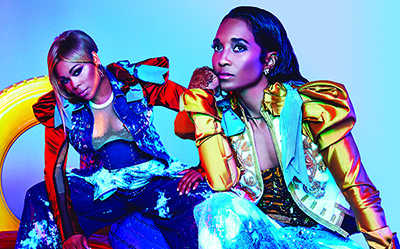 Artscape
The sounds of R&B, reggae, and bluesy rock will permeate the air around Charles Street and Mount Royal Avenue at this summer's Artscape.
Returning for its the 37th year on July 20-22, this year's festival might be one of the best yet with a staggering number of performers catering to attendees of all ages. On the main Artscape stage, headliners include iconic R&B girl group TLC on Friday, reggae legends Toots and the Maytals on Saturday, both at 7:30 p.m., and rising blue rocker ZZ Ward at 5:30 p.m. on Sunday. Local openers for these acts include the inspirational Cardinal Shehan School Choir, soul singer Ama Chandra, The Voice contestant Davon Fleming, pop songwriter Ellen Cherry, and funk collective Rufus Roundtree & Da Bmore Brass Factory.
Breaking from recent tradition, this year's event will have no specific theme, letting local artists unleash their creative talent without boundaries. When it comes to music, no genre has been unturned, with dozens of local acts performing at various venues and stages throughout the weekend. At the Morgan State University Festival Stage on Mt. Royal Avenue near Lafayette, hear the likes of blues singer Ursula Ricks, pop-rock group Super City, and indie pop duo Outcalls, while instrumental rockers To The Moon, soul punksters F City, energetic MC Eze Jackson, and soulful rocker Grayson Moon are set to perform on the Johns Hopkins University Station North Stage at Charles Street near North Avenue. Each night, Artscape After Hours events will also take place on North Charles, including dance parties and DJ sets by the likes of The Bmore Beat Club.
Looking for something more formal or even indoors? Classic and organ music enthusiasts can catch live performances at the Corpus Christie Church on West Lafayette on afternoons and evenings throughout the weekend, while jazz, opera, and world music will be on display at the MICA Brown Center. Students and teachers of the BSO Academy will also perform at the Joseph Meyerhoff Symphony Hall. For outside-the-box and experimental genres, be sure to attend the High Zero Foundation's Worlds In Collusion weekend, featuring unexpected performances by the likes of Symphony Number One and Wham City Comedy at the University of Baltimore Student Center.
While there is no overarching theme for this year's fest, organizers have brought in several new elements, including a Youth Day on July 20 focused on performance and visual art created by young people, a silent disco on Mount Royal Avenue, The Squonk Opera's Pneumatica show, and free pedicabs to help everyone get from one event to the next quickly and easily.
Eleven large-scale interactive projects will also be spread across the festival, including Baltimore-focused works such as Screen Station, where visitors can "try their hand at screen printing and print their own messages related to youth advocacy and justice."
While the festival lasts only three days, attendees will have the opportunity to bring a piece of the experience home through works from the Artists' Market, which will display piece for sale from more than 100 artists, artisans and crafters from the Baltimore and beyond. Some artists are still yet to be announced, so keep your eyes peeled for updates on the lookout for what is sure to be the best concert—and one of the best sweat-soaked parties—of the summer.
Additional reporting by senior editor Lydia Woolever.