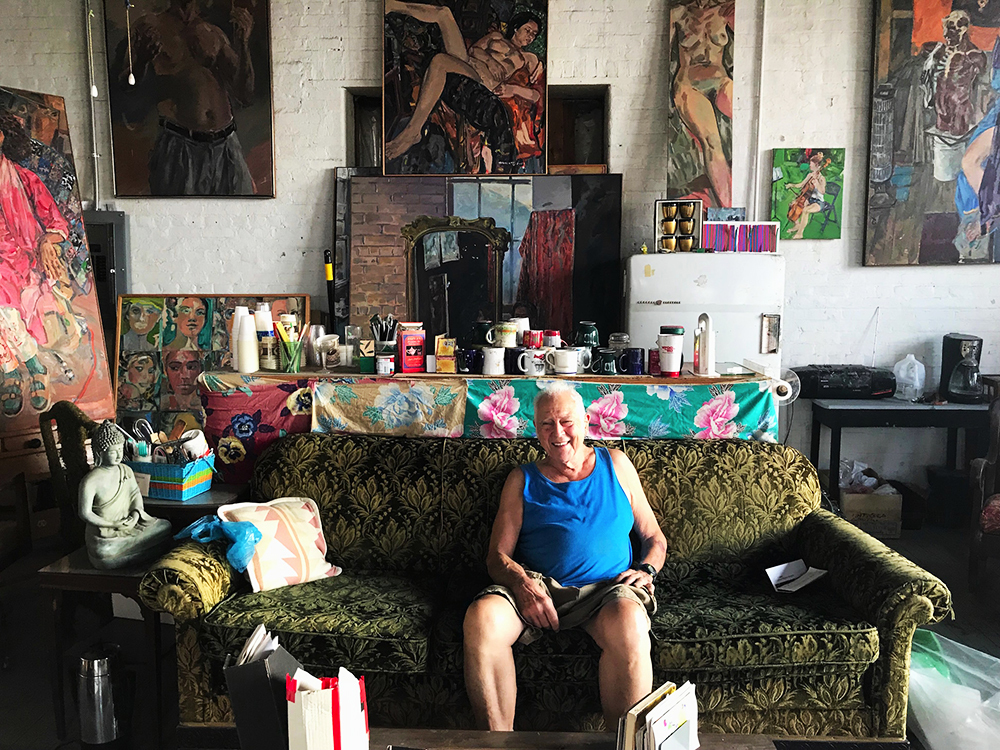 Lauren LaRocca
A studio is often a reflection of an artist's mind and work, as well as a source of inspiration. From warehouse spaces piled high with source material to lounge areas where models pose for figurative painters to a historical-church-turned-studio, the studios on this year's tour promise to reveal the inner workings and the private world of each artist.
Ahead of the Baltimore Office of Promotion and the Arts and School 33's 30th annual Open Studio Tour on Saturday and Sunday, we visited a few studios that stood out in this diverse range of roughly 120 spaces that will open to the public.
Paul Moscatt
The Cork Factory, 1601 Guilford Ave. (main entrance at 302 East Federal St.)
Not only will you get to see phenomenal paintings that span some 50 years at Paul Moscatt's massive warehouse studio inside the artist-owned Cork Factory, but you might get treated to his homemade Sicilian hors d'oeuvres, maybe even a tune on his piano, and certainly his delightful company. The figurative painter and former MICA professor has lived in Baltimore since 1967, and his studio's lived-in feel contains decades of work, as well as a lounge area for models during painting sessions.
---
400 W. 24th St.
As cofounder of C&H Restoration & Renovation, Timothy Horjus is no stranger to historic structures and knowing how to make them shine again. His studio is a perfect example. About 18 months ago, the abstract painter began restoration on a church built in 1892 in Remington, which now serves as studio space for his paintings, as well as that of two additional artists (another painter and a jeweler), and the ground level is used for workspace for C&H. The walls and floors have a distinctly historic vibe that makes this studio, especially with all of Horjus' finishing touches, one of the most unique on the tour (and to think, the property was briefly in danger of becoming a WalMart).
---
The Hooper Industries Building, 2121 Druid Park Drive (proceed up the ramp and enter through door on the loading dock)
This studio in the industrial Hooper Industries Building is a feast for the ears as much as it is for the eyes. Neil Feather is a Baltimore institution in and of himself, but in his creative space, you can witness the inner workings of this mad scientist's mind. Gadgets, bicycle wheels, machine parts, gauges, drum pieces, and mechanical miscellanea fill the space. His inventions, like the one he calls The Former Guitar, are experimental musical instruments, some of which make music on their own and others that need someone to play them. Most of the sculptural pieces create ambient, organic sounds and beats, a niche that grew out of studying ceramics as a graduate student. As he puts it, "It all involves a little bit of well-crafted chaos."
---
126 N. Madeira St.
Maxine Taylor was living in New Carrollton in the mid-1990s when she decided to sell her home after her kids moved out and buy an old stable in Butchers Hill and renovate it as live/work space. "No one had ever lived here," the artist says. "I had to put in windows, build a deck." It was a ton of work, but it afforded her plenty of space to make her mixed-media pieces, and eventually she began opening her studio each year for BOPA's citywide tour. When BOPA asked her to join the Artscape Gallery Network, the basement of her home was being used as storage space for her work (and bicycles, a lawnmower, etc.). But joining that network gave her incentive to transform it into what it is today: MAX Gallery. She exhibits work by artists in all disciplines there and has open hours on Fridays and Saturdays. This weekend, guests on the tour can see both her work space and the gallery.
---
School 33, 1427 Light St.
With a background in science and art, Rachel Guardiola has taken working from nature to the next level. After becoming a resident artist at School 33 in 2017, she constructed an actual greenhouse inside her studio walls, where she grows plants and later transplants them outside (she'll start planting a new batch this winter), and also where she occasionally does performance art. She works predominately in photography and film, and when she doesn't have access to a location or research in the field, she brings the field to her, creating fantastical installations, where she imagines what various landscapes would look like without human presence. "Art is a way to make science accessible," she says.
---
Tony Shore
Crown Cork & Seal, 4401 Fait Ave.
Tony Shore, chair of the painting department at MICA, has made his studio home inside the Crown Cork & Seal building on Eastern Avenue. He will be one of several artists in the old warehouse building to open their studios for the event, although his will be open to the public on Saturday only. He moved into the space in 2000, when there were only a handful of artists working there, and now there are more than two dozen. "There's a real community of artists here," he says. His black velvet paintings come from his growing up in the blue-collar neighborhood of Morrell Park and seeing them there. "They were kind of like the poor man's art," he says. "They've always had a kitschy, lower-class connotation . . . but I wanted to take this lowbrow art and elevate it to be museum-worthy."