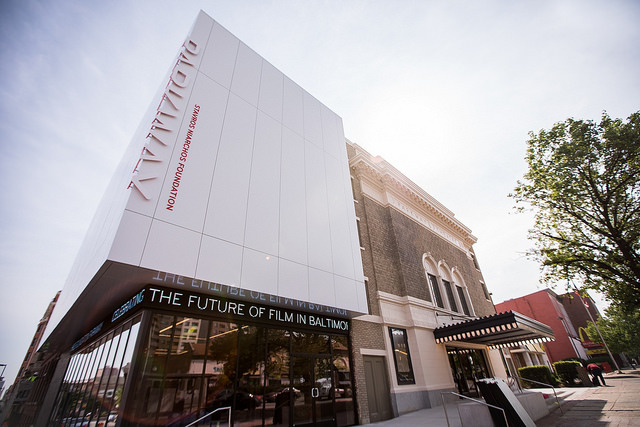 Courtesy of Chelsea Clough (Abel Communications) and Maryland Film Festival
Five things to eat, drink, see, hear, and do with your Artscape weekend.
 EAT
Station North, Mt. Royal Ave. & Cathedral St. Fri.-Sat. 11 a.m-9 p.m., Sun. 11 a.m.-8 p.m.
America's largest free festival—and the city's staple summer event—is back and tastier than ever. With an entirely Maryland-made menu, dig into more than 30 food vendors, including local favorites like Dooby's, Ekiben, The Local Oyster, and Connie's Chicken & Waffles, plus more than a dozen food trucks from throughout the region dishing out crab cakes, fried chicken, and BBQ. This year, the festival will be placing extra emphasis on recycling with a ban on all Styrofoam materials. And be sure to swing by Prigel's Family Creamery, for cold scoops and cones to keep the dog days at bay. 

 DRINK
Wet City, 223 W. Chase St. 11-2 a.m. Free. 443-873-6699. 
Like always, Artscape is going to be an extra hot weekend. Stay hydrated with an emphasis on local beers throughout the festival, and at one of Mount Vernon's best recent additions—the craft beer bar Wet City. Celebrate the bar's one-year anniversary with taps upon taps of expert and experimental brews, including two special collaborations with Burley Oak and Goonda Beersmiths. Permit permitting, they'll even have their own beer garden, set up outside in the high-summer heat. 
 SEE
Parkway Theatre, 5 W. North Ave. Fri. 6-9 p.m., Sat.-Sun. 12-6 p.m. Free.
If you haven't had the chance to experience the Parkway yet, this weekend is your chance to explore the recently renovated historic theater. For local art lovers, cinephiles, or just those in need of some A.C., they'll be featuring free films throughout the weekend with genres ranging from animation to comedy to documentary and drama. On Friday, catch a feature flick with the cult classic Wet Hot American Summer (which couldn't be a more appropriate title, for this year's camp theme and—did we mention it yet?—the weather's extreme temps). On Saturday and Sunday, stop in for more than a dozen short films, screened with filmmaker Q&As throughout the day.
 HEAR
Locations vary, including Artscape Main Stage, Johns Hopkins University Station North Stage, and the Morgan State University Sound Off Live! Festival Stage. Fri.-Sat. 11 a.m.-9 p.m., Sun. 11 a.m.-8 p.m. Free.  
While we love the art cars of Charles, the avenue of local food, and the sidewalks strewn with street performers, Artscape wouldn't be the same without its medley of musical acts. Across three stages, they'll be showcasing an eclectic mix of internationals artists and local talents. At the Morgan State stage on Mount Royal Avenue near Lafayette, hear acts like neo-soul collective The Fruition Experience, hip-hop poet Wordsmith, and indie darlings Us & Us Only and Super City. At the Johns Hopkins stage on Charles Street near North Avenue, be sure to stop by and see local rapper Martina Lynch, teen virtuosos Legends of Et Cetera, skyrocketing rock band Wing Dam, and post-punk stars Natural Velvet. Biggest of all, nestled beside the rolling green hills beneath the light of the old train station's clock tower, you'll hear alt-hip-hop group J Pope and the HearNow, local soul singer Ama Chandra, blues experts The Ron Holloway Band, and headliners like R&B star Sheila E., gypsy punk-rockers Gogol Bordello, and soul-blues legends Robert Randolph and the Family Band.
 DO
After-Parties!
Locations, times & prices vary.
Artscape doesn't end when the festival turns off the lights. For the entire weekend, after-parties will be popping up all across the city. During Artscape's own After Hours, stay in the neighborhood for everything from street theater and local comedy to George Michael tribute on North Charles. There will be plenty of dance parties, too, including Save Your Soul at the nearby Mount Vernon Marketplace, with vintage soul and pop music on the ones and twos, and 4 Hours of Funk at the Windup Space, with literal hours of funkified jams, both on Friday night. On Saturday, swing by Pen & Quill for a performance by the Baltimore Beat Club, and live music at local venues, like Priests at the Ottobar and :3ION at The Crown.