Blurred Lines
The many complexities that arise when you're a city of neighborhoods.
In 92 square miles, Baltimore has more than 250 distinct neighborhoods, each incorporating its own unique architecture, characters, and cultures into our city's sense of self. "We really are a neighborhood-based city," says Johns Hopkins, director of Baltimore Heritage, citing Chicago's 77 neighborhoods in a metropolis more than twice our size. "Having these dense, historic, rowhouse neighborhoods has helped create a sense of community."
But what if these close-knit communities also have some intrinsic flaws? "There are really good things about having tight-knit neighborhoods," says Hopkins, such as inciting enough civic pride in local residents to save Fells Point from death by a trifecta of highways, "but there can be some downsides, too."
In the early 1800s, Baltimore's neighborhoods were far more fluid—diverse in race, ethnicity, and even economic status, largely due to density in a smaller city. Ethnic concentrations did exist, but many wouldn't take root until transportation advances such as streetcars allowed them to segregate.
By the mid-20th century, Baltimoreans "were definitely sticking to their own neighborhoods," says University of Baltimore historian Betsy Nix, "not really mixing with people who weren't their nationality, religion, or race," which was further entrenched, of course, by the racist practices of redlining and blockbusting in the previous decades.
Some neighborhoods are now reckoning with this history head-on, like Bolton Hill—whose community association renamed itself in April to both acknowledge its exclusionary past and embrace its surrounding diversity—and Central West Baltimore—where for the past decade, the No Boundaries Coalition has been working to unify across race, class, and neighborhood. But "the legacy is still there today," says Hopkins, "in how [some] neighborhoods look, in their demographic composition, and how much investment they have been able to attract over the last 50 or 60 years."
"We're no longer looking at just the four walls of the community we're in," says Thibault Manekin of Seawall Development, who is hoping to connect the company's redevelopment success in Remington across I-83 to Reservoir Hill. "How can we open up our arms to the communities around us that haven't had as much investment? How do we bring them in, so they feel that same sense of pride and ownership? Real estate, maybe more than anything on the planet, has the ability to unite."
In other words, our neighborhoods should always remain a source of pride. But not too much pride. There's a big city out there worth connecting with.
---
IN THE DETAILS
Long live our architectural dream team.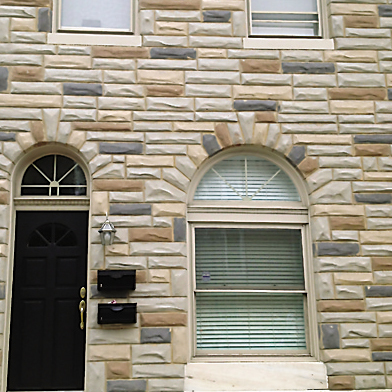 FORMSTONE
Once fashionable, this déclassé faux fieldstone remains an iconic symbol of blue-collar Baltimore, with the "polyester of brick," as Waters once put it, still gracing façades like a badge of honor.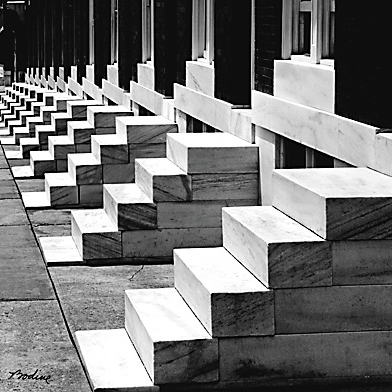 MARBLE STEPS
Born in a Baltimore County quarry in the 1800s, marble stoops long elicited a deep sense of pride, with residents making a ritual out of hand-scrubbing their steps on Saturday mornings.

PAINTED SCREENS
Pioneered here in the 1910s, this once-prolific urban folk art has become harder to come by, but keep your eyes peeled: it can still be found around Highlandtown, Little Italy, and Fells Point.
What Charm Means To Me...
"In a lot of ways, charm is an old-fashioned word, and that is one of the appealing aspects of Baltimore—that it's figured out a way to preserve its history but not completely make itself a museum. Baltimore has some of the most beautiful, intact neighborhoods of any city in America; that's one of the ways its physically charming. But charm is a feeling. There is this feeling that something is at work. An energy. That charm is not completely negative and not completely positive, but it's active, and it's influential."
Betsy Nix | University of Baltimore historian