Pigtown Proud
See what's happening in this Southwest Baltimore neighborhood.
You've likely been to Baltimore's beloved Squeakness during the annual Pigtown Festival, but these days, the Southwest Baltimore neighborhood is much more than tiny porkers running around a racetrack. Pigtown, also known as Washington Village, is quickly becoming a hip place to be thanks to affordable housing, easy parking, and proximity to downtown and major highways. 
Best of all is its community feel. Long-time residents mingle with young families and local students. Old barbershops, hair salons, and liquor stores live on, and a new batch of businesses fills Washington Boulevard with a fresh bustle of foot traffic. Now's the time to head to SoWeBo, because this small 'hood might just be the next big thing.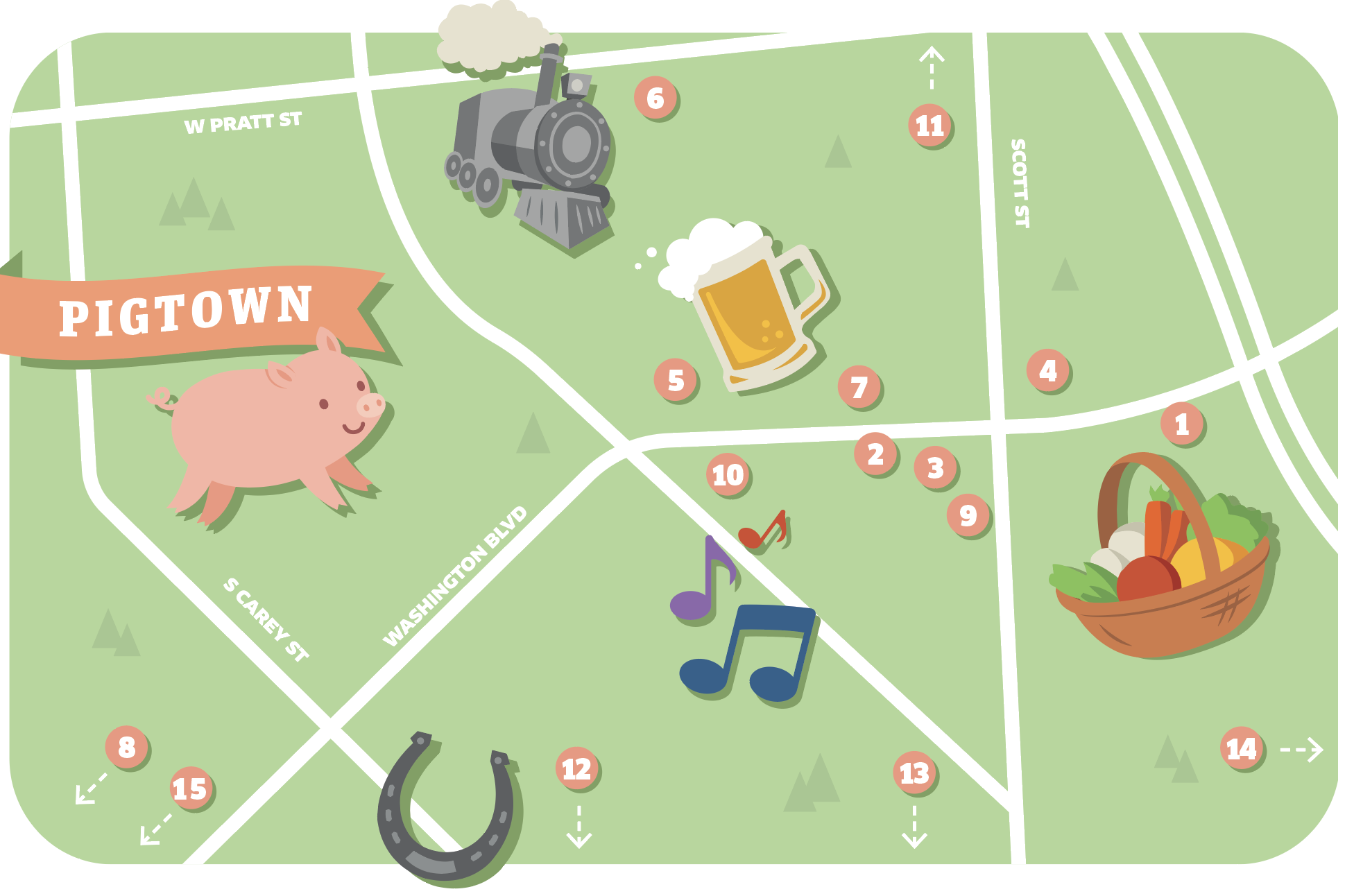 1. Culinary Architecture: This adorable market-café-caterer is a one-stop shop for all things delicious, with local food goods for sale, slam-dunk sandwiches for snacks, and browse-able cookbooks for your inner epicurean. 767 Washington Blvd.
2. Ebenezer Ethiopian Restaurant: Rated by Yelp as the best Ethiopian restaurant in Baltimore, and even recently visited by the one and only Queen Latifah, this tiny ethnic eatery where you can dine in or carry out is free of frills but full of rich African flavor. 821 Washington Blvd.
3. Nick's Rotisserie: This soul-food mainstay is the place to go for saliva-inducing Southern staples such as slow-cooked chicken, macaroni and cheese, and savory collard greens. 813 Washington Blvd.
4. Café Jovial: This cozy coffee shop is a neighborhood favorite for handcrafted espresso drinks, comforting breakfast options (hello, Belgian waffles), and a front window for reading the paper and watching the world go by. 784 Washington Blvd.
5. Suspended Brewing Company: We're proud to welcome this new addition to Baltimore's booming craft beer industry. Starting this fall, suds lovers can expect creative microbrews in a beautiful former church. 912 Washington Blvd.
6. B&O Railroad Museum: Learn all about trains, tracks, and technology at the B&O, best known as the birthplace of American railroading. 901 W. Pratt St. 
7. Enoch Pratt Free Library: At the Pratt's Washington Village Branch, check out books, sit in on discussions, and bring the kids for after-school activities. 856 Washington Blvd.
8. Carroll Park: Soak up the sun in Baltimore's third-oldest park, equipped with rolling green hills, a skate park, a golf course, and the historic Mount Clare estate. 2100 Washington Blvd.
9. Ripp'd Canvas: This brand-new tattoo parlor and gallery space is the South Baltimore spot to admire local art or even get a work of your very own. 801 Washington Blvd.
10. Mobtown Ballroom: This 19th-century church-turned-concert hall is a hoppin' home to swing dances, burlesque performances, and jazz concerts with an old-time feel. 861 Washington Blvd.
11. Lithuanian Hall: On first Fridays, the basement of Lith Hall, located just a short scramble north in Hollins Market, turns into a funky get-down during its Save Your Soul dance parties. 851 Hollins St.
12. Pigtown Horseshoe Pit: This pocket park comes with a pair of metal stakes for rounds of horseshoe (though you have to BYO shoes). Join a tournament and admire the rowhome mural featuring three men engaged in the old-school game. 1217 Bayard St.
13. Thrift: Between Housewerks Salvage and Second Chance, bring Architectural Digest and your dream home to life at these treasure-trove warehouses filled with reclaimed home goods, overlooked antiques, and forgotten art. 1415 Bayard St. & 1700 Ridgley St.
14. Sports: Whether it's the high heat of summer or dead cold of winter, head east to Camden Yards or M&T Bank Stadium to support our boys in orange and purple. 333 W. Camden St & 1101 Russell St.
15. Pigtown Ale House: With local beers and an upcoming burger bar, this new watering hole is sure to become a staple, located just a stone's throw from Carroll Park. 1415 Washington Blvd.