Smell of Success
Mei Xu has the nose for making it big in candles.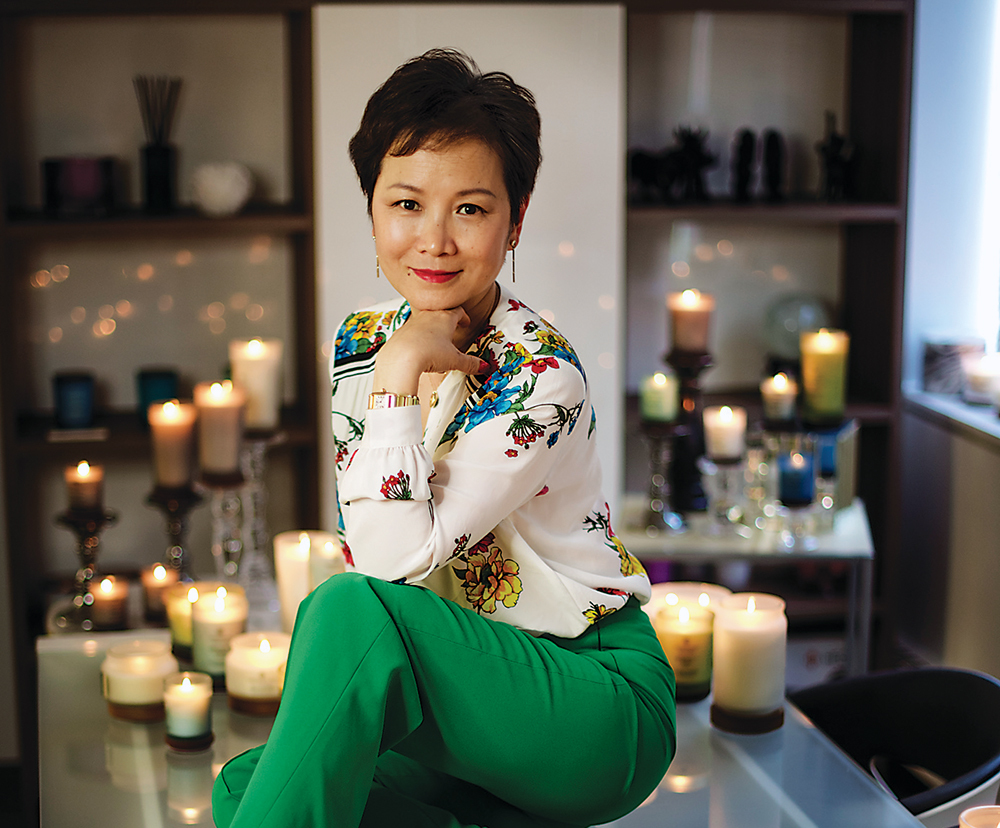 Mei Xu picks up soy candle nestled in chartreuse frosted glass, topped by a faux-wood lid. The scent—sweet basil with a hint of cool mint—is, according to the label, meant to spark hope and simplicity. And the latter is something Xu can't get enough of, because of her non-stop work days.
"When I wake up in the morning, the first image I have in my head is my datebook," says Xu, founder and CEO of Chesapeake Bay Candle.
And it was realizing she was not alone in her struggle to find "me time" that inspired her to create Chesapeake Bay's "Mind and Body" collection. "I don't have time to get my nails done, much less go to a spa," she says. "But if I have a moment where I can burn a candle, even if it's 30 minutes, I can enter that space."
Chesapeake Bay candles, Xu says, are designed to evoke moods—from the comfort of pumpkin latte to the elan of white gardenia.
The formula seems to work. The company, which manufactures most of its products in Glen Burnie, was recently sold to Newell Brands (which owns products as diverse as Ball jars, Elmer's glue, and Rubbermaid) for $75 million, but Xu has stayed on in an executive role.
Before she and then-husband David Wang founded the company in 1994, she had been in a Manhattan corporate job that didn't suit her. Alone in the big city, she'd wander through Bloomingdale's where the cosmetic clerks proffered splashes of scent. "I loved to be sprayed," she recalls. The fragrances, she says, "planted little seeds in me." Next, she'd take the escalator to the second floor to admire the well-tailored women's fashions, another of her personal obsessions.
Xu, born in Hangzhou, China, during the Mao regime and hand-picked at the age of 12 for English-language training, decided to quit her job at the Manhattan firm, which exported medical equipment to China. She knew she wanted to start a business, and fashion was her first love. "I'm a little fashionista," she says. But fashion, she points out, "is too fickle." So she and David settled on home décor.
They asked friends to bring a range of home products from China: silk flowers, decorative pillows, and yes, candles—ornate candles with a stained-glass motif that sold for $15 retail. They rented a table at a Charlotte, North Carolina, gift show to see what would sell. "We got the most orders for candles," says Xu.
Market research showed they'd be entering a crowded market, but one lacking much imagination. "The candles being sold out there were boring," she says—hunter green, cranberry, and off-white. "But they were flying out of the shelf because they have fragrance. That was an 'aha' moment." Xu upped the game by eschewing pine, cinnamon, and vanilla scents, opting instead for more sophisticated aromas and a color palette of melon green, lavender, and yellow.
In a Chesapeake Candle showroom, candles cover shelves and tables. There are citrusy scents, milky scents, and the scent of a cypress grove. Some candles are part of established lines, like the Mind & Body candles, available at Target, and others are destined for wholesale shows.
Often a new product will start with an idea, or an emotion, Xu says. "But once the mood is determined, we know we have the scent to go with it."