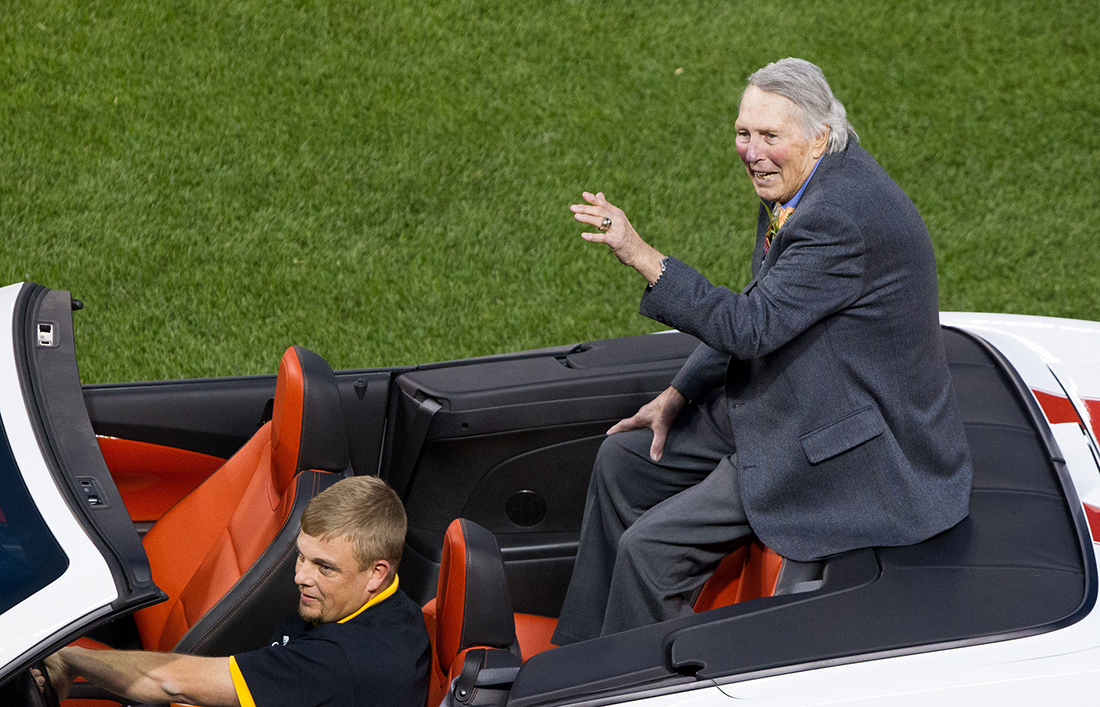 Courtesy of Flickr / Creative Commons
I'm not sure when I'll ever be surrounded by as much Orioles fame as I was last night. My dad and I attended "An Evening With Brooks" at the Meyerhoff Symphony Hall, a tribute to legendary third-baseman (and Mister Oriole himself), Brooks Robinson. The event, put on by the Babe Ruth Birthplace and Museum, was special in countless ways: having so many baseball greats in one room, O's fans being able to relive the glory days, and of course, honoring one of the most humble players in the game.
The night started out with cocktails, hors d'oeuvres, and a silent auction on the ground floor of the Meyerhoff. Popular items included a replica Robinson jersey, a 1966 World Series Louisville Slugger signed by the team, an iconic Norman Rockwell painting of Robinson signing autographs, and various all-inclusive packages to Orioles games. (A quick call to the Babe Ruth Museum revealed that the highest-selling item was, indeed, that 1966 bat).
Upstairs, guests had a chance to mingle with Baltimore sports elite, including Jim Palmer, Ken Singleton, Earl Weaver, Art Donovan, Mike Flanagan, Dave Johnson, Dick Hall, Lenny Moore, Tom Matte, Paul Blair, Chris Hoiles, Jim Mutscheller, and the list goes on. Some non-athlete VIPs were in attendance as well, like longtime Orioles PR director Bob Brown, marching band leader John Zieman, sports PR magnate John Maroon, and journalist Michael Olesker. My dad and I even got a chance to meet the man of the hour, who was as down-to-earth as he's always portrayed.
At about 7:30 p.m., it was time to be seated in the auditorium. Emcee Scott Garceau told the audience that the program would run a lot like a baseball game. Fittingly, it began with the singing of the National Anthem. (The iconic "O" resonated quite well in the acoustics of the symphony hall). The program was then divided into nine "innings," which chronicled Robinson's career and life, all while he sat on stage beside his wife, Connie.
Many former teammates, coaches, and fellow athletes had the kindest words to say about Robinson, winner of 16 gold gloves and dubbed "The Human Vacuum Cleaner." "He was the only player I never moved," said Jim Palmer, after discussing the little infield adjustments he would sometimes suggest. "I refused to go to kindergarten at Friends School if I wasn't in my Brooks Robinson pajamas," explained Orioles president Andy MacPhail. "A lot of people think it came naturally to him, but he worked really hard, staying after spring training games, to get this good," said former O's shortstop Ron Hansen.
After classic footage of the Orioles sweeping the Los Angeles Dodgers to win the 1966 World Series played on the projector, Jim Palmer interviewed Paul Blair and Boog Powell, who seemed to be all laughs. "Did you see how high Brooks jumped?" Powell said. "Must have been a trick of the camera." Then Garceau announced that there were many people in the room (ranging from infants to 40 year olds) who were named after Robinson, and made them all stand up.
Another famous piece of footage followed, the controversial Bernie Carbo play, during the 1970 World Series against the Cincinnati Reds. In the footage, the ump called Carbo out at home, even though Elrod Hendricks tagged him with his glove and the ball was in his throwing hand. "When Earl Weaver saw me 30 years later, the first thing he said was, 'You're still out,'" Carbo said.
Then Weaver came out (to a standing ovation) and discussed having to bench Robinson in 1977 to give some younger players a chance. On April 19 of that year, Robinson hit his final home run (a three-run bomb, no less) for the team. "I didn't sleep for a number of nights, thinking about benching him," Weaver said. "Then I called him in, said we've got to give some young guys a chance, so I need to take you out of the line-up. Just like class personified, he said, 'Skip, do what you have to do.' Then when he hit another three-run homer for Earl Weaver, and for the Orioles, I didn't know what to do," said Weaver, getting choked up.
During the "seventh inning," they played John Denver's "Thank God I'm A Country Boy" and writer John Martin Summers explained how it came to be an Orioles tradition, and hilariously described how he had to borrow Robinson's jock strap when Mike Flanagan invited him out to field a couple of balls. In the eighth inning, Cal Ripken Jr. came out (to another standing ovation) and talked about Robinson's influence on him. "I think I just realized that Brooks started the streak, because Earl didn't want to take me out of the line-up," Ripken joked. "I was so happy at third base, because it meant something to stand on the hot corner where Brooks had stood for so many years. And then Earl moved me to shortstop and messed everything up," Ripken said to some more laughs.
The final inning, of course, was where Robinson got a chance to talk. He explained that he really wasn't into the idea of an evening for him, until he heard that the proceeds benefited the Babe Ruth Museum and the American Cancer Society. He also joked that when a young boy in the airport asked for his autograph, Robinson asked the boy if he knew who he was, and the boy said, "No, but my dad said you are in the Hall of Fame and might not be around too much longer, so this could really be worth something someday."
But then Robinson got serious and said that the biggest highlight for him was that he played with the same team his entire 23-year career. "It has come back tenfold for me," he said. "Seeing someone hanging out of a car downtown and scream my name, raising my family here…I couldn't have made a better choice than signing with the Baltimore Orioles." He went on to say that an even bigger highlight was meeting his wife, Connie, whom he's been married to for nearly 50 years. "I appreciate you all taking to the time to come here tonight to say hello to me. Now I better get off of here before I start crying," Robinson said before exiting the podium.
Probably the quote that best summed up the feeling of last night, and the essence of Brooks Robinson, came from Baltimore-born sports writer Frank Deford: "This man was the foundation of the Baltimore Orioles. He was as gracious off the field, as he was graceful on it."