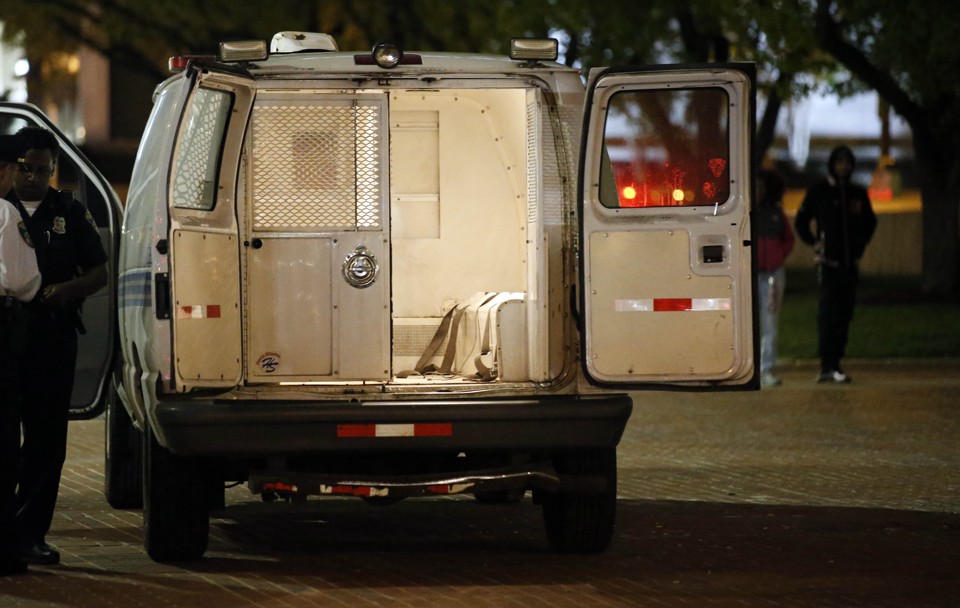 Courtesy of The Atlantic
The state medical examiner's office found that 25-year-old Freddie Gray suffered a "high-energy injury" riding in custody in the back of a Baltimore police van after officers failed to follow established protocols, according to reporting by The Baltimore Sun, which says it has obtained a leaked copy of the official autopsy.
So far, the information from the leaked autopsy adds detail and official language to what has previously been reported, but does not contain any major surprises. The biggest question the leak brings up at this point may be who turned the autopsy document over to The Sun and why. For example, was the report leaked to help the charged police officers' defense teams spin the autopsy results or to help prosecutors spin the medical examiner's report? Could it have been leaked to help Gray family attorney Billy Murphy in a potential civil suit? Was it leaked by someone to curry favor with the The Sun?
Whatever the reasons, the autopsy details that, because police officers did not follow safety procedures "through acts of omission," The Sun quotes from the autopsy, Gray's death could not be ruled an accident and was instead ruled an act of homicide. Gray sustained a severe spinal cord injury, which ultimately proved fatal, after being shackled and placed into a police van following his April 12 arrest. The medical examiner compared his injury to those witnessed in diving accidents, The Sun said.
The six police officers indicted in Gray's death, including one officer, Caesar Goodson, Jr., who has been charged with second-degree, depraved-heart murder, have pleaded not guilty. A trial date has been set for mid-October.
The Office of the Chief Medical Examiner Office has not released the autopsy, which is considered evidence, to the media or public. The medical examiner's office is not allowed to release the autopsy until given permission from the city state's attorney office, which it is has not yet received, according to medical examiner's office Tuesday. In a statement Tuesday night to The Sun, prosecutor and city state's attorney Marilyn Mosby "strongly" condemned anyone leaking evidence before the cases are resolved.
The Baltimore Fraternal Order of Police president, Lt. Gene Ryan, reiterated Mosby's feelings to The Sun.
"Why not wait till all the facts are in before you make a decision?" Ryan said. "Let's just sit back and take a breath and let's see everything unfold. I want to see all the evidence come out, because I believe our guys have nothing to hide."