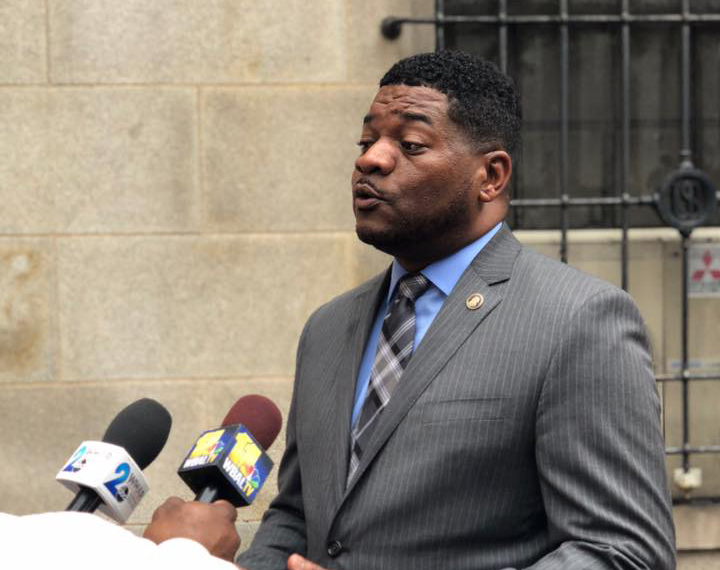 T.J. Smith Media
Since being appointed in 2015 by former police commissioner Kevin Davis, T.J. Smith, who has been known for his blunt, straight-to-the-point approach, resigned effective immediately on Wednesday as the chief spokesman of the Baltimore Police Department.
"Dear Baltimore. It's time," Smith said in his letter to the city. "Goodbye for now and thank you for letting me be me."
Citing an "unstable environment" and "political turmoil" as the cause for his departure, the Baltimore native believes that the city still has "historically and disproportionately been plagued with social ills, guns, violence, and drugs" long before the Freddie Gray riots.
"Everything's happening at one time—this is a battleship we're turning around," Smith told us in a recent podcast interview about the police department. "But we're turning it around in a canal."
The BPD said on Wednesday that Smith's duties will fall to Matt Jablow, a former WBAL-TV reporter and police spokesman who returned to serve as the department's chief of strategic communications earlier this year.
In his farewell letter, Smith divulges his experiences growing up in West Baltimore, corruption inside the BPD, and the effect it has had on the community.
As a former director of media relations for Anne Arundel County Police, Smith had an unorthodox way of delivering the harsh news. Pulling no punches and sparing no feelings, he knew the community well and it was evident the way he would show up at crime scenes and beg for tips from the public.
"I've spoken to families who have been deeply affected by the violence," Smith said. "And as fate would have it, I too, faced the devastation of a personal loss when my little brother, Dion, was killed . . . Prior to being affected by violence directly, I chose to speak on behalf of everyone's loved one with the same level of passion and humanity."
While working under Davis, Smith played a very prominent role in the community. The then commissioner trusted Smith to respond to public crises in a way that the public would understand. He had a way of making sure that the people were listening to him.
"He was beyond a media relations chief to me—he was a close adviser on anything and everything, and I relied heavily on his opinion," Davis told The Sun. "He's developed not only into the face and voice of the BPD, but the conscience of the BPD."
Smith's departure comes as Mayor Catherine Pugh prepares to name a new police commissioner by the end of this month. Interim commissioner Gary Tuggle—the fourth since Smith joined the BPD—was being considered but withdrew his application earlier this week.
Although he no longer works for the police department, he still considers himself a champion for the city. He's not sure what he will do next, he writes, "Hmmm, consulting, teaching, media stuff, and maybe, just maybe a book and politics." But he knows that he plans to continue to play his role in helping to heal Baltimore.
"I love this town," he said. "And despite its flaws, this city possesses great beauty, is rich in history, and exudes promise. However, the last few years have cast a spotlight on our city's urban, gritty landscape; from scandals, corruption, murders, riots, and more. Through it all, I walk all over the city and people approach me offering ideas, prayer, and hope. That's Baltimore, my Baltimore, a deeply resilient town."