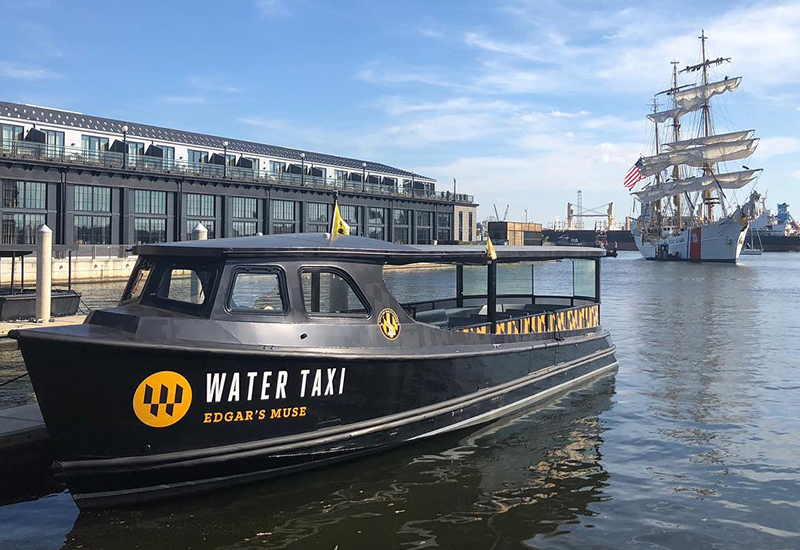 Baltimore Water Taxi/Instagram
As Carl Bart remembers it, on the first day of service for the Harbor Connector water taxi service from Maritime Point to Locust Point, there were three passengers the entire day. To say that things have changed since the route's inception 10 years ago would be an understatement.
In its current form, the Baltimore Water Taxi and the Harbor Connector service it is contracted to oversee has proven to be a valuable resource for those commuting to and from work every day, as well as those looking to get around Baltimore in style. As the captains tell it, the changes made since Kevin Plank's Sagamore Ventures acquired Harbor Boating, Inc. in 2016, while gradual, have been noticeable, ushering in a professional era for the Water Taxi in a time when the exploration of alternative modes of transportation in major American cities has become an imperative.
"We want to reduce the amount of congestion on the streets," says Michael McDaniel, president and CEO of Harbor Boating. "The Water Taxi is not going to be the end-all-be-all of transportation and getting vehicles off the street and people using alternate modes of transportation, but we're going to be a part of that."
Naturally, when a company is under new management, there are going to be tweaks, and the Water Taxi was no different. Bart has worked with the company in some capacity since 2008, and says that Sagamore has brought a new sheen. "Sagamore has listened to the employees and basically turned the job into a career for the younger guys," he says.
The Baltimore Water Taxi was once known as Ed Kane's Water Taxis, named after its founder, who started the business in 1975. When Kane passed away in 2003, ownership was passed over to his wife Cameron, who oversaw the enterprise for six years until McDaniel and Baltimore Water Taxi gained ownership.
Sagamore took over in 2016 and turned the business into what it looks like today. With that transition came an added focus on the business side of things. There is an inevitable sense of corporate influence when a company like Sagamore takes over; boat captains were given new Under Armour-branded uniforms, shiny $635,000-dollar black boats were introduced, and now individual day passes and charters for special events are offered. "For the people who have been there a while, it took some getting used to and an understanding of how things were going to change," Bart says. "It's much more professional today in terms of the back end."
One of the issues the business side of the Baltimore Water Taxi faces is the need to be current and consistently attract customers and riders. Newer boats now have charging ports for phones, while commuter boats can take two bikes at a time per ride—small amenities to entice people to become repeat users of their services. The growth of water transportation, whether by ferry or taxi, has spiked in the last several years across the country, as cities with access to waterways work to emphasize a once-dominant medium. In Baltimore, the Water Taxi is a resource borne out of the landscape of the harbor that surrounds it, and those in charge would like to keep it that way. "It's been an institution for 40-plus years," says captain Bob Crouthamel, who's worked part-time for the Water Taxi for 15 years. "It's a real important part of our city."
There is also the recent announcement that construction on a new Water Taxi terminal in the Inner Harbor has been approved, located at Pier I, replacing what is currently the U.S.S. Constellation Museum. It's further evidence that the Baltimore Water Taxi is taking active measures to improve and expand its reach to as many as possible.
And as the Baltimore Water Taxi reckons with its future and continues to consider what it will look like under Sagamore leadership, expansion and reach—both for reasons of utility and visibility—are top priorities. McDaniel hopes that extending Harbor Connector operations from five days a week to seven is in the service's future. He also envisions a scenario where riders might be able to get off a bus and step right onto a Water Taxi stop nearby, creating a more interconnected Baltimore where riders might not even need to get in a car.
"[There is] a lot of fine tuning to do in the years to come," McDaniel says. "We want to make it a more attractive system to increase ridership and that will see the benefits of taking vehicles off the streets, potentially circulating more tourism dollars to areas that are underserved. Getting people on the water and to areas that they would normally not go to by the water really puts a positive spin on both transportation as well as this city—seeing it from a different vantage point."