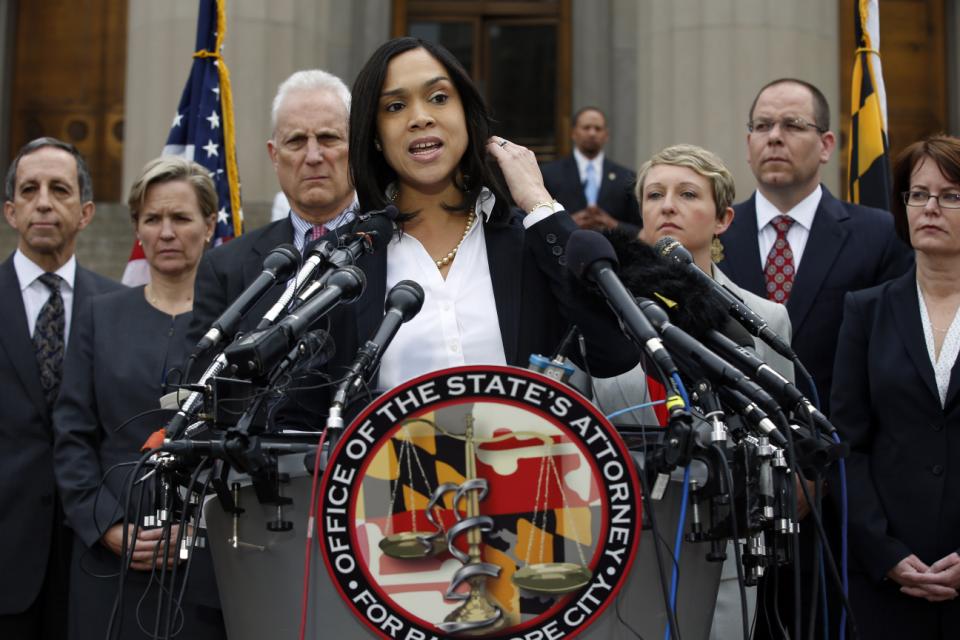 Photo Courtesy of Alex Brandon/Yahoo
Baltimore City state's attorney Marilyn Mosby announced Friday morning that arrest warrants have been issued for the six Baltimore City police officers involved in the arrest and transport of Freddie Gray, the 25-year-old man who died 12 days ago after being injured in police custody.
Mosby said the state medical examiner's office ruled the death a homicide and alleges that city police had at least five different opportunities to render medical assistance to Gray or call for medical assistance as Gray was loaded into the van in handcuffs and during later stops when they checked on him.
Gray, Mosby said, did not have a pulse and was in cardiac arrest when medical assistance was called and arrived to treat him at the Western District police station.
Mosby also said the knife found in Gray's pants pocket after he was detained by police was not a switchblade and is lawful under Maryland law. She said that the officers who arrested Gray "failed to establish probable cause for his arrest as no crime had been committed." Gray, who had ran after making eye contact with one officer, in other words, according to Mosby,"was illegally arrested."
Mosby said Gray sustained a neck injury during his transport to the Western District police station and that a Baltimore City Police Department general order that all detainees must be restrained inside a police van was not followed. Gray, according to Mosby, asked several times for medical assistance, requests which were ignored by officers.
"Following transport from Baker Street, Mr. Gray suffered a severe and critical neck injury as a result of being handcuffed, shackled by his feet and unrestrained inside of the BPD wagon," Mosby said.
The criminal charges filed against the six police officers in the death of Gray include the allegation of second-degree, depraved heart murder against officer Caesar R. Goodson, Jr., who drove the police transport van, faces a potential maximum penalty of 63 years in prison if found guilty of all the charges brought against him. The depraved heart murder charge is unusual, Baltimore criminal defense attorney Walter Balint, with 33 years experience told Newsweek. "Depraved heart murder is a super manslaughter case. It is like taking a loaded gun and firing it down the street. You kill someone standing on the other side of the street with that shot. You didn't intend that specific victim but you killed someone."
Three other officers, William G. Porter, Lt. Brian Rice, and Sgt. Alicia D. White have been charged with involuntary manslaughter, among other allegations, and face a possible maximum penalty of 20 or more years.
Two other officers, Edward M. Nero and Garrett E. Miller, have been charged with two counts each of second-degree assault, among other charges, and also face a possible maximum penalty of 20 years in prison, if convicted.
In her opening remarks, Mosby said that she had met with Gray's family.
"I assured his family no one is above the law and I will pursue justice on their behalf," Mosby told reporters in announcing the charges in front of Baltimore City's War Memorial Building downtown.
In closing, Mosby highlighted her family's extensive background in law enforcement, including her parents, who were both police officers, and said that the charges should not be viewed as an indictment of the entire Baltimore City Police Department.
She also said that she had heard protesters calls for justice in the wake of Gray's death in police custody and had a message for them. Large demonstrations and marches are planned today and this weekend.
"Your peace is sincerely needed," Mosby said. "I can bring justice for the man."
Mosby said that her office's probe into the Gray case had begun April 13, the day after he was injured, and that her team had "worked around the clock, 12- and 14-hour days" in completing their own investigation. Her office's probe was in addition to the initial police investigation that was turned over to her office yesterday.
At a scheduled 1 p.m. press conference following Mosby's announcement Friday afternoon, Mayor Stephanie Rawlings-Blake said she was "sickened and heartbroken" by the charges brought forth against the six police officers. She also said five of six officers who are being charged are already in police custody.
When asked by a reporter about Fraternal Order of Police letter asking for a special prosecutor to handle the Gray case, Mosby said: "The people of Baltimore City elected me and there is no accountability with a special prosecutor."
Rep. Elijah Cummings, in a statement, said he was "pleased" that Mosby had moved "judiciously and swiftly to seek justice for the Gray family."
"While investigations are ongoing, we must start working now to secure the safety of our children's futures," added Cummings, who has been a visible presence at protests in West Baltimore. "This is a transformative moment for the City of Baltimore and I will continue to urge my neighbors to remain peaceful while continuing to seek justice for Freddie Gray."
The full video of Mosby's press conference can be found here.
The following information is courtesy of the Baltimore City State's Attorney's Office and includes the respective maximum penalties, if found guilty, in parenthesis. All officers are innocent until proven guilty.
Officer Caesar R. Goodson was charged with
1)Second-degree depraved heart murder (30 yrs.)
2)Manslaughter-involuntary (10 yrs.)
3)Assault-second degree (10 yrs.)
4)Manslaughter by vehicle-gross negligence (10 yrs.)
5)Manslaughter-criminal negligence (3 yrs.)
6)Misconduct in office (*8th Amendment)
Officer William G. Porter
1)Manslaughter-involuntary (10 yrs.)
2)Assault-second degree (10 yrs.)
3)Misconduct in office (*8th Amendment)
Lt. Brian W. Rice
1)Manslaughter-involuntary (10 yrs.)
2)Assault-second degree (10 yrs.)
3)Assault-second degree (10 yrs.)
4)Misconduct in office (*8th Amendment)
5)Misconduct in office (*8th Amendment)
6)False imprisonment (*8th Amendment)
Officer Edward M. Nero
1)Assault-second degree (10 yrs.)
2)Assault-second degree (10 yrs.)
3)Misconduct in office (*8th Amendment)
4)Misconduct in office (*8th Amendment)
5)False imprisonment (*8th Amendment)
Officer Garret E. Miller
1)Assault-second degree (10 yrs.)
2)Assault-second degree (10 yrs.)
3)Misconduct in office (*8th Amendment)
4)Misconduct in office (*8th Amendment)
5)False imprisonment (*8th Amendment)
Sgt. Alicia D. White
1)Manslaughter-involuntary (10 yrs.)
2)Assault-second degree (10 yrs.)
3)Misconduct in office (*8th Amendment)
*Any sentence that does not constitute cruel and unusual punishment
*This story will be updated