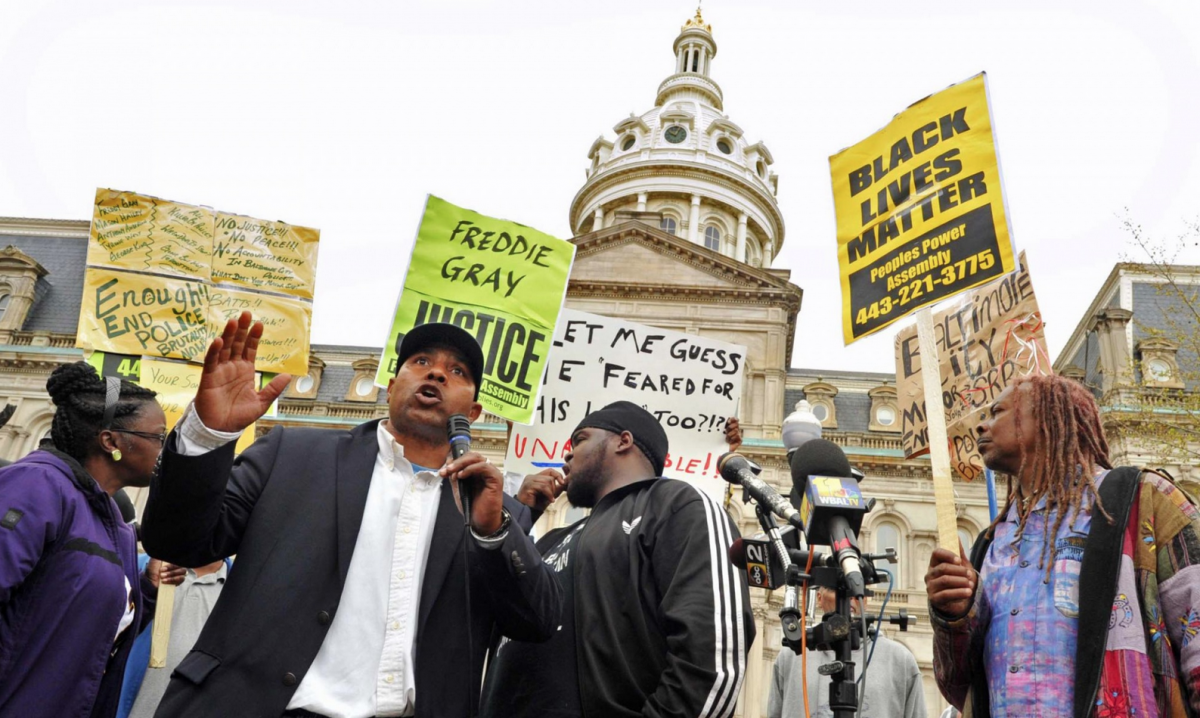 AP/Amy Davis
The U.S. Department of Justice announced Tuesday that they will open an investigation into the death of 25-year-old Freddie Gray, who died Sunday, a week after being taken into custody by Baltimore City police.
Gray died at the University of Maryland Medical Center's Shock Trauma unit after suffering a broken neck following an arrest in West Baltimore. The Baltimore City Police Department has not provided the cause for Gray's fatal injuries, which included a nearly severed spine, according to multiple reports, but identified and suspended with pay six officers involved in Gray's arrest yesterday.
The unexplained circumstances of Gray's death and arrest—caught on cellphone video when he appeared possibly injured, but not fatally so—has sparked days of protest in Baltimore.
According to the initial
police report, Gray was stopped because he "fled unprovoked upon noticing police presence" and that officers placed him under arrest. A knife was also found clipped to the inside of his pants pocket, according to police. "The defendant was arrested without force or incident," the report states. "During transport to Western District via wagon transport the defendant suffered a medical emergency and was immediately transported to Shock Trauma via medic."
In an interview Wednesday morning with CNN, Rep. Elijah Cummings said that the Baltimore City Police Department requires a "Ferguson-type" study by the Justice Department, adding that the police ". . . do not have a right stay silent."
"They say it happened without force," Cummings told CNN. "It's ridiculous . . . We will have transparency. Who will speak for Freddie Gray? I want to make sure [Gray's relatives] are treated fairly."
Members of Maryland's congressional delegation, including Cummings, U.S. Sens. Barbara Mikulski and Ben Cardin, and Reps. Dutch Ruppersberger and John Sarbanes, had called upon the Department of Justice to open an investigation yesterday in a
letter to U.S. Attorney General Eric Holder.
"I think folks have been crying for this," City Councilman Nick Mosby, whose district includes the neighborhood where Gray was arrested, told
The Sun, referring to the federal investigation. Mosby's wife, Marilyn, is the Baltimore state's attorney.
Following the announcement by the Justice Department yesterday, Mayor Stephanie Rawlings-Blake issued the following statement in support of the decision to open a civil rights probe into Gray's death:
"From the outset of our investigation, I have repeatedly affirmed my support for an outside review into the death of Mr. Gray. Whenever a police force conducts an internal investigation, there are always appropriate questions of transparency and impartiality. My goal has always been to get answers to the questions so many of us are still asking with regards to Mr. Gray's death. Any effort that adds additional transparency and builds community trust in this process is welcomed. This outside review will assist us in getting to the bottom of what happened to Mr. Gray in the most objective and transparent way possible."
The Justice Department's Community Oriented Policing Services Office was already in the midst of conducting a "collaborative review" of the Baltimore City Police Department at the request last fall by the mayor and the police commissioner Anthony Batts. A
Sun investigation last year detailed $5.7 million in court judgments and settlements involving more than 100 lawsuits alleging Baltimore City police misconduct since 2011.
As protesters chanted "No justice, no peace!" Tuesday evening near his Sandtown-Winchester home, according to reporting by
CNN, Gray's mother, Gloria Darden, collapsed in tears at the spot where her son was arrested. Demonstrations are planned today in front of the Western District police station where Gray was taken after his arrest.
Demonstrators say they will rally in front of City Hall on Thursday.