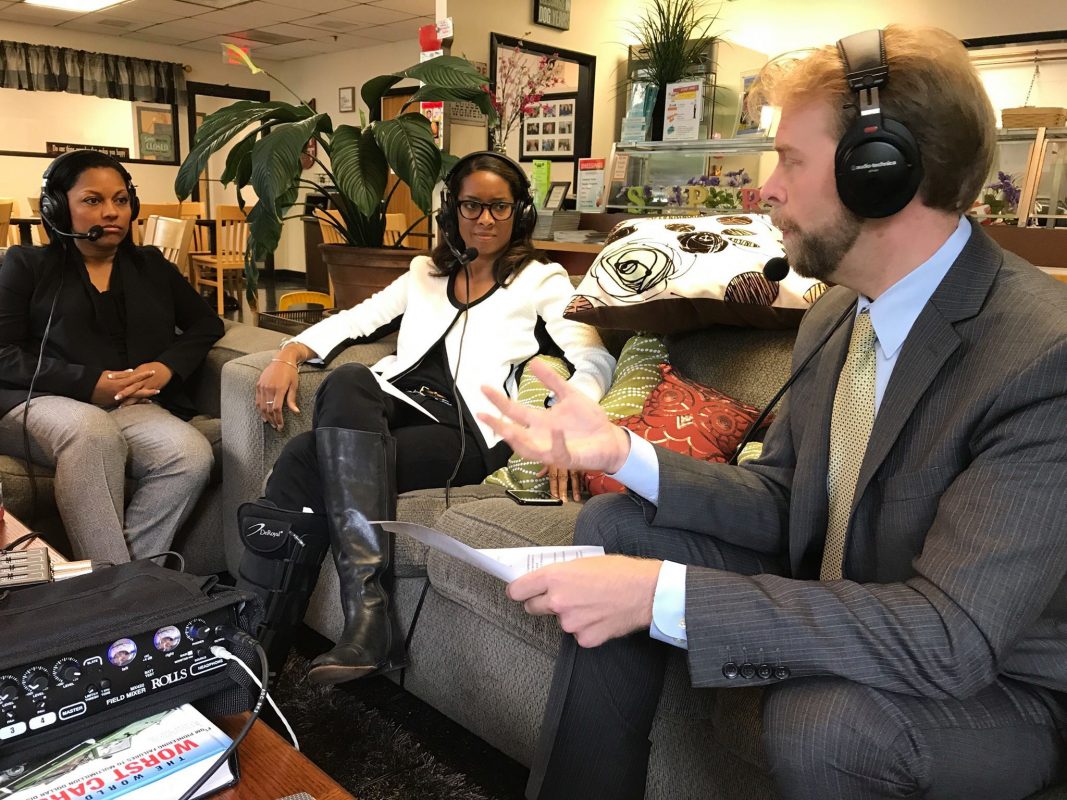 Perhaps one of the most controversial figures in Maryland politics at the moment is former Baltimore mayor Sheila Dixon. On the one hand, she was convicted of fraudulent misappropriation in 2009 and forced to resign. On the other, during her tenure as mayor, the city's homicide rate dropped for the first time in 30 years. All of which made her the perfect guest for the Elevate Maryland podcast last fall.
The Howard County-based podcast is approaching its third anniversary, and by bringing provocative and underserved voices to the table, it continues to serve its mission: "Build Community. Present Solutions."
It is co-hosted by Candace Dodson-Reed, 46, chief of staff and executive director in the office of equity and inclusion at a local university, and Tom Coale, 38, a land issue and zoning attorney.
"We've tried to address some of the most controversial issues that face the county and state," says Dodson-Reed. "We are unapologetic in having thoughtful, spirited dialogue on these topics."
A look through the past guest list attests to that. Former education secretary Dr. John B. King, Jr. spoke on education equity. "Just Up the Pike's" Dan Reed addressed advocacy for inclusive housing in Montgomery County. And state senator Dr. Clarence Lam discussed topics ranging from immigration to his op-ed on Governor Hogan.
Maryland state delegate Brooke Lierman was a guest on the podcast's first live show, which Dodson-Reed and Coale host bi-weekly from the welcome center in Columbia's Merriweather district.
"It was the first podcast I've ever been part of, and having a live audience made for a full and robust conversation," she says. "One of the reasons I'm a follower, as well as a guest, is that they bring on voices from such a wide range of backgrounds and jobs. They tackle the issues that challenge us here in Maryland."
Coale points out that, because he is white and Dodson-Reed is black, they also have the opportunity to bring in a wider ranging audience. "There are plenty of white content creators catering to white audiences, and vice versa," he says. "We use our chemistry to create a bigger audience and the reception we get is reflective of that."
In doing so, the podcast has become a must stop for politicians across the region. Baltimore County Executive Johnny Olszewski, Jr. has made two appearances to date, the first as candidate and the second in his leadership role.
"Tom and Candace have a similar philosophy as mine, to bring as many voices as possible into public discourse," he says. "Thoughtful conversations can build community, and they're accomplishing that."
Because the podcast doesn't shy away from controversy, it has received its share of blowback on social media, but that doesn't deter the hosts. "We might get beat up at times, but it's important to talk about these things," says Dodson-Reed.
It also means people are listening, to a tune of approximately 1,500 downloads per episode, according to Coale.
And while the co-hosts will continue to bring on the underrepresented voices of the region, Dodson-Reed does have a dream guest in mind for the future: "My big goal would be to have a presidential candidate on," she says. "But ultimately, as long as a guest is challenging the community and presenting solutions in an innovative way, we want them on the show."