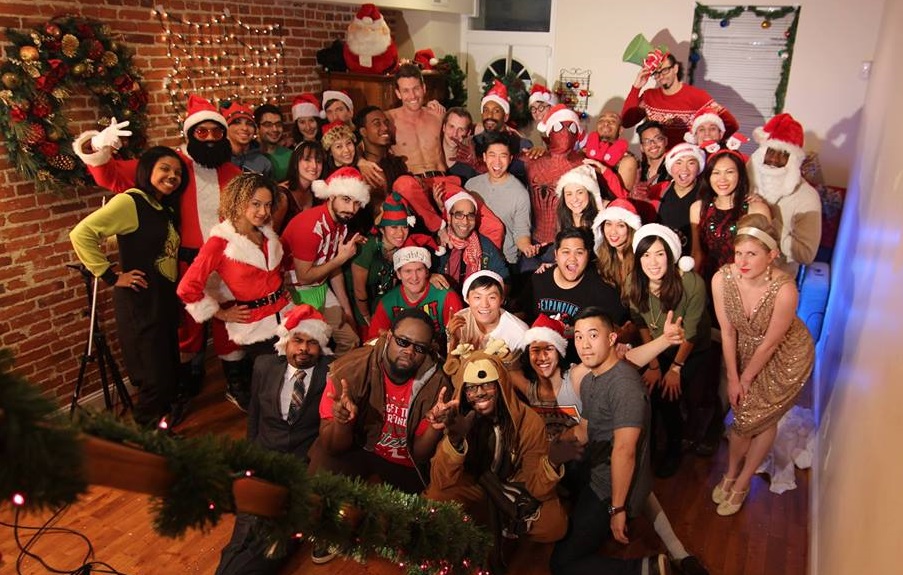 Jimmy Pope
If you need a little help getting in the holiday spirit this year, we've found just the thing. Uploaded to YouTube on Sunday, this video, below, conceived by Federal Hill roommates Justin Chen and Jimmy Pope, gets our bells jingling.
Set to Mariah Carey's "All I Want for Christmas Is You," and performed in one continuous take by 30 of their closest friends, Pope and Chen told
Baltimore that the video was filmed in about five hours right before their holiday party.
"We were going to have a party anyway, so we thought maybe we should [combine] it into one whole fun video shoot. We made a Facebook event and invited a bunch of our friends, and that's kind of how it started," says Chen, who works for the Department of Defense but performs with Pope in a breakdancing crew named Krewski for fun.
The duo, who moved into the house in August, spent the week prior to the party planning the shots but were open to input from their friends as well.
"We're all dancers for the most part. We're breakdancers, lindy hoppers, poppers. And we have so many creative, awesome friends, so they'll be like, 'What if I try this?' And that's how some of the shots became even better than what we were envisioning," says Pope, who also works a government job.

After filming wrapped, the gang went out for dinner in Federal Hill and then returned to the row house for more late-night revelry. (Bizarro Smalltimore factoid:
Sun crime reporter Justin Fenton once lived in the same home. Reached via email he told us he lived there for a year, and was sent the video by his former roommate. He says the home's distinctive bathroom—marble shower, Jacuzzi, deck off the back—was a "dead giveaway.")
The video, which has been viewed more than 40,000 times on Facebook and 9,000 times on YouTube, is not Chen and Pope's first social media success. Earlier this year,
Chen surreptitiously filmed Pope dancing and cleaning after their Halloween party. That short clip has racked up more than 13 million hits to date and was named one of the Top 100 Viral Videos of the Year by JunkinVideo.
This one looks set for a repeat. Even Katie Couric tweeted about it this week.
"That was mind blowing," says Chen. "It's not an everyday experience when a huge celebrity tweets about a video you made."

Chen and Pope plan on releasing more funny videos through their Krewski YouTube channel, and are happy people seem to be enjoying their creative silliness.
"We're just happy we could make people laugh," says Chen.