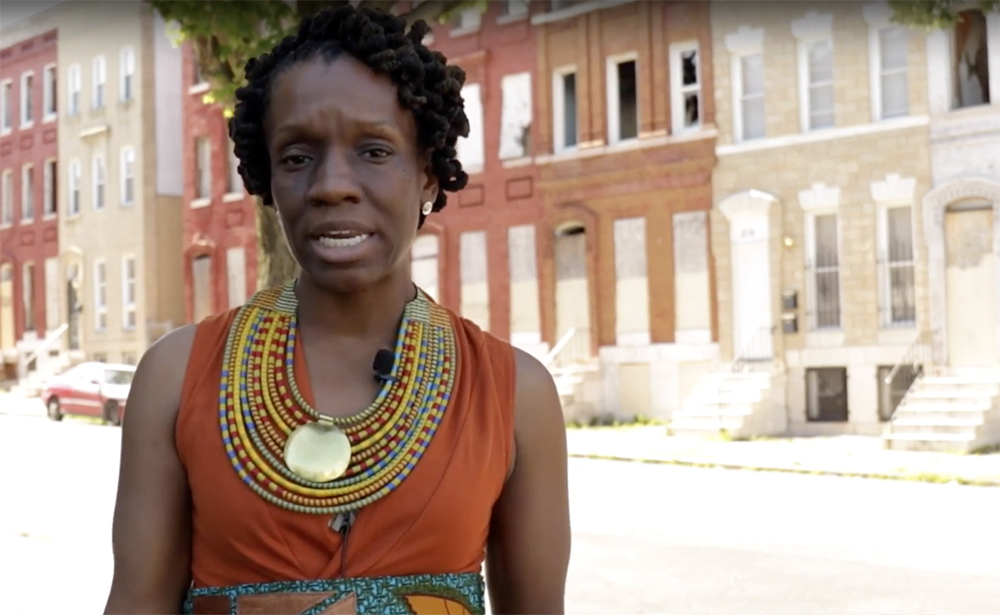 Warnock Foundation
There are approximately 16,692 vacant properties in Baltimore City as of December 31, 2018, according to data culled from the Housing Authority. But 2018 Warnock Foundation Innovation Fellow Nneka N'Namdi says that's just scratching the surface.
In order to more accurately report information and, ultimately, find solutions to combat blight, the Upton resident developed an initiative called Fight Blight Bmore, which endeavors to reduce blight and increase home equity for Baltimore residents.
"How can we support community-oriented solutions to eliminate blight?" N'Namdi asks. Decades of systemic disinvestment in working poor communities in Baltimore City have resulted in what she considers to be "community-based trauma resulting in long-term stress from fear of unsafe property implosion, toxic exposure, and crime."
FBB hopes to combat these issues and others related to the racial, economic, and environmental disparities that impede home ownership. We spoke with N'Namdi to learn more about her initiative's strategy to end blight in Baltimore City and beyond.
What prompted you to create Fight Blight Bmore?
Back around Mother's Day 2016, I witnessed young people being inadvertently endangered by a demolition site, a four large brownstones on Fremont Avenue and Lafayette Street, that didn't have a sign. Watching the children walk and ride down the street without the benefit of a barrier gave me pause. I started investigating why there wasn't a gate between the walkway and the site, why we had the vacant properties, and what was the city's plan.
And what information did, or didn't you find?
I found a need to have a ready tool to report unsafe building structures to the city. There was a lack of community developed solutions to remediate blight that wouldn't result in significant displacement of communities. Community development in Baltimore and many other old industrial cities—Philadelphia, Chicago, Detroit, St. Louis—results in total gentrification of neighborhoods, which is traumatic.
A lot has to do with communities having access to data about blight to create solutions that will be most impactful, sustainable, and least damaging to the people. It isn't just that the buildings look bad; it makes you sick, exposes you to crime, raises rent. If you think of it as it just looks bad, you can't think of the root cause of the issues.
How are you defining blight?
The definition we use is the presence [or] concentration of vacant, abandoned, dilapidated, underutilized or mis-utilized buildings, spaces or lots, non-jurisdiction specific. Baltimore City has a definition, but their definition is convoluted and doesn't take into account anything other than vacancies. It doesn't count underutilized or misused spaces like recreation centers, schools, churches, or retail storefronts. Because of that, the city's actual number of blighted properties is possibly three-times the reported number.
Removing blight in Baltimore City is a huge endeavor. Will you collaborate with other initiatives?
Yes, many people are doing related work. [Blight] impacts public health, public safety, and the economy. Sandtown South, No Boundaries Coalition, Conscious Development Roundtable, Black Church Food Security Network, Black Yield Institute, City Weeds, Juan Nance with Healthy People Juice, and Baltimore Housing Roundtable. It's a lot of crossover efforts.
What impact do you hope FBB will have against blight the city?
The city is aware that there is a problem, but the way they calculate the problem minimizes the seriousness. Like most municipalities, they attempt to use the same tools that created the problem to solve the problem. To adequately address blight, you have to address the core cause of blight, which is racism.
You hear people talk about it, but it isn't critical mass enough to confront that history in Baltimore as it applies to property management across race and class. The city has a number of efforts, like Vacants to Values and Live Baltimore, but none of those things address the core problem. Things like TIFs, Community Development Block Grants, and Opportunity Zones, they are not beneficial to communities.
So what are you hoping to do differently?
My hope is that we create a model that people in the community can use for themselves. A lot of times people in communities, specifically black people because of the legacy of inequity in land ownership, don't feel comfortable buying property and redeveloping without seeing someone else as a model do it in their communities. So that's what I did.
Every step of my process I share with other people so that they can see that anyone can do this, if you have a willingness. We can pull together resources to do this work to create inner-community systems. Every portion of my process involved paying black- and women-owned businesses—from the appraiser to muralist. That creates vibrancy. My ultimate outcomes are that we do not see displacement in our communities and that people who have lived in these communities for the last 50 years get to feel healthy and safe.