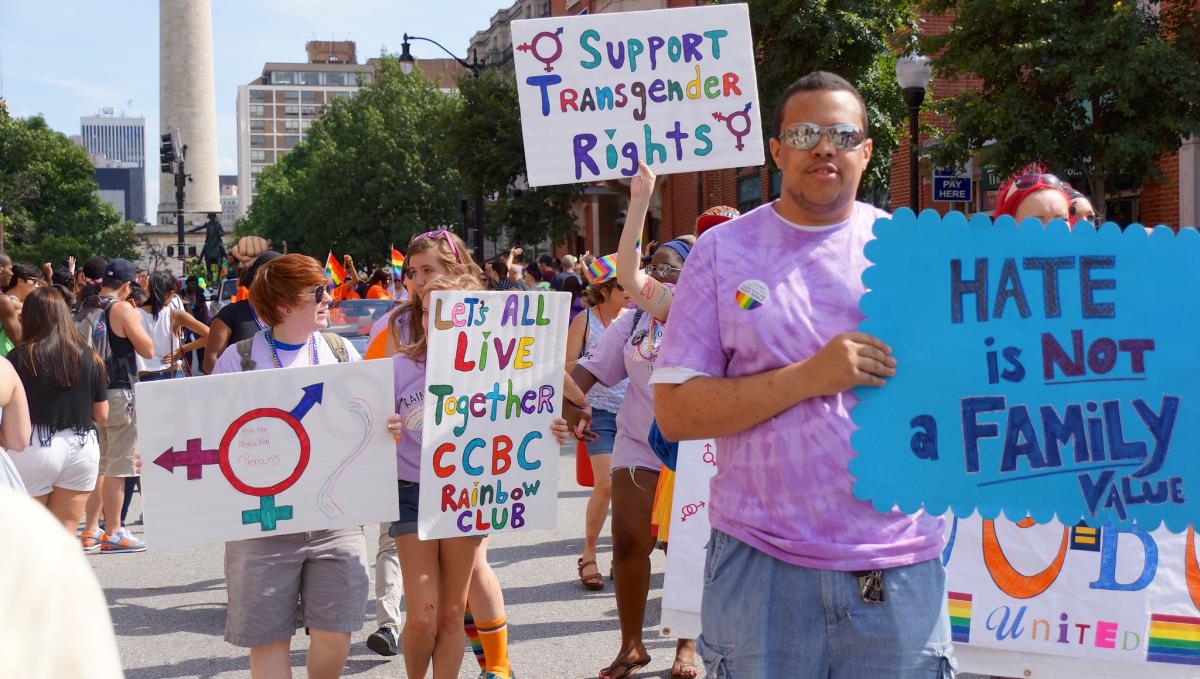 —Courtesy of Ted Eytan via Flickr Creative Commons
Three people were injured and sent to the hospital Wednesday when a home displaying Pride decor was set on fire on the 300 block of East 31st Street, engulfing four rowhomes in the Abell neighborhood of North Baltimore. Around the same time, another Pride flag waving outside of a home across the street was also burned. 
The incident—which was followed by residents swiftly coming together to replace the burned banner and decorate the neighborhood with hundreds of Pride flags—is suspected to be, but has yet to be ruled, a hate crime. 
Upon hearing the news, Kenneth Something, the director of strategic partnerships and special events at the Pride Center of Maryland, recalls being dually "concerned and confused." 
"I'm still trying to understand and process everything," says Something, a native of Charm City who identifies as nonbinary. They add that, despite strides made in Baltimore to welcome all who live here, the incident is sadly not a surprise.
"I have never known a place to be receptive, welcoming, and loving to [the LGBTQIA+] community without some level of threat and resistance to us being here," Something says. "This has been persistent since the very first Pride [protest] to exist in the U.S." 
Baltimoreans have honored Pride for roughly 47 years—back in 1975, the city's first Pride gathering was a small rally for equality in Charles Plaza—making our observances among the country's oldest. 
"We have been a flagship, a lighthouse, if you will, to cities all across the world on how to do this work," Something says. "All of this is to say that [Pride festivities] are how we care for our community, but not in lieu of harm. Pride is in direct response to problems."
As Baltimore Pride week approaches from June 20-26, Something points out that healing after a tragedy—such as the one that occurred this week—doesn't solely lie in fun and celebration.
"Healing comes from our connections to community," which Something hopes will help to prevent more acts of hate. "We have conversations too late. We wait until there is a fire. We wait until someone has taken their life before rallying to say 'This is not right.' But the truth is, little fires happen every time a person makes derogatory comments about our community. If we don't put those fires out, there will be bigger fires later."
As the community comes together to heal during Pride, Something is also looking forward to seeing "thousands of people together, celebrating, laughing, smiling, and enjoying life. Wherever I can stand and see the masses all together will be magical for me."
That togetherness, Something says, exemplifies the resilience of Baltimore's LGBTQIA+ community. 
"We have never known the absence of fear, the absence of threat, or the absence of hate," Something says. "But I want people to lean on and remember that resilience was born out of Pride. That's where our courage came from."
Suffice it to say, Baltimore Pride feels more important than ever this year. Here are a few ways that you can gather with friends and neighbors to stand up for unity, celebrate resilience, and support our local LGBTQIA+ community.
Through 6/26: Baltimore Pride
More than two years after the last in-person Pride, this summer's festival brings us "Together Again," with a boatload of happenings planned for friends, families, elders, youth, and allies. Dozens of groups will march for unity during the official parade down Charles Street on Saturday, June 25 from 1-3 p.m. The next day, the annual festival in Druid Hill Park will boast more than 100 vendors, drag performers, local eats and drinks, and headliners such as Mya and George Lovett. Aside from the main events, plans include a dazzling Queen's Cruise, kids arts and crafts workshops, and starlit concessions provided by Gertrude's (per Pride week tradition) throughout the week. See the full lineup, here.
FUNDRAISERS
Ongoing: Fundraiser for Abell Fire Victims
In the wake of the fires, the Abell Improvement Association (AIA) is collecting funds for victims via PayPal. Donations through the site (AIA asks that contributions are labeled "fire relief"), can be addressed to [email protected]. Click here to learn how you can make donations via check, and how to further support neighbors as they navigate the aftermath.
6/23: Fundraiser for Abell at Peabody Heights
Help AIA collect $5,000 for fire relief by enjoying a beer at this Abell-based standby, which plans to donate a percentage of beer sales to neighborhood victims. As an incentive for reaching the fundraising goal, Peabody Heights own director of marketing, Eddie O'Keefe, plans to hit the salon for a fierce, throwback hairstyle (we hear that he's thinking of frosting his tips!)
6/22: Pride Beer & Ballet
This installment of Ministry of Brewing's Beer and Ballet series is Pride-themed. Half of proceeds from all tickets to the class, plus all merchandise and pilsners sold will support The Trevor Project—a program that provides resources and crisis support to LGBTQIA+ youth.
6/23: Baltimore Safe Haven Fundraiser at Ministry of Brewing
One dollar from each pint of Kolsch that leaves this Fells Point Taproom will benefit the trans-led nonprofit and wellness hub's efforts to uplift LGBTQIA+ residents. Find a list of accepted donations to go toward the program's transitional housing initiative, here.
6/23: Queer Comedy (and Karaoke) Night
Proceeds from this musical event, held at The Lou Costello Room, support the Baltimore Abortion Fund.
OUTDOOR HAPPENINGS
6/24: Bike Party Pride Ride
Be yourself for this unicorn, rainbow, and glitter-themed ride through Charm City, which kicks off at St. Mary's Park and concludes with food, tunes, and a party at Union Collective.
6/26: Pride in the Park Gathering
Pack a chair or spread a blanket on the grass in Druid Hill to eat a picnic lunch (you bring the grub) and socialize with neighbors. Allies welcome!
6/26: Pride in the Yard
This leisurely event at Clifton Pleasure Club offers complimentary watermelon, cornhole boards, and drag performances by local diva, Lady Lisa.
SHOWCASES
6/18: Pride at Union Collective
Visit Movement Hampden for a Pride-themed iteration of the Stoop Storytelling Series (this time with an open mic), and stick around to see a drag show in Union's taproom.
6/21: Baltimore Pride Film Festival: Q + Shorts
This short, queer film screening at The SNF Parkway explores themes of romance, acceptance, defiance, revenge, and evolving identity. 
To 6/24: Pride at Creative Alliance
Throughout the week, the Highlandtown arts venue is celebrating with tons of fun. Belt your heart out to soul melodies with Donnie (whose iconic album, Welcome to the Colored Section celebrates 20 years), combine the worlds of improv and burlesque with glamor goddess GiGi Holiday, and soak up sounds by Sean K. Preston and the Loaded Pistols.
DRAG EVENTS
6/18: Cardinal Tavern Pride Party
For the first time, the Clinton Street watering hole will be honoring Pride with a drag brunch and specials. Sip $5 Deep Eddy's shots and rack up raffle tickets to score a prize.
6/24: Drag Bingo at Bark Social 
Next weekend, it's all about dogs, drinks, and divas at this recently opened pup hangout. Bring Fido for a free drink, two bingo cards, and entertainment hosted by Dustyn Dawn and Chanel Belladonna.
6/25: Pride Drag Show and Dance Party at Ottobar
Head to the Charles Village bar for drag, dancing, and drink specials all evening long. Look out for A-List performers Pariah Sinclair, Little Piece, and Ivanna Peesa. 
6/26: Pride Drag Brunch at Of Love & Regret
Close out the week with a trip to the South Conkling Street gastro pub for a brunch entree, craft cocktails, endless mimosas, and drag entertainment spearheaded by MC Pariah Sinclair.

PRIDE PARTIES
6/18: Constant Cravings (a super soft queer tea)
Spend a slow and restful Saturday outdoors with picnic bites (think Tzatziki dip, pimento cheese, and lemon chicken salad) and tasty teas. You can also move around to sounds spun by Chris Jay and treat your inner-child to coloring book action. 
6/18: Pride Party at Coach House
The Belair Road bar's second annual Pride bash is set to commence with an evening of discounted booze, karaoke, and dancing.
6/18: Sweet Spot: Super Sweet Baltimore Pride Party 
Ru Paul's Drag Race alum Dahlia Sin hosts this colorful, pre-weekend bash at The Manor, alongside performers like Miscalculated and Tory Stilleto.
6/25: Pride Tailgayt and Parade March
Before the official parade, plan to grill out and guzzle refreshing libations on Art Museum Drive.
6/25: Show Your Pride Beats and Brunch
Join local party princess, DJ Mom Jeans, at The Point in Fells to grab your fill of rainbow swag, sweet giveaways, and cocktails. Plus, bring your friends along to face off in some festive Pride-themed games.
6/26: Dicey: A Pride Tea Dance
This tea dance and drag show at gaming hub No Land Beyond in Old Goucher is brought to you by co-hosts Cher Rub and Kelsey Kadaver.
6/26: Haus Tea: Pride Hangover
Wind down at the end of the week with this disco-themed North Charles Street dance party, which promises oodles of soothing (and zero-proof) tea, meant to help you reset and detox.