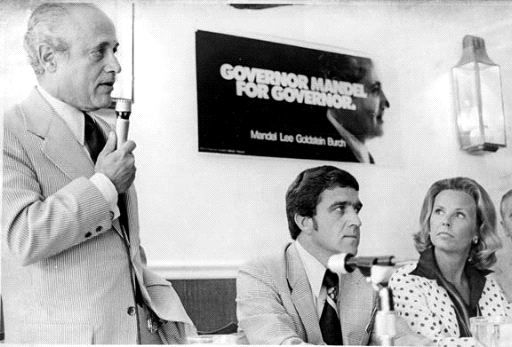 Marvin Mandel, who served as Maryland's governor from 1969 to 1979, died Sunday afternoon at 95 after spending the weekend celebrating his son's 50th birthday in St. Mary's County, his family announced last night.
Mandel was widely praised for modernizing the state government—organizing more than 200 independent state agencies into 12 cabinet-level departments, for example—but also proved a controversial figure during his tenure. He was convicted of mail fraud and racketeering after being found guilty of helping friends profit from a racetrack deal.
He also went through a public and messy divorce while in office, declaring he was in love with another woman.
A Democrat, Mandel served in the House of Delegates for 17 years, including five years as speaker of the House. He took over as governor in 1969 when Spiro Agnew resigned to become Richard Nixon's vice president. Subsequently, he was elected twice to office by landslide margins.
Ultimately, Mandel was sentenced to four years in prison on the fraud and racketeering charges, a term which then-president Ronald Reagan later commuted to 19 months. However, his conviction was eventually overturned in 1989 and Mandel won back the right to practice law again.
Eventually, Mandel staged something of a political comeback—not to elected office—but as a behind-the-scenes advisor and power player.
In 2003, then-governor Robert Ehrlich, a Republican, appointed Mandel to lead a commission studying government efficiency. Ehrlich also appointed Mandel to the University System of Maryland Board of Regents.
Gov. Larry Hogan tweeted last night that he was "addened to learn of the loss of a great leader, mentor, and friend, Gov. Marvin Mandel," and said flags would fly at half-staff in Mandel's honor.
I am saddened to learn of the loss of a great leader, mentor, and friend, Gov. Marvin Mandel. pic.twitter.com/GjmMPeXbug
— Larry Hogan (@LarryHogan) August 31, 2015
Mayor Stephanie Rawlings-Blake released the following statement:
"I join all of Baltimore in expressing my sorrow over the passing of former Gov. Marvin Mandel. I know that Governor Mandel will be remembered for many accomplishments during his time in state government, particularly the instrumental role he played in developing and promoting public transit in our region. I will fondly remember his love of state and local politics and the stories he would share. My thoughts and prayers are with Governor Mandel's family."
Mandel was born and raised in Baltimore City. He graduated high school from Baltimore's City College and went on to earn Bachelor of Arts and law degrees from the University of Maryland. He also served in the U.S. Army.
"Governor Mandel was a great governor but more importantly a great father and grandfather," his son Paul Dorsey said in a statement. "He spent his final weekend with family in St. Mary's County eating crabs and enjoying the beautiful scenery that St. Mary's has to offer. He lived life to the fullest."