Photography by Ron Cassie
Defense motions to suppress statements made by two police officers charged in the arrest, transportation, and subsequent death of 25-year-old Freddie Gray in April were denied Tuesday in Baltimore City Circuit Court.
Judge Barry Williams ruled against motions put forth by attorneys for Baltimore City police sergeant Alicia White and officer William Porter, concluding their statements were legally obtained by internal oversight investigators after White and Porter signed Miranda and state Law Enforcement Officers' Bill of Rights waivers.
In announcing his decision, Williams said prosecutors had met the burden of proof that White and Porter—whose interviews with police internal oversight detectives were videotaped and briefly shown in court—had been made voluntarily and were not coerced by investigators.
"She had the opportunity to say, 'No,' to say she didn't want to give any statements," Williams said, referring to White.
"The interview was not done with undue influence," Williams said in denying Porter's motion to suppress his statements to police investigating Gray's death from spinal cord injuries suffered while in custody.
Williams also canceled a pre-trial motion hearing set for Wednesday morning and placed a gag order on attorneys for the remainder of trials, banning prosecutors and defense lawyers from discussing the cases with the media and anyone beyond their legal teams. Among other leaks in the case to date, The Baltimore Sun obtained a copy of the autopsy report.
Prosecutors from the city state's attorney office allege that Gray asked police officers for medical attention, but that he did not receive care until he was found unresponsive upon reaching the police station after multiple stops. Prosecutors have also said—as did then police commissioner Anthony Batts earlier this year—that Gray was not secured and seat-belted in the police van, contrary to department policy.
Motions to suppress statements by three other officers charged were withdrawn by their defense attorneys Tuesday morning.
The sixth defendant, officer Caesar Goodson Jr., who faces the most serious charge, second-degree depraved heart murder, had refused to give a statement to police investigators. Goodson was the driver of the transport van in which Gray suffered his fatal spinal injury.
All the officers facing criminal charges, White, Porter, and Goodson, as well as Lt. Brian Rice and officers Edward Nero and Garrett Miller, appeared in court Tuesday, sitting together.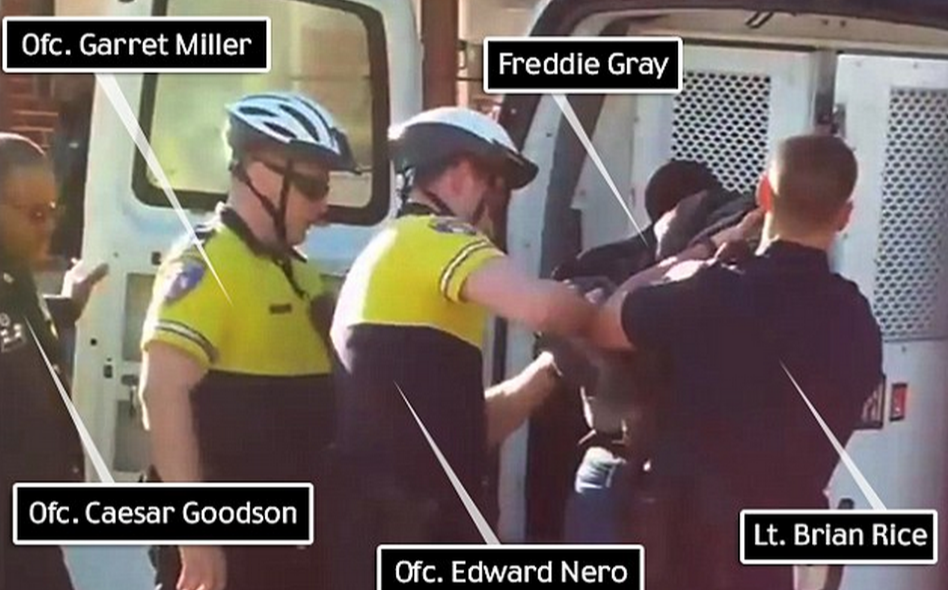 Baltimore city state's attorney Marilyn Mosby, who announced the charges against the police officers in a high-profile press conference last spring, was also present in the courtroom. However, Mosby sat a row behind chief deputy state's attorney Michael Schatzow and deputy state's attorney Janice Bledsoe, who handled the prosecution's efforts in front of Williams.
Porter's trial is scheduled first, for Nov. 30, and his statement—allegedly confirming that Gray asked for medical care, according to reporting by The Baltimore Sun—is considered critical to prosecutors' cases against other officers. Porter is charged with involuntary manslaughter, reckless endangerment, and second-degree assault, as is Rice.
White, as well as officers Nero and Miller, is charged with second-degree assault, reckless endangerment, and misconduct in office.
Goodson's trial is set for Jan. 6 and White for Jan. 25, with the other trials scheduled for February and March. The six officers, all free on bail, have pleaded not guilty to every charge.