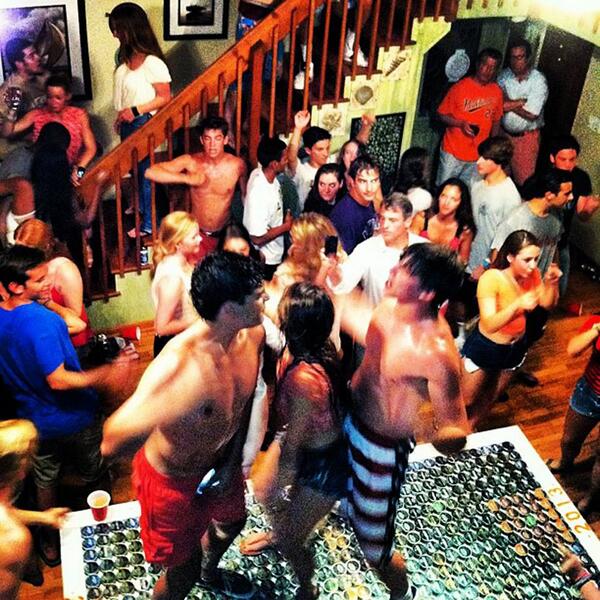 Instagram (via the Baltimore Sun)
Update (4:36 p.m.): Thursday afternoon Maryland Attorney General Douglas Gansler posted this comment on his public Facebook page:
"As a parent of a 19-year old, I face the same issues as many of you. How do we get it right? How do we draw the balance between helping our college teenagers make good choices and when to pull them back? You try to always make the best decisions. In this case, maybe I should have done something differently."
The orginial story from this morning follows:
Maryland Attorney General Douglas Gansler's shaky start in the governor's race continues.
Two weeks after the Washington Post first reported that state troopers described Gansler as a "reckless passenger," who regularly told troopers to use their sirens and speed to appointments, an Instagram photo emerged of him (above, in white shirt with cell phone in hand) at a senior "beach week" party in Delaware.
According to the Baltimore Sun, Gansler says he "should have assumed" there was underage drinking at the party—at a home rented by Gansler and several parents of recent Landon School graduates, including his son—but did not try to break up the party.
Of senior week, Gansler told the Sun, "For better or worse, the reality is some kids drink alcohol while they're there . . . "Was I supposed to serve as the police officer? No."
According to Gansler, there were adult male chaperones at the party and rules that forbade "hard" alcohol and closed bedroom doors were enforced. The photo and controversy has sparked national attention today, including discussions about Gansler's role as a parent and Maryland (out-of-state, in this case) law enforcement official.
Early polls showed Lt. Gov. Anthony Brown leading by a wide margin in the Democratic primary race for governor. Along with Gansler and Brown, Democratic state Del. Heather Mizeur has announced her candidancy for governor.
Former Baltimore County Executive and current U.S. Congressman C.A. "Dutch" Ruppersberger, another Democrat, said recently that he'll announce a decision around Thanksgiving on whether he'll throw his hat in the ring.
Republican candidates for the governor's office include Harford County Executive David Craig, Anne Arundel state Del. Ron George, and Charles Lollar, a former congressional candidate and former Charles County Republican Central Committee chairman.