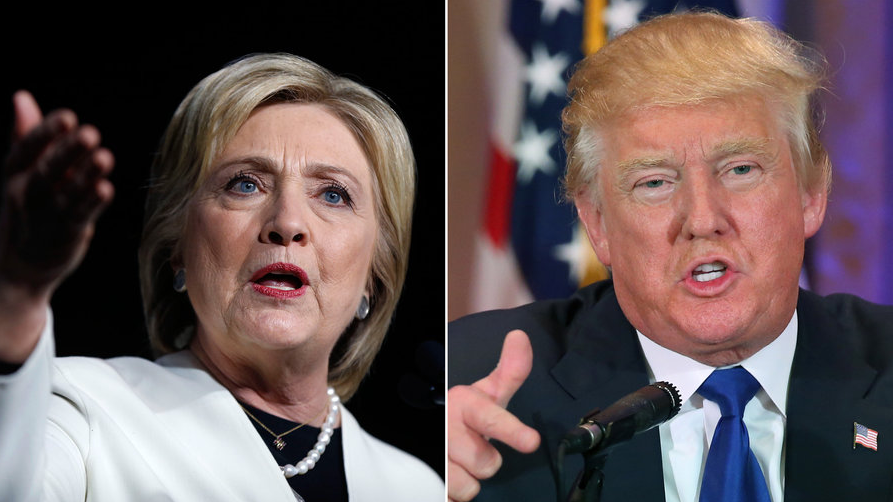 NPR
If the presidential election were today, 58 percent of Maryland likely voters say they would vote for Democratic nominee Hillary Clinton and 25 percent for GOP nominee Donald Trump, according to a new poll released Thursday afternoon from Goucher College.
Libertarian Gary Johnson earned six percent support among likely state voters while
Green Party candidate Jill Stein tallied two percent. Eight percent remain undecided at this point, according to the survey of more than 500 Maryland voters.
The poll has an estimated +/-4.3 margin of error.
Despite Clinton's enormous lead, Maryland likely voters overall are still mixed on their views of the former New York senator and secretary of state: 46 percent view her unfavorably and 51 percent view her favorably.
Trump's unfavorable numbers, however, are startling for a major party candidate: 76 percent of likely Maryland voters hold an unfavorable view of him while 22 percent hold a favorable view. Clinton made a campaign stop in Baltimore in April; Trump spoke at the annual conference of the National Guard Association earlier this month.
At the same time, cautions Mileah Kromer, political science professor and director of the Sarah T. Hughes Field Politics Center at Goucher, it shouldn't come as a surprise that Clinton is trouncing the Republican presidential candidate in deep blue Maryland.
"The Democrat-to-Republican ratio, coupled with a large percentage of African American voters and populous progressive strongholds continue to give Democratic candidates a significant advantage in presidential election years," says Kromer. "Barack Obama beat Mitt Romney by 25 points statewide in 2012, so it's not surprising that Clinton holds a sizable advantage over Trump in Maryland."
In the race to replace retiring U.S. Senator Barbara Mikulski, 54 percent of likely Maryland voters indicate they will vote for Democrat Chris Van Hollen, a Montgomery County congressman, and 24 percent for Republican Kathy Szeliga, a state delegate representing Baltimore and Harford counties. Almost 20 percent of respondents say remain undecided. Green Party candidate Margaret Flowers earned two percent support.
Less than 20 percent of likely voters say they held an unfavorable view of either Van Hollen or Szeliga. But more say they don't know how they feel about the candidates—30 percent in regard to Van Hollen and 57 percent in regard to Szeliga.
Overwhelmingly, Maryland voters—82 percent—say they discuss politics in their everyday conversation, or, at least fairly often. Likely voters report that their circle of friends tends to include significantly more people of the same political party affiliation, but many do have friends of the other major party—especially Republicans in the heavily Democratic state.
Among GOP voters, 57 percent say they have some or a lot of Democratic friends.
Among Democrats, 37 percent say they have some or a lot of Republican friends.
The complete poll, including methodology, question design, and detailed results, can be found here www.goucher.edu/poll.
*This post will be updated Monday when the second part of the Goucher Poll is released.