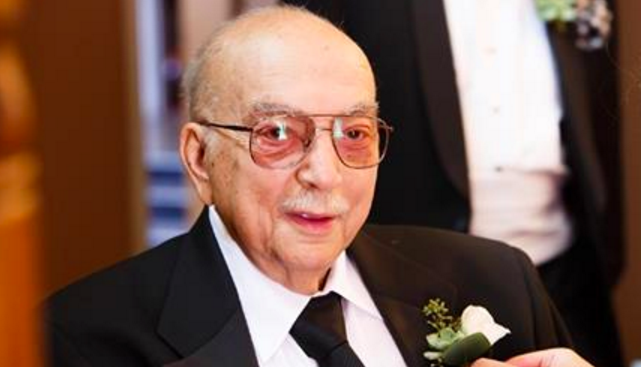 Courtesy of Paterakis Family
"This company has one share of voting stock and that's me…"
-H&S Bakery chief John Paterakis, Sr., 2013
The Bread King of Baltimore has died.
John Paterakis—JP to some, Mr. John to others, a rainmaker for politicians he liked and a thorn to those he didn't—died on October 16 at Johns Hopkins Hospital. The cause was complications from bone marrow disease. The principal owner of H&S Bakery was 87.
"Many of the longtime employees down here are taking it pretty hard," said Michael Tsakalos, 41, a financial analyst at H&S Bakery and its subsidiary Northeast Foods. "To them he was a legend, almost larger than life, but he talked like he was one of them."
A 1947 graduate of Patterson Park High School, Paterakis ruled the 73-year-old bakery from a desk below a painting of his mother Kyriaki. On one side of his headquarters, near President Street, stands Harbor East, a billion dollars' worth of office buildings, retail and condos developed by H&S Properties.
On the other, closer to Broadway, industrial ovens turn out bread and rolls around the clock, production that made the development possible. On Saturday mornings, Paterakis held court at the Harbor East Deli on Aliceanna Street where his few peers talked about the good old days of making their first nickel and self-appointed apprentices came to glean whatever secrets were shared between bites of egg sandwiches.
One of those regulars, longtime city and state Board of Elections director Gene Raynor and, like Paterakis, a confidante of the late governor William Donald Schaefer, died just a month before his old friend.
When asked about the bread man a few years ago for a story on the 70th anniversary of H&S, Raynor said there were plenty of jealous and disgruntled people willing to take shots at a success like John Paterakis, but not many who knew the frequent good works that took place behind the scenes.
In 1983, a fire caused great damage to St. Patrick Roman Catholic Church on Broadway, the flames visible from the H&S offices.
"John wrote a check immediately for a new roof while the church was still burning," said Raynor. "Not many people know that."
The H in the company name stands for Harry Tsakalos, Michael's grandfather and husband of John Paterakis' sister Liberty. The S represents Steve, John Paterakis' father.
Now 73 years old, H&S remains a privately owned family affair. For about the last ten years or so, John's son Bill has been running the company as his father tried his best to keep his hands out of the dough.
Bill's brothers Steve, Chuck and John, Jr., known as JR, each handle a key component of the 2,000 employee empire across 23 states. One of his daughters, Vanessa, is the company dentist, the other, Karen, is married to the company's chief legal counsel.
Over the past six decades, Paterakis built his father's two-man operation at rented ovens on Fagley Street in Highlandtown into one of the largest producers of bread, buns and rolls in the nation.
When Tsakalos stepped down long before his 2012 death, his spot was taken by his son Nicholas (Michael's father) who passed away last year. Today, the key decision makers in the company are all named Paterakis.
Many thousands of words have been written about John Paterakis—a blunt, no-bullshit businessman who gambled on the future, took care of his own, and loved the city where his family made their bones and their fortune. Many more words will be spoken about him at public and private memorial services and tributes on October 19 and 20.
But perhaps the most telling tale about a guy who liked to call himself "just a little Greek baker who got lucky," came in the late 1980s when Michael Dukakis was contemplating a run for President of the United States.
It began when Paterakis summoned then City Councilman Anthony J. Ambridge to his office "to meet someone," remembered Ambridge.
That someone was Dukakis, the Greek-American governor of Massachusetts who would eventually win the Democratic nomination before losing to the first George Bush in 1988. Like many politicians before and after him, Dukakis made the pilgrimage to 601 South Caroline Street to get a Paterakis blessing and maybe a little something in the collection basket.
Recalls Ambridge, "Mister John says to me, 'Tony, this guy is too liberal for me. Maybe you can help him.'"
And with that, a man of great wealth and tremendous influence turned a presidential aspirant over to a guy representing the neighborhoods of Mount Vernon, Roland Park, Charles Village, Bolton Hill, and Belair-Edison.
In time a Maryland fundraiser was held for Dukakis, where, said Ambridge, "All the other rich Greeks from around the country are asking me, 'What's up with JP, he hasn't contributed anything,'" remembered Ambridge.
Later, about half-a-million dollars—a figure confirmed by sources—wound up in the Dukakis coffers from Paterakis. When Ambridge questioned Paterakis about it, saying, "I thought he was too liberal for you," the bread man brought it home in a way that anyone with roots in Hellas can understand.
"He's Greek, just like me and you," Paterakis told Ambridge. "And that's more important."