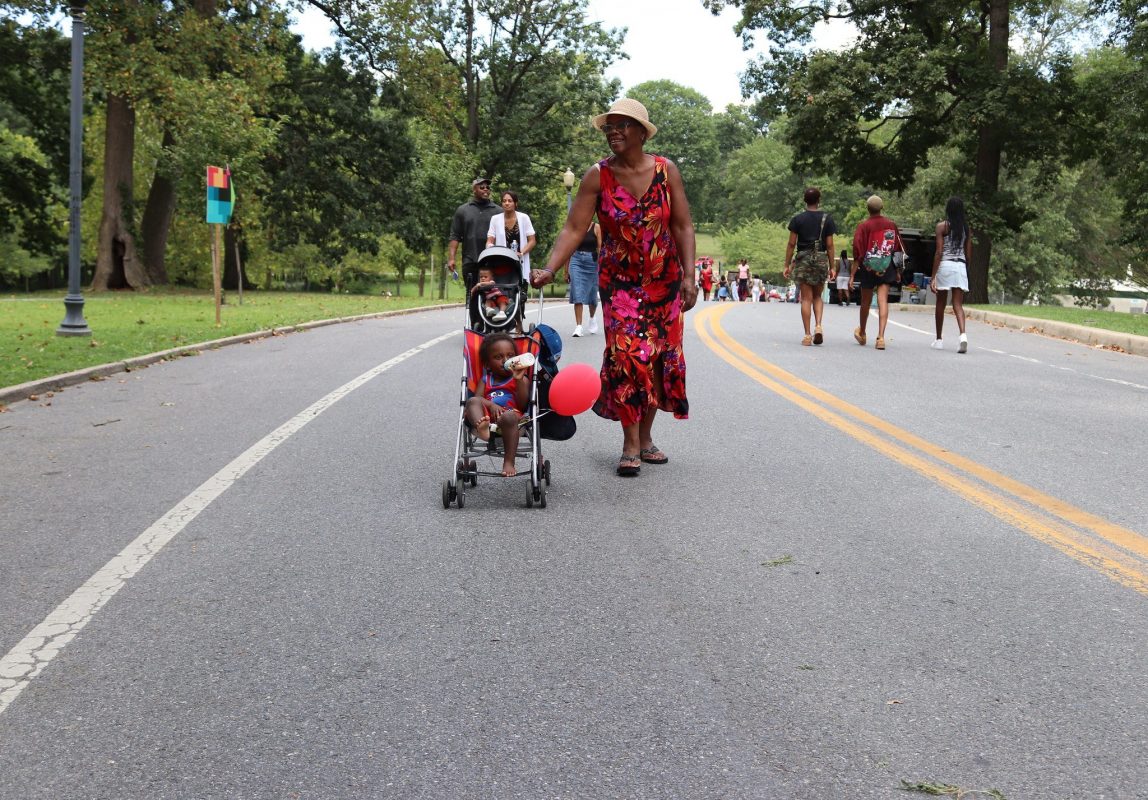 Photography by Elvert Barnes via Flickr Commons
Recognized by most African Americans as Freedom Day, Juneteenth honors the date that more than 200,000 Black men, women, and children were freed in Texas 155 years ago. Throughout the decades, the holiday has become understood as a day of liberation and celebration for all African Americans, commemorated with a feast of red foods and drinks symbolizing perseverance in bondage.
This year, as the resurgence of the Black Lives Matter movement spreads across the nation, and protestors continue to demonstrate locally in Baltimore, the day seems to hold a stronger significance.
A petition is currently underway to declare Juneteenth a national holiday. Its roots date back to 1865—roughly five months after the 13th Amendment abolished the institution of slavery. Though Abraham Lincoln's Emancipation Proclamation was finalized two years prior, it wasn't acknowledged in Texas until June 19, 1865.
Experts say that, originally, there were a number of elaborate Emancipation Day celebrations held all over the country, but during the radical reconstruction era of the late 1860s, laws were put into place that made these celebrations illegal.
"They really snuffed out those celebrations that were equivalent to what we would call Memorial Day or like a Fourth of July," says Morgan State University archivist Dr. Ida Jones. She believes that, because Juneteenth doesn't receive the same widespread awareness as other American holidays, it is of the utmost importance to recognize it today. "Everything that we're doing now is facilitated by that which happened before."
Some experts say that Black Lives Matter, a movement in response to police brutality and systemic racism, is a direct result of the country's attempt to bury its past.
"The idea of Juneteenth permeates Black America as this Black holiday that survived that experience," Jones says, "and commemorates itself outside of the federal and state government."
While James Calvin, interim director of the Center for Africana Studies at Johns Hopkins University, agrees with Jones, he also believes that, in order for the movement to progress, non-Black Americans and predominantly white institutions must acknowledge the country's past in relation to its present.
"Those issues of freedom are still with us on a number of levels," Calvin says. "If we think of the movement as it continues forward, one of the things that is important is how whiteness intersects with what it means to be Black in America."
Vedet Coleman-Robinson, executive director of the Association of African American Museums (AAAM) , says that part of the reason why Juneteenth isn't as mainstream as other national holidays is because of lack of exposure. She learned about the holiday in middle school and later in college, but often had to seek out Juneteenth celebrations on her own.
"Like much of our history, Juneteenth was not mainstream or pushed in mainstream media," she says. "If you aren't exposed to at least a piece of the celebration, it's history or origin, then you are left to only know about the Fourth of July celebration."
AAAM is based in Washington, D.C., but works with and advocates for African and African American- focused museums such as the Reginald F. Lewis Museum, The Peale Center for Baltimore History and Architecture, and local universities. Currently, they are assisting with promoting virtual events for Juneteenth due to coronavirus concerns.
So, for African Americans and allies alike looking for ways to celebrate in Baltimore, we've rounded up some of the many Juneteenth events that are social-distance approved:
6/18: Virtual Storytime: Freedom Bird
The Reginald F. Lewis Museum is kicking off its Juneteenth celebration with a reading of Freedom Bird: A Tale of Hope and Courage with author Jerdine Nolen. The folktale centers around an enslaved brother and sister who, guided by a mysterious bird, escape to freedom. Because the museum is currently closed to the public, the reading will take place online. The uplifting picture book is appropriate for all ages. 1:00 p.m.-2 p.m.
6/19: Juneteenth Baltimore Freedom Fest
Secure your a mask and join this youth-led march from Penn North to Druid Hill Park to honor the contributions and significance of the city's Black history. The event will conclude with a celebration at Druid Hill Park featuring Black-owned food trucks, youth poets, musicians, and speakers.
6/19: The Juneteenth Jubilee
The Boonie Breakdown and The Sneaker Exhibit are encouraging Baltimore residents to celebrate the holiday by supporting Black-owned businesses and eateries in several locations around the city. Due to COVID-19 restrictions, the organization isn't able to do a traditional crawl, but participants are encouraged to visit each business while adhering to social distancing guidelines and wearing a mask. For those who prefer not to leave their homes, the organizations have compiled a list of Black-owned online businesses and service providers. 12 p.m.-4 p.m.
6/19: BMoreFree Juneteenth Cookout
In true Juneteenth fashion, the annual BMoreFree Juneteenth Cookout will celebrate Black culture in the city with food, music, giveaways, and more. Participants are encouraged to bring lawn chairs, blankets, and positive energy to the family-friendly event. Towanda Park, 4100 Towanda Ave., 4 p.m., Free
6/19: Inspire Juneteenth Celebration
Join community leaders Andrea Jones, Sara Wolfe, and Antoynica Ryan for a Juneteenth cookout. Volunteers and donations of any kind are encouraged, and face masks are a must. To adhere to social distancing and state guidelines, the cookout will be hosted outside of the old Dr. Lillie M. Jackson Building with free food and fun. 1511 Ashburtin St., 4 p.m.-7 p.m., Free
6/19: Arena Players' Juneteenth Virtual Celebration & Discussion
Baltimore's oldest African American community theater is hosting a Zoom discussion to encourage solution-oriented dialogue about activism in the Black community. Arena Players actors, directors, playwrights, and supporters are encouraged to attend the event and participate in the discussion. A Facebook Live event will follow with a Juneteenth presentation featuring musical performances, drumming, and monologues. 3 p.m.-9 p.m., Free
6/19: Juneteenth Double Feature
For those interested in a Juneteenth-inspired movie night, the Charm City Classics Company is hosting a virtual double feature of films Rodney King and 13th as part of their #QuarantineandChill Film Festival. All you need to do is log into Netflix Party—a quarantine favorite—and tune in starting at 8 p.m. The organizers encourage participants to only use the chat to share resources and instead, focus all energy on the films being shown. 8 p.m.-11:00 p.m.
6/20: Juneteenth Art Bazaar
Dovecote Cafe's annual Juneteenth Art Bazaar will return this year with a virtual twist to encourage social distancing. The online event will showcase art, a freedom playlist, cookout recipes, and more.
For even more celebrations, check out the post below: