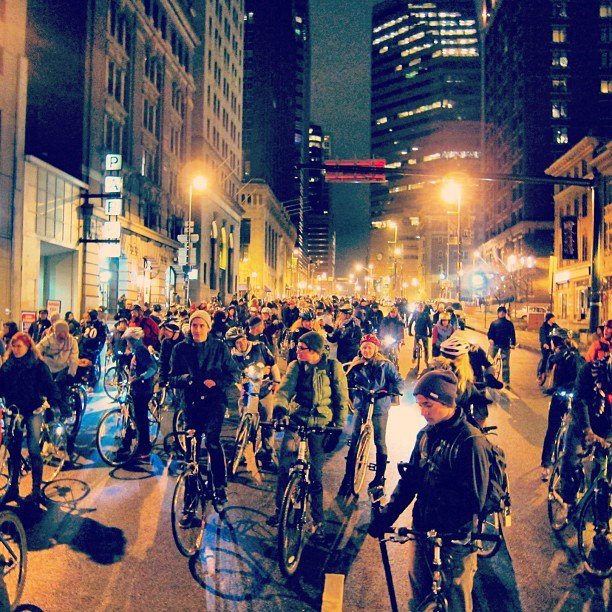 Ryan Dupre
Don't let the colder temps hold you back, the new year's bicycling
season has begun with a full slate of upcoming rides, symposiums,
planning forums, bike parties, and swap meets.
Here's a short list
of 10 upcoming events in the next couple of weeks. Maybe they'll serve
as motivation to get back in the saddle now that the days are getting
longer, too. The Bikemore calendar, Baltimore Bicycle Club website, and Biking in B'more Meetup page are good ongoing resources, especially for local group rides.
Jan. 18: Jones Falls Trail Family Bike Party: Meets at 9:30 a.m. at Baltimore Bicycle Works on Falls Road.
Jan. 20: Crank Mavens Ladies' Night Ride: All women ride through Baltimore, starts at 7:30 p.m.
Jan. 22: Winter Bike Sweats:
The antidote for spin class boredom. Ongoing Wednesday night 7:30 p.m.
rides, either sprints around Lake Montebello or climbs up Roland Park
hill.
Jan. 31: Baltimore Bike Party:
Ongoing last Friday of every month recreational urban trek and
after-party. This month's theme: Hipsters vs. Lumberjacks. Meets at 7
p.m. at St. Mary's Park.
Feb. 2: Pancake Ride:
First Sundays through April, leaving from South Carroll High School for
26 or 42 mile ride—with flapjack breakfast stop along the way.
Feb. 3 Six-Week Bike Maintenance Class:
Baltimore Bicycle Works mechanics teach the ins and outs of maintenance
and repair on Monday nights at 6 p.m. (There is a fee for the classes.)
Feb. 4: Downtown Baltimore Bicycle Network Public Meeting: 5 p.m. at the Enoch Pratt Free Library to discuss plans for the downtown bicycle network.
Feb. 7 & 8: Canton Club's 24-Hour Pedal for Patterson Park: 6th Annual indoor cycle-thon to benefit Patterson Park.
Feb. 9: 17th Annual Bicycle Stop, Swap, and Save: Carroll County Agricultural Center.
Feb. 11: The 17th Annual Maryland Bicycle Symposium: Presented by Bike Maryland at the Miller Senate Office Building in Annapolis.