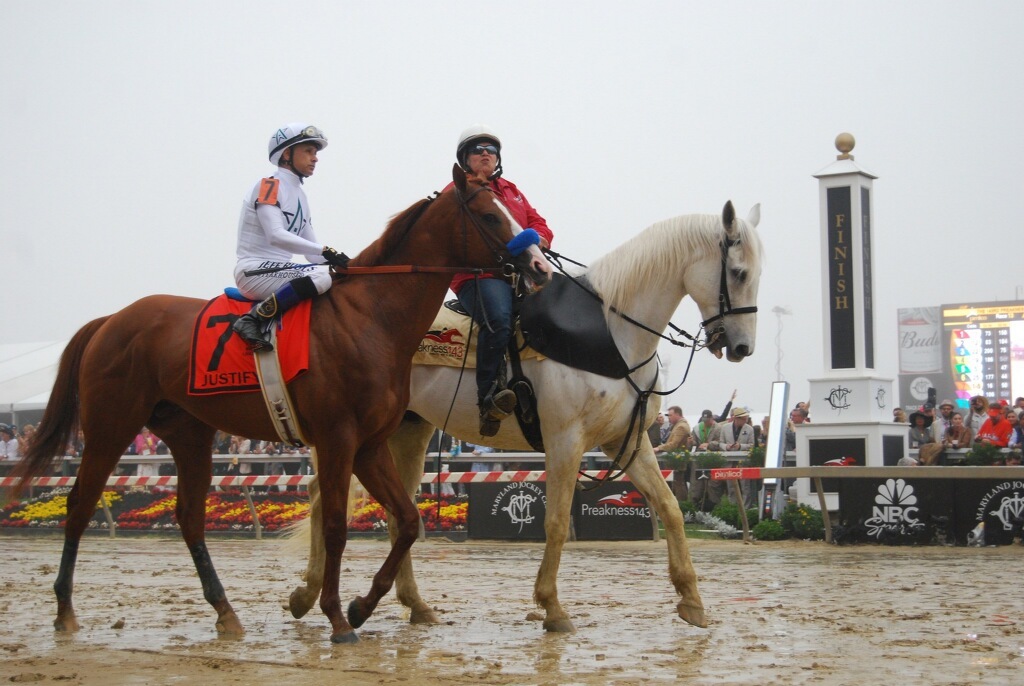 Casey Noenickx
"Do you want me in shoes or boots?" Belinda Stronach asked one of her group's PR reps before posing for a picture Saturday under cover at Pimlico.
The rain, of course, had soaked the grounds for a few days, and like the rest of those from the announced crowd of 134,487 who ventured to the infield at Preakness, mud now caked her footwear: a pair of tall, blue rubber Hunter boots. 
The 52-year-old president of the company that bears her last name, and the owner of Pimlico (and Laurel Park) race tracks, switched into a pair of heels and stuffed the empty environmentally-friendly storage bag from which they came into one her waterproof shoes, and photographers snapped a few shots.
The rapper, Ne-Yo, appeared beside her, and he lamented about the weather. "You know, though, I was just out in the infield," Stronach said to him, "and the crowd is insane." Indeed, around that time, video and pictures surfaced of some brave, and perhaps liquid-courageous, younger folk swan diving into the land of a thousand muddy lakes in front of the main concert stage. They'd shower later.
"It's unfortunate," Stronach had said earlier about the sloppy conditions, which figured to play a significant role in ending a four-year stretch of increasing attendance. Although Saturday's gate, and handle ($93.65 million), were still the third largest numbers in the event's 143-year history. And that was before an untimely dense fog settled in as the 6:49 p.m. post time of the big race approached. 
If you watched on TV and couldn't see most the main event until the horses emerged like ghosts of races' past at the top of the stretch, being there in person didn't offer a much better view. "I was thinking it's going to be tough on Larry Collmus, the track announcer," Bob Baffert, the white-haired winning trainer, said. "I was joking, he's probably saying, 'They're in the backside. I can't see the horses, but there's Post Malone,'" referencing the performer on stage in the infield.
So there was mud and fog, yes, but ultimately a big winner, by a head. Justify, the betting favorite ridden by 52-year-old (!) jockey Mike Smith, helped the Preakness do what it does: give the Triple Crown-interested world each spring a shot at seeing another winner in three weeks at the Belmont in New York.
There's also, of course, that bigger lingering question of how much longer this scene—rain, shine, or otherwise—will unfold at the 148-year-old Pimlico facility, which showed all of its warts, and leaks, Saturday. Stronach Group COO Tim Ritvo addressed the event's location, long a source of speculation and political maneuvering, in an informal conference in the press box earlier in the afternoon. 
And he basically pushed his ball closer to the group's goal-line in Laurel, about 30 miles south, a location that's three times the size of Pimlico that the Stronach Group has spent $30 million on in the last two years alone, and one that has train access to both Baltimore and Washington, D.C., and more room for parking and other amenities.
As it is, Pimlico is open for racing 12 days a year and needs a major reimagining and investment ($300 million, at least), which won't come from the Stronach Group, Ritvo said, though he said the group is open to a state of city partnership if they, "feel strong enough and they want to build a facility here."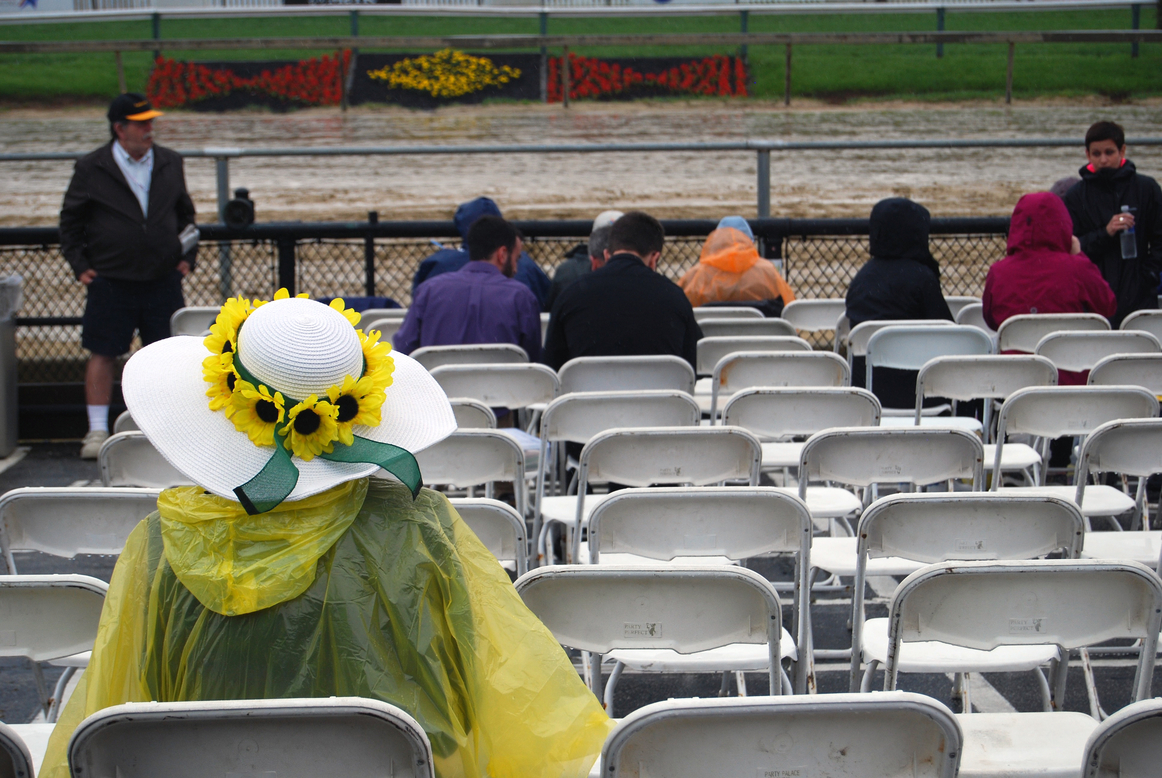 Meanwhile, Laurel is being positioned as a future venue for premier horse racing, like the Breeder's Cup, and a place the Stronach Group would rather run races year-round to grow its business, with the type of corporate hospitality and facilities it envisions at other tracks in owns in California and Florida. ("What can be done today that will be sustainable for the next 40 or 50 years?" he told us earlier this year.)
"I think change is coming," Ritvo said Saturday, "and it will be for the better . . . We'll go to Laurel, and we're still in the state of Maryland, and we'll give you a better, more elevated and prestigious experience."
The second phase of a Maryland Stadium Authority analysis of the topic is expected to be finished by the end of this year. A state law requires the Preakness be held at Pimlico, but legislation can been changed, of course, with the right influence. 
But yesterday, at least, the spectacle felt very much like Baltimore—with plenty of black-eyed Susans (on hats and in cups), overheard chatter about the Orioles' woes, and the signature "O" being shouted during the National Anthem. It reminded us how surreal it would be to host the Preakness anywhere else.