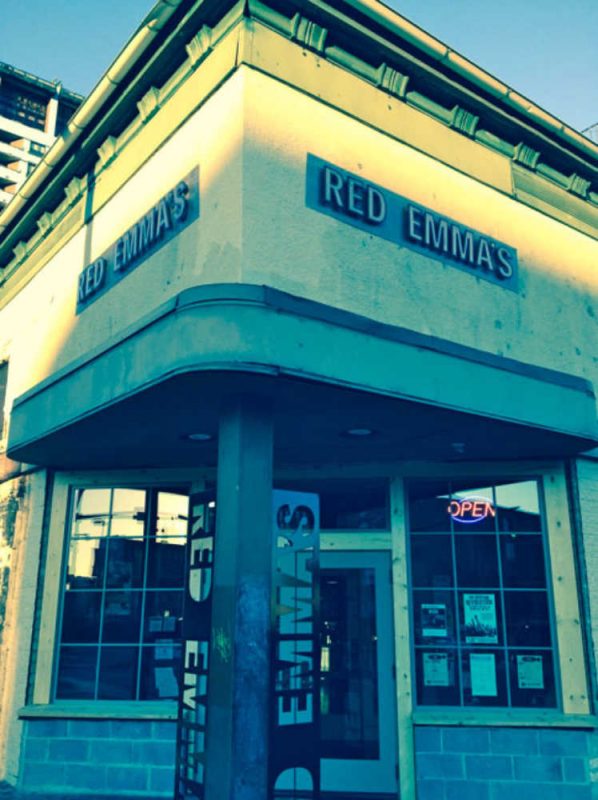 Ron Cassie
Red Emma's, Baltimore's favorite radical bookstore and coffeehouse,
has officially reopened in its new location at 30 W. North Ave.—the
latest addition to the surging Station North Arts and Entertainment
District.
Host to more than 1,000 events over the years—from films, lectures,
readings, and live music to seminars and grassroots organizing
efforts—the collectively run café has become a unique Charm City
cultural institution since first opening in Mount Vernon a decade ago.
In 2006, Red Emma's launched the first annual Radical Bookfair and, in 2007, they began a partnership with St. John's Church in Charles Village, using the space at 2640 St.
Paul St. as a venue for cultural and political events. In 2009, Red
Emma's started the Baltimore Free School. And most recently, they've
partnered with the collectively run Thread Coffee.
The move allows the bookstore to dramatically increase the number of
titles it offers while also greatly expanding the amount of café
seating. Plus, with the additional kitchen space, the menu will be
growing, too. More in-house vegan baking, on-site coffee roasting, and
soon more lunch and dinner entrée options, too.
Baltimore featured Red Emma's in the magazine in 2009.
With the reopening of the café, we did an email interview with founding member Kate Khatib:
So, why did you guys move? I'm assuming because you can stock
more titles, seat more people for speakers and films, etc., serve more
customers in the cafe…
"The decision to move to a large space was a long time coming—we ran
out of space about two years after we opened in the first location, but
we weren't ready to really think about expansion, so we instead decided
to proliferate into several additional spaces, which is how 2640 and the
Free School came about. Over time, 2640 and the Free School developed
into robust collective projects with their own organizing bodies, and we
decided, especially after Thread [Coffee] joined the Red Emma's family
of projects, that the time was right to do a major expansion of the
primary Red Emma's storefront.
Of course, the goal was more space for books, more seating for
customers, a home for larger events, and enough room to build a
full-scale commercial kitchen so that we can do all of our own vegan
baking in-house and significantly expand our menu, but we also wanted to
create space for Thread to roast coffee onsite, and for the Free School
to have a dedicated classroom space inside the main Red Emma's
location. And, I think we see that our instinct that we needed a space
like a vastly expanded Red Emma's in Baltimore was right: yesterday
afternoon, every single one of our 78 seats in the main dining area was
filled, and we had folks browsing the books, and folks meeting in the
Free School classroom. It's basically a dream come true!
Now, we just have to scale up what we offer in terms of food and
drinks, events, books, etc. to keep folks coming back time and time
again.
How do you see the fit overall into what's happening in Station North?
"Having spent nine years on a pretty quiet corner in a residential
neighborhood, it's exciting for us to be in a re-emerging arts and
entertainment district where there's a lot going on. We're excited to be
bringing some daytime traffic to the area, and, alongside longtime
businesses like Station North Arts Cafe and others, to be providing a
public place where people can spend time during the day, which is sorely
needed in a neighborhood where there's so much of a focus on nightlife.
The bookstore component in particular has been really well-received and
appreciated by the folks we've met who are longtime residents of the
area, and I think that really draws folks from the neighborhood in.
Speaking personally, I think the revitalization efforts along the
North Avenue corridor are interesting. Our goal so far has been to watch
and to learn about what's happening in the neighborhood, and to engage
with and create space for folks who have been in the neighborhood for a
long time, as well as to work closely with some of the newer
residents—and businesses, projects—who are increasingly present in the
area. Red Emma's works well as a kind of middle ground—we're comfortable
in the Arts & Entertainment District, and definitely popular with
the students and cultural producers who call Station North home—but we
also work hard to create a public venue that anyone can use and feel
comfortable in, provided they respect the rules of the space.
I hope in the years to come, as the revitalization of North Avenue
continues, that we can be a place where neighborhood residents can come
to share their concerns about what's happening around them, and that we
can help to bring the development interests in the neighborhood to the
table to address and learn from those concerns. Revitalization on North
Avenue could be a fantastic opportunity for city development to work in
partnership with residents, or it could become yet another casualty of
gentrification. It's too early to tell exactly what direction things are
going to go in, so we're watching and waiting to see where we can be
the most useful in the fight for a participatory development process in
the area."
Do you see Red Emma's expanding into more of a restaurant-type lunch dinner menu?
"Definitely. We've been slowly scaling up the menu with new salads
and sandwiches, and we'll be posting a job search for a new worker-owner
with chef/cooking experience in the next couple of weeks. As we thaw
out on our way towards spring, we'll be doing a series of special food
events—starting with a vegan-friendly brunch—to give us a chance to flex
our culinary muscles a little, and get a sense of what the fully
functional restaurant will look and feel like.
Our goal is to have a full lunch and dinner menu with hot entrees and
lots of sides and appetizers up and running by the end of the spring."
Can you briefly describe the partnership with Thread Coffee?
"Thread Coffee was collectivized in 2012, and shared some membership
with the Red Emma's collective from the start. Thread's mission is
complementary to the Red Emma's mission—it's a project that's about
transparency, that's about understanding the politics behind the coffee
we drink, that's about working hard to guarantee that the farmers who
grow and pick the coffee we drink here in Baltimore are paid a fair wage
for their labor.
Right from the start, we knew that Thread and Red Emma's would have a
long and fruitful relationship together, and when we sat down to talk
about that, we realized that we had more to gain from bringing the
projects together, instead of keeping them separate. So, later that
year, Thread Coffee became a part of the Red Emma's family of
projects—which includes Red Emma's Bookstore Coffeehouse, The 2640
Space, The Baltimore Free School, and now Thread Coffee. We like to talk
about Thread as the roasting arm of the Red Emma's project—the coffee
we roast in the store is retailed under the brand name of Thread Coffee,
but the same worker-owners who you see making lattes behind the counter
are in many cases the folks who are also doing the roasting on other
days of the week.
As Thread grows, we may eventually need to move some of the roasting
operations offsite to a larger facility and hire worker-owners who work
exclusively on the roasting part of the business (just like we have
folks who work exclusively on books, or exclusively as cooks, etc.), but
for now, we're really happy to have everything integrated together in
our primary storefront.
Everything else, the Free School, the partnership with 2640, will continue, is that right?
"Absolutely. The expansion doesn't in any way change the larger
partnership of the four Red Emma's projects, except that Thread and The
Free School now share space with the Bookstore Coffeeshop. We're still a
big happy family of four collectively run projects."