The Chatter: April 2016
Overheard at the Baltimore Museum of Industry, Psychedelic Seminars, and the annual IND-Mercy basketball game.
History Type

Key Highway
January 7, 2016
Sitting on a chair in front of a 7-foot-tall machine invented in 1884 called the linotype—literally "line of type"—Ray Loomis hits several keys, demonstrating how hot liquid metal forms molds for each letter.
"It was mechanical, before electricity, when gas lines and a steam engine— usually in the backyard—powered its operation," says the 86-year-old Loomis, a printer with 72 years of experience. "It created the type that got taken over to the press, which is basically how things were printed for 80 years."
More than 150 linotype and letterpress enthusiasts—many former printers and younger artists—are gathering inside the Baltimore Museum of Industry for an unveiling of the museum's renovated linotype exhibit and a discussion around the machine, and its inventor, Ottmar Mergenthaler, that launched the previous Information Age.
A German watchmaker, Mergenthaler emigrated in 1872, arriving in Locust Point to join the U.S.'s burgeoning industrialization and, possibly, to avoid conscription into Otto von Bismarck's army. "He was extraordinarily bright, making this complex machine out of mechanical parts when others struggled with similar efforts," says Frank Romano, author of History of the Linotype Company. "His biggest problem was that he never stopped inventing it. He kept changing his mind, believing he could do better. Drove people crazy."
Michael Ponton, a MICA graphic design major, renovated the exhibit, making tonight's promotional flier from old linotype font. "I find inspiration in his story and accomplishments," Ponton says. "My Bolton Hill apartment is on the street where Mergenthaler lived. I walk by his house on the way to my internship."
---
Beautiful Minds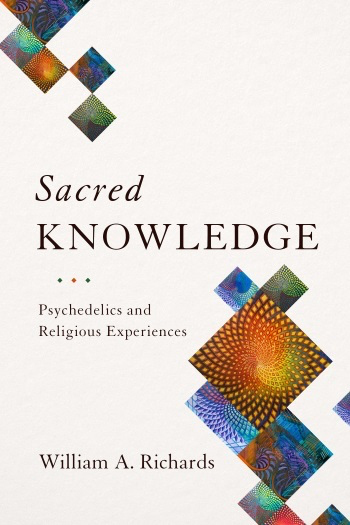 Union Avenue
January 19, 2016
The sign taped to the glass door simply reads "Here!"—with a cartoon smiley face dashed across the page.
Due to overwhelming interest, tonight's lecture by Johns Hopkins psychologist William Richards—whose book, Sacred Knowledge: Psychedelics and Religious Experience was recently published—has moved from Artifact Coffee to a larger space next door, where the entrance is tricky to find after hours.
"Bill is one of the O.G.'s [original gangsters] of psychedelic research," chuckles Mike Margolies, 29, founder of the local group Psychedelic Seminars, which hosts conversations about the benefits—and risks—of hallucinogens. "He has been studying this since volunteering for a research study in 1963."
That's the same year that Harvard University terminated professor and LSD-advocate Timothy Leary, but Richards's book is considered among the first serious academic accounts of the effects of psychedelic drugs on human biological processes, consciousness, and religious experiences. In fact, fliers here seek fresh volunteers for ongoing research around psychedelics and their effects on those suffering from depression and addiction.
"This [enlightenment experience] has been so elusive before," Richards encouragingly tells the audience, which includes an organizer of Baltimore's annual Mushroom City Art Festival. "For many years, the study of mystical states was limited to people in the dark carols of libraries. Even reading the works of ancient mystics in their original languages trying to get closer to what's being expressed. And now, we have a technique, really, enabling many people to experience these things directly—in the present time—and say, 'Oh, now I understand where Plato was coming from.'"
---
Sisters of Hoop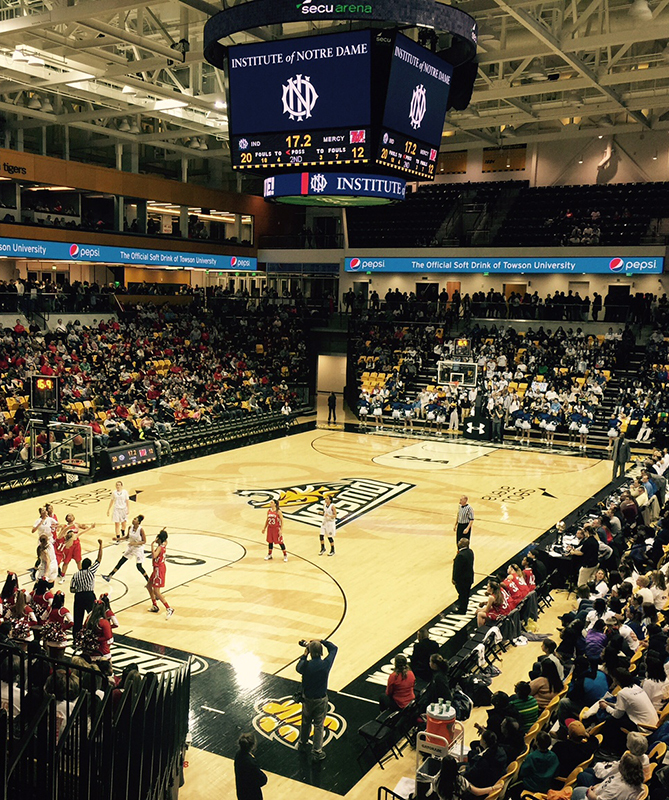 York Road, Towson
January 29, 2016
Institute of Notre Dame guard Amber Knapper-Jones darts to the wing just in time to tip an opponent's pass. Then, scooping up the loose ball, the diminutive senior dribbles the length of the floor, laying the ball off the backboard as she's knocked down—sending Towson University's packed SECU Arena into a frenzy.
On a night so frigid that walking through the parking lot feels like a brave endeavor, 3,400 fans are here for the 50th edition of "The Game"—the annual match between IND and Mercy—a pair of Catholic girls high schools not especially known for their hardwood prowess.
The first contest took place at the then-Baltimore Civic Center, as a school basketball fundraiser before a Bullets game, and was won by IND, 31-23, though IND now trails in the overall series. This evening, led by Knapper-Jones—her key steal capping a 9-0 run—and sophomore Ja'Lyn Armstrong, who scored 14 points, IND wins again.
A lot has changed over the years, including girls basketball, which once played by half-court rules. Other things seem eternal, such as Sister Hilde behind the IND souvenir table. Supervised by nuns at St. Mary's Female Orphan Asylum for several years before receiving her own religious calling, she has spent 68 of her 83 years doing whatever needs doing at IND, including making a locker-room speech before "The Game" a few seasons back after a request from the coach.
"I told the girls, win or lose, they will always be No. 1 in God's eye," Sister Hilde says. "And I told them to keep their heads up, their hands out, and eyes on the ball and the player they should be guarding."