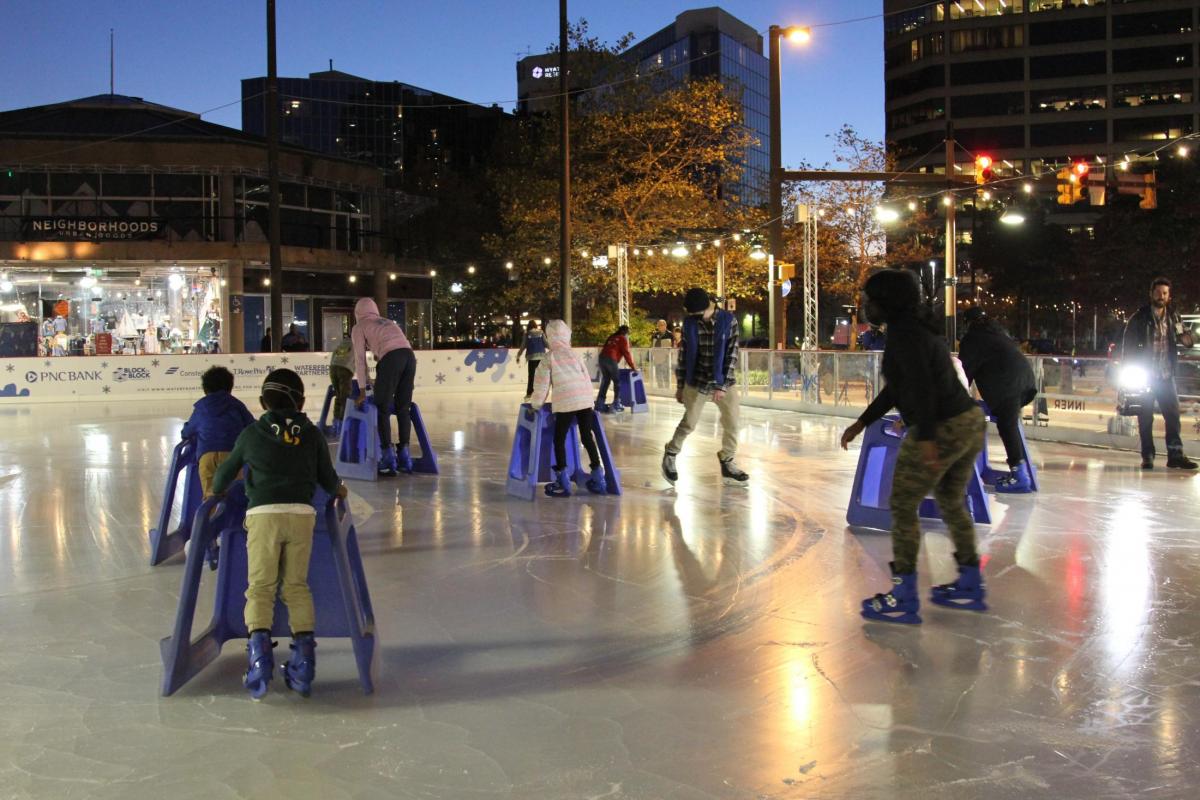 The first 100 kids to arrive at Friday's grand opening hit the ice free of charge. —Photography by Lauren Cohen
Pandemic life produced a very different set of wintertime activities last year, which, for Baltimoreans, meant that trips to the beloved Inner Harbor Ice Rink would have to be put on hold. But now, that wait has officially come to an end, as the frosty fixture—housed atop the Inner Harbor Amphitheater, in between the Harborplace Pavilions at 201 E. Pratt St.—made a much-anticipated comeback Friday night.
At a grand opening ceremony at sundown, Waterfront Partnership—along with help from Mayor Brandon Scott, as well as representatives from Visit Baltimore, Downtown Partnership of Baltimore, and PNC Bank—unveiled the 6,000 square-foot-rink to the public. Similar to seasons past, the first 100 children to arrive at the rink, which remains open through Jan. 17, received free skate rentals and skating sessions, courtesy of Waterfront Partnership.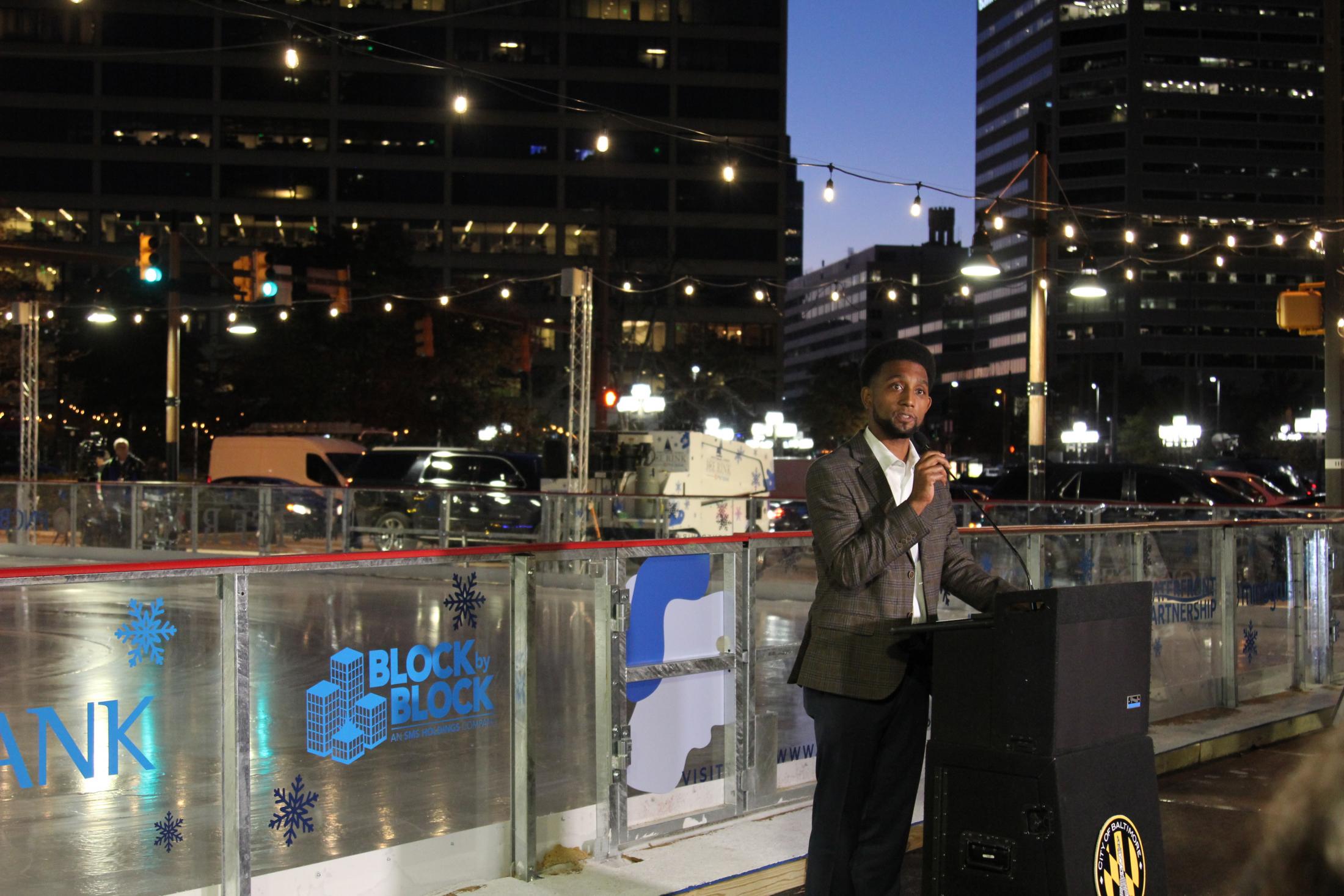 "An ice rink, as I've learned, is a really happy place," says Laurie Schwartz, president of Waterfront Partnership. "You never see a grumpy person on an ice rink. You don't hear people yelling at each other or upset. It's all joyful, happy, and giggling."
Schwartz says that the she's especially looking forward to bringing back the wintertime tradition in the wake of the pandemic.
"After having the rink closed last year, with everything so somber, to now be stepping out of that—or soon, skating, out of that—is truly a joy," she says. "It's indescribable."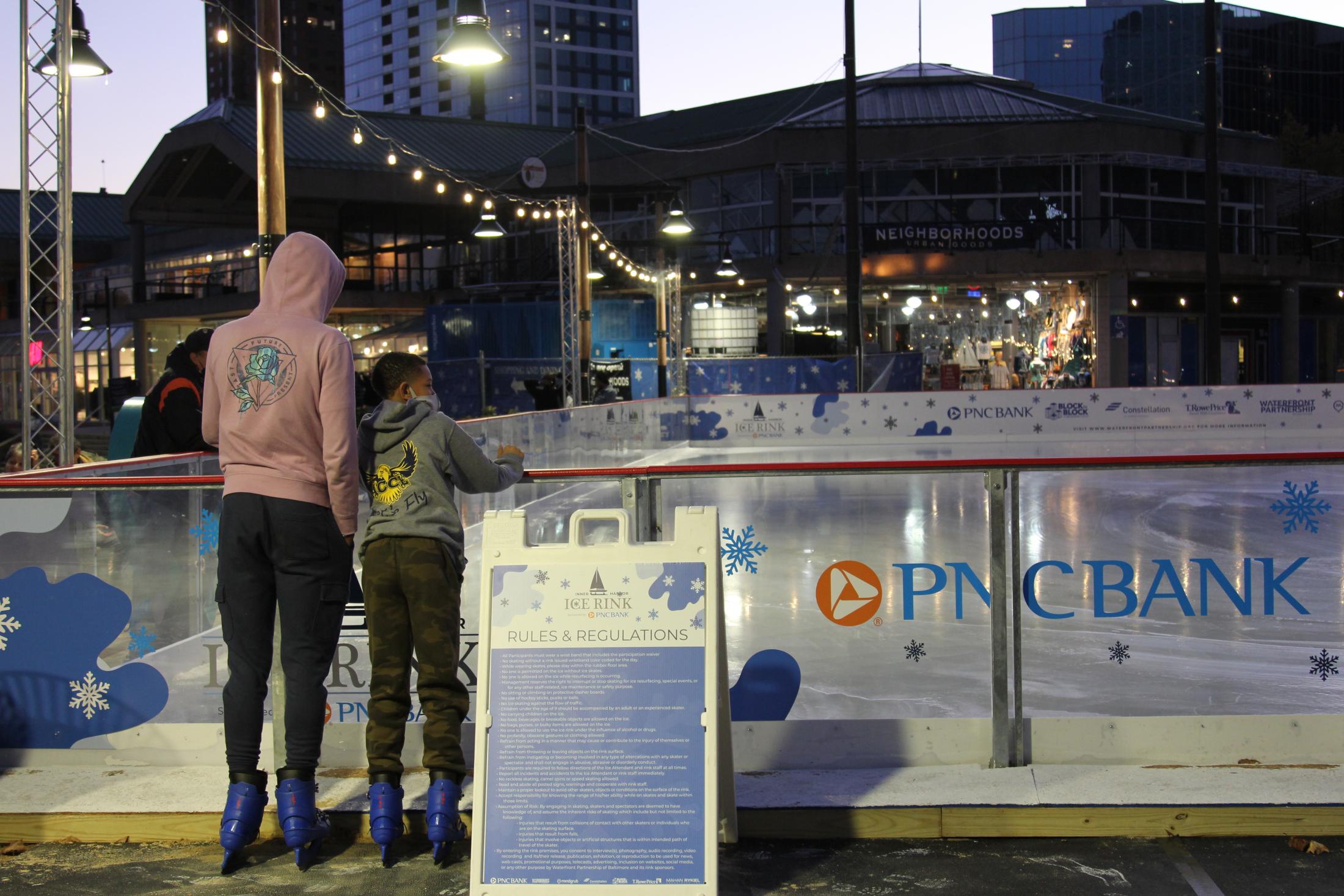 In keeping with Waterfront Partnership's goal of ensuring that events at the harbor remain free or affordable, adult skating sessions will remain $10 this year, with sessions for children, seniors, and military personnel priced at $9. Skate rentals are an additional $4, but attendees are welcome to bring their own pair if they have them.
As residents continue to receive vaccines, Schwartz says she hopes to see more people of all ages make their way out on the ice this season. Laura Gamble, Regional President of PNC Bank, which serves as this year's sponsor for the Inner Harbor ice rink, is also excited to see people take advantage of the rink. 
"Our offices look over the Inner Harbor, and it's always fun to see people out there," Gamble says. "We hope this will be the catalyst to really kick off people's holiday seasons, but also get them to think about coming back downtown."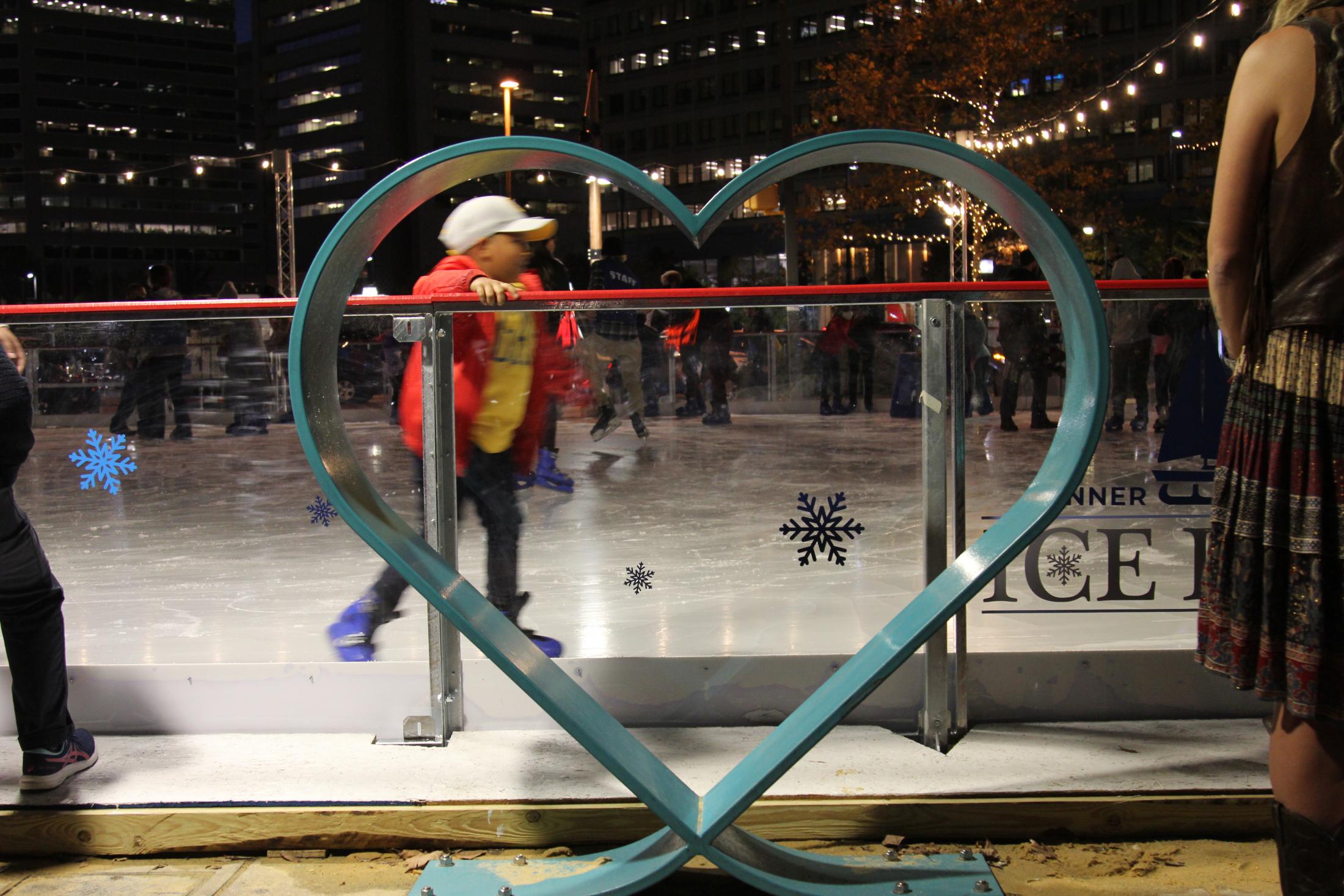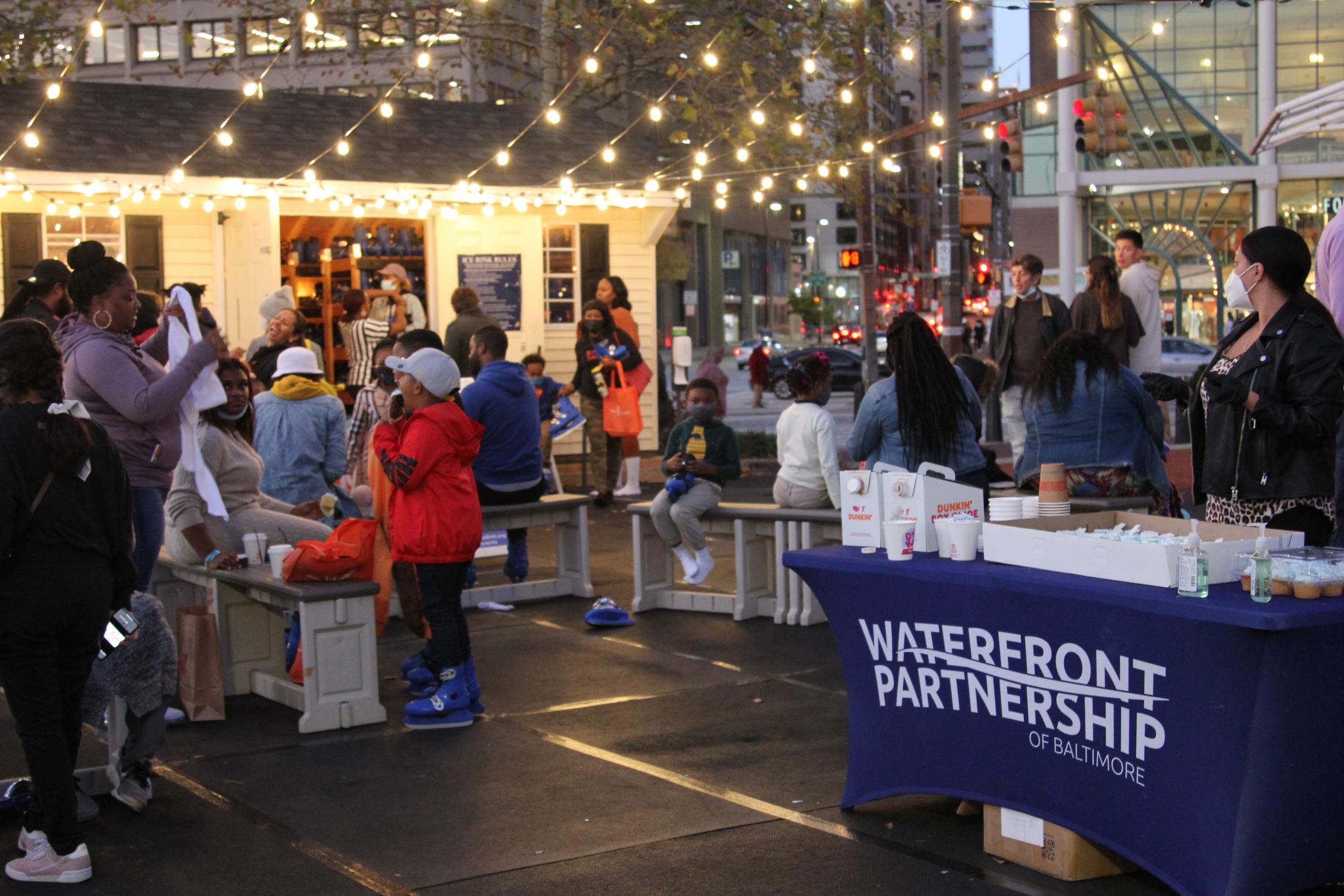 Schwartz agrees, sharing that Waterfront Partnership hopes that the rink will draw lots of people to the harbor and downtown for the holidays. The rink's grand opening is the first of many winter celebrations that are making their return throughout the city this year, including the annual Christmas Village in the Inner Harbor (returning on Thanksgiving Day) and Monument Lighting in Mt. Vernon, scheduled for Dec. 2.  
"The harbor, downtown—we're all open again," Schwartz says, "and we're ready to welcome Baltimoreans."