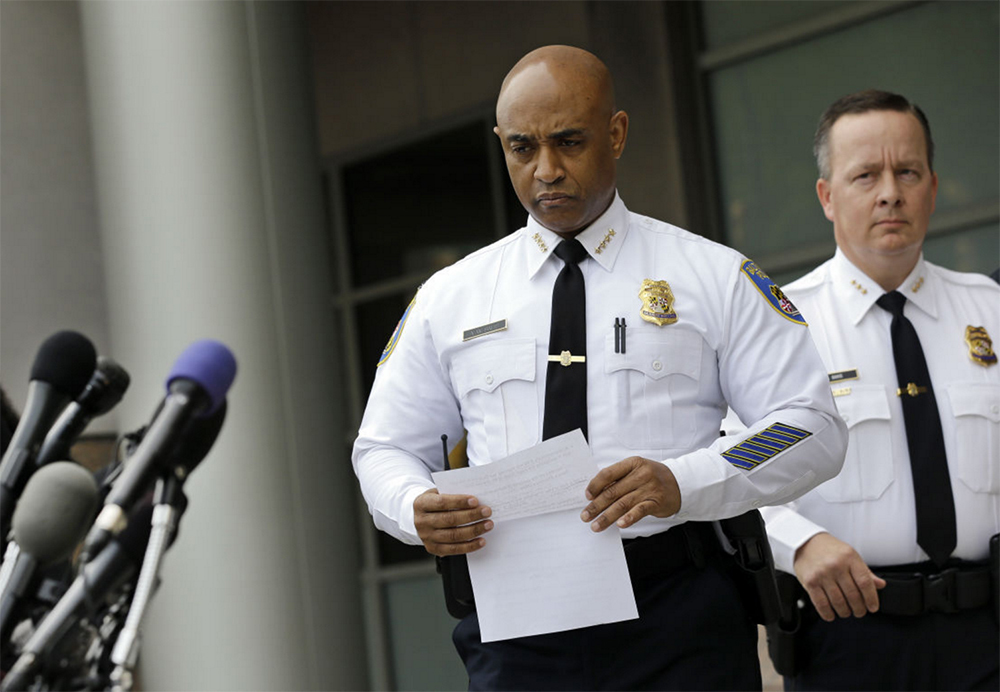 Associated Press
Both in the national spotlight and in our local landscape, this has been quite the week for speeches and statements. As the Democratic National Convention continues in Philadelphia, yesterday's announcement from City State's Attorney Marilyn Mosby that she would drop the remaining charges against three police officers involved in the Freddie Gray case has caused disparate reactions in the city of Baltimore.
After months of silence, former Baltimore police commissioner Anthony Batts told The Baltimore Sun that Mosby "is in over her head" and that she shouldn't "create more flaws in that broken [criminal justice] system and you don't do it on the back of innocent people just to prove that."
Batts, who was head of police from 2012 and fired in July 2015 following the city's unrest and homicide spike of last summer, defended the six officers involved in the Freddie Gray case.
"I didn't see any malice in the heart of those police officers," he said. "I don't think those officers involved are those you would put in the class of bad or malicious or evil police officers."
The former commissioner went on to say that Mosby never should have never filed the charges in the first place.
"She's immature, she's incompetent, she's vindictive, and that's not how the justice system is supposed to work," he said. "The justice system is supposed to be without bias for police officers, for African Americans, for everyone."
Mosby's office responded by referencing a speech First Lady Michelle Obama made at the DNC on Monday night.
"Today Donald Trump and former commissioner Anthony Batts have attacked the State's Attorney in numerous ways, but as our First Lady Michelle Obama said, when they go low we go high," said spokeswoman Rochelle Ritchie.
On the contrary, current Police Commissioner Kevin Davis released a statement yesterday praising Mosby's announcement to drop the charges, calling it "a thoughtful decision that will help move our city forward."
"Our police officers and detectives work with the State's Attorney's Office every day to bring solid cases against criminals who seek to harm others and attack our quality of life," Davis said. "It's an inherently strong relationship that can not and will not miss a single beat. We will continue to work together. That's what we do."
Davis also added in that the internal investigation of the police department, including the imbedding of The Sun's Justin George, speaks volume's for the department's transparency.
"As the quality of this investigation has been called into question, I want to remind our residents that over 30 ethical, experienced, and talented detectives worked tirelessly to uncover facts," he said. "They are more than willing to hold persons who commit crimes accountable for their actions."
He concluded by reiterating that "the tragic death of Mr. Freddie Gray has stirred emotions in all of us. And while we are all entitled to our own opinions, we are not entitled to our own facts. Our American criminal justice system has run its course, and today's decision by State's Attorney Marilyn Mosby is a wise one that will undoubtedly help Baltimore to continue to heal."
To what extent Batts's remarks reflect some personal animosity toward Mosby after her public demeaning of his former department's investigation of the Gray's death, or serve as the objective analysis of an ex-Baltimore police commissioner, may be hard to discern. Davis, of course, remains tasked with working with Mosby and her office, as well as both his officers, the community, and local activists. Since he has taken office, Davis has been responsible for many reforms to the department since he took office, namely adding more officers on foot patrols and overhauling a decades-old "use of force" policy.
"Our police department continues its journey to get better each and every day," he said. "Together with our community, we have made remarkable strides over the last year that will serve as the foundation for the equitable police-community relationship we all deserve."